Perhaps André Villas-Boas' biggest mistake as Tottenham head coach was to not utilise Emmanuel Adebayor. The Togolese has previously been recognised as a disruptive dressing room influence, yet, under the stewardship of Tim Sherwood, has shown why he deserves a starting spot at White Hart Lane.
"I want to say big thanks for the new gaffer, who came in and gave me my confidence back, gave me the stage to play on," the striker said following the recent 3-1 Europa League win over Dnipro Dnipropetrovsk, a game in which Adebayor netted a brace as Spurs secured their place in the last-16 of the competition. He followed up this display with an assist in the weekend 1-0 victory over Cardiff City.
In setting up Roberto Soldado for the eventual winner, Adebayor has now scored (8) or assisted (3) 11 goals in the 12 league games for which Sherwood has been at the helm. That return means the 30-year-old has directly contributed to 50% of Spurs' league goals in that period, highlighting just how important he is to Sherwood.
The team is reaping the benefits of Adebayor's return to form, with the confidence Sherwood has instilled in the frontman ensuring Spurs remain in the hunt for a top-four finish. His influence means only Michael Dawson (7.61) and Jan Vertonghen (7.44) have earned a higher WhoScored rating than Adebayor (7.36) of every Spurs player with 5+ appearances during the reign of the current boss.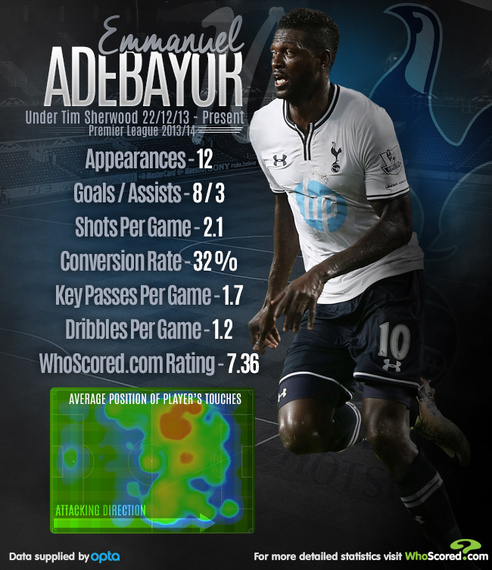 Regardless of some suggesting that club would be better off had Adebayor been sold last summer, he's gone a long way to winning over his doubters and proved that Villas-Boas was wrong to exclude him from the first-team. Many believe the most telling difference between the former boss and Sherwood is the change in system.
In every league game under the Portuguese this term, Spurs lined up in a 4-2-3-1, a formation that would undeniably suit Adebayor. His approach and capability to play as the lone frontman allows those around him to flourish, highlighted in his statistically calculated style of play of 'likes to do layoffs'. Yet, Villas-Boas' persistence with either Soldado or Jermain Defoe up front limited Adebayor's gametime prior to Sherwood's appointment.
Rather than greatly altering their style of play, Sherwood's insistence on selecting Adebayor has been the main difference in Spurs' performances under him and Villas-Boas. The team have benefitted from his input as their win percentage with him starting (66.7%) compared to without (50%) shows. Furthermore, the north London outfit are scoring more goals - 1.83 to 0.94 - and conceding fewer - 1 to 1.31 - per game with Adebayor.
Under Sherwood, he's currently winning 2.2 aerial duels per game, utilising his ability in the air to aid his teammates should the team opt to play more directly. This was best exhibited in the 2-0 win over Crystal Palace, where Adebayor headed on Kyle Naughton's long ball up field for Christian Eriksen to smash past Julian Speroni to break the deadlock.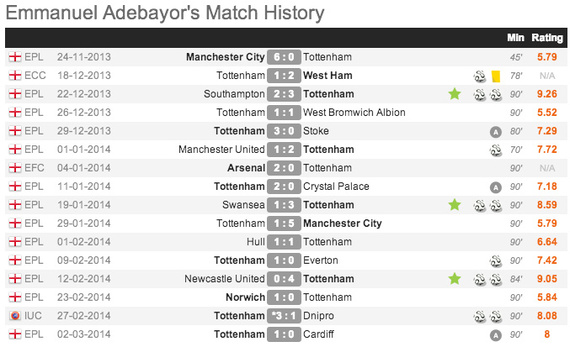 Furthermore, his heading ability means Spurs have another body in defence to help alleviate pressure on their goal when opposition teams are in attacking set-piece situations and with the drop in the number of goals conceded per game under Sherwood, Adebayor's presence here clearly helps the team. Factor in his conversion rate (32%) and it's reasonable to think Adebayor is currently Spurs' most important player.
Analysing the stats and under Sherwood, the main difference is the signifcant number of efforts on goal per match prior to his appointment. Both managers had Spurs focusing their attacks down flanks, but with Villas-Boas at the helm, the club were averaging more shots - 17.4 to 12.8 - per game as the club attempted to make do withouth Gareth Bale. Andros Townsend is potentially responsible for this, with the England international often cutting onto his left foot and going for goal earlier in the season, much like Bale used to.
However, Sherwood quickly realised this wasn't the most effective form of attack and with Adebayor in the starting XI, the offensive threat of the team has improved significantly, despite the number of shots per game dropping. The frontman is one of the reasons for this and Sherwood deserves great credit for bringing him out of the cold to play a prominent role.
Ahead of a difficult month in which Spurs face Chelsea, Arsenal, Southampton, Liverpool and Benfica, Sherwood will be hopeful that his main frontman continues to spearhead the attack with aplomb. Adebayor's return to regular first-team action has been the catalyst to a reinvigorated Spurs side, which has seen them lose just 2 of the 12 league games Sherwood's managed.
While little has altered from a statistical perspective, the freedom granted to the players has seen them impress, perhaps more so than many expected following the permanent appointment of the 45-year-old. This has benefitted Adebayor more than any other player as he continues to thrive under Sherwood.
All statistics courtesy of http://www.whoscored.com where you can find more player ratings and statistics.