As Diego Simeone was thrust into the air by his players at the Estadio Santiago Bernabeu following Atlético Madrid's 2-1 Copa Del Rey win over rivals Real Madrid last May, it marked a remarkable turn in fortunes for Los Rojiblancos. Neutrals would never have expected the side to build on their fine form following a tumultuous period in their history, but they currently sit second in La Liga, 3 points behind table toppers Barcelona on the back of a 7-0 win over Getafe.
The Spanish capital outfit continuously go from strength to strength under the Argentine, despite seeing the likes of Diego and Radamel Falcao depart from the Estadio Vicente Calderón over the last 2 summers. The 43-year-old regularly wins the adulation of those viewing Atlético and it's certainly deserving, with Simeone winning 45 of the 74 Primera Division games he's taken charge of since the 0-0 draw with Malaga on the 7th of January 2012.
From the beginning of the 2009/10 season to Simeone's appointment Atlético won just 35 of their 92 league games, and it's evident that the team are performing better with the former midfielder at the helm compared to their previous managers. Understandably, the Copa del Rey triumph reinforces this notion, but with a 60.8% win rate under Simeone compared to 38% in the aforementioned spell before his appointment; the former Argentina international is excelling in his role in the Spanish capital.
The likes of Koke, David Villa, Miranda and, perhaps most importantly, Diego Costa continue to astound those that regularly watch La Liga, and for good reason. Atlético currently boast an average WhoScored rating of 7.21, with that figure bettered only by Barcelona (7.39) this term in Europe's top 5 leagues and the plaudit's they're winning are fully deserved.
The 37 points they've picked up this season is only fewer than Barcelona (40) once more across the big 5 leagues on the continent and there is a distinct possibility that the pendulum in Madrid could be swinging in Atlético's favour. Yet, when looking at the stats of the club this season, they've hardly been dominant from an outside perspective.
Simeone's side have averaged just 47.3% possession in La Liga this term - 18.6% behind Barcelona (65.9%) - while their pass accuracy is at a relatively mediocre 78.3%. With Atlético, their approach appears to differ from that of rivals Real or Barcelona. The conventional duopoly in Spain looks to stifle the opposition by retaining possession, probing the defence and "suffocating" their adversary before delivering the knockout blow.
Spain's second best team, however, have adopted a much more ruthless style of play, aligned to Simeone's attitude during his days marshaling the midfield for the team he currently manages. He likened his style to that of a man "holding a knife between his teeth" whenever he took to the field, prepared to battle his way to victory by any means necessary, and his current Atlético side have encapsulated this since his appointment.
Espanyol are the only team currently in the top half of the table that are committing more fouls per game (17) than Atlético (15.3), while the 37 yellow cards they've picked up this term is just 9 below the league's worst disciplined team, Elche (46). Granted, the number of fouls committed by Atlético isn't at it's highest since the 2009/10 season, but with their figure only 0.3 behind their average last season (15.6) the level of consistency, in that respect, under Simeone is clear.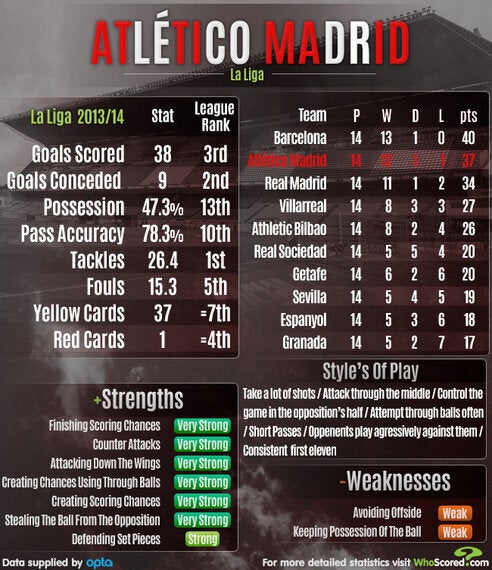 While the drop in fouls per game is particularly negligible, the number of tackles per game has risen from 23 last season to 26.4 this, with that return the highest in La Liga and the most for Atlético over the last 5 domestic campaigns. In his second full season in charge of Madrid's supposed "second team", the message sent out by Simeone of 'win by any means necessary' is beginning to take effect.
This is perhaps epitomised in a WhoScored style of play showing that 'opponents play aggressively against them', possibly in order to match Atlético over the 90 minutes. Unfortunately for those that come up against Simeone's side, this is exactly how the manager would prefer rival teams set up against Atlético, such was his approach to the game during his playing days.
With their ability to 'control the game in the opposition's half' a further statistically calculated style of play, their aggressive approach will benefit them further as they look to press higher up the pitch to win possession and, as a result, increase the likelihood of scoring. Their combativeness may mean that they're aforementioned foul count is high but stands them in good stead when defending high pressure situations, resulting in Atlético developing a WhoScored strength of 'defending set pieces'.
The goalkeeping capability of Courtois and defensive solidity of Miranda and Diego Godín has aided in this, while any time Atlético are faced with a set piece from a dangerous position, they are rightly confident of denying the opposition from scoring. This has ensured that the side have conceded just the 9 goals in Spain this season, only Barcelona (8) have shipped fewer, while the 9.2 shots per game Atlético are conceding this term is the lowest in the Primera Division.
That's an improvement on last season's 10.1 and highlights how defensively resolute Atlético have become under the stewardship of Simeone. Limiting the opposition to minimal chances, much like the number of tackles made and fouls committed per game, matches the former playing style of their head coach. Furthermore, the fluidity of their attack provided by the likes of Villa, Costa, Koke and Arda Turan means the 38 goals they've scored this season is fewer than only Real Madrid (40) and Barcelona (42), highlighting their WhoScored strengths of 'creating scoring chances' and 'finishing scoring chances'.
It's plainly obvious that Simeone has improved Atlético, of that there is no doubt. Los Rojiblancos may not be the most aesthetically pleasing of teams on the continent, regardless of their recent 7-0 win over Getafe, but the Argentine has his team playing in a way that mirrors his mindset from the past and matches the knife-in-mouth quip associated with him.
Many wouldn't have expected the Madrid based outfit to be in the position they find themselves following the sale of Falcao, but like they have done in the past after a big name striker is sold, Atlético have exceeded expectations and shown that they're capable of challenging La Liga's dominant duo once again. Much of that has been down the managerial qualities of Simeone and it's fairly evident that his approach has formed a more resolute, formidable and ruthless Atlético.