The pillaging of Southampton highlights the dangers of a team performing above the standards expected of them. Mauricio Pochettino, Rickie Lambert, Adam Lallana, Luke Shaw, Dejan Lovren and Calum Chambers have all left the club, while Morgan Schneiderlin and Jay Rodriguez are tipped to follow suit.
Saints have money in the bank to re-invest, but with so many core players leaving, it remains to be seen how the team will fare under Ronald Koeman next season. There was a worry that something similar was going to happen at Atlético Madrid. Los Rojiblancos performed above and beyond all hopes in La Liga last season, becoming the first team to break the Real Madrid-Barcelona duopoly since Valencia's title win in 2004.
Top goalscorer Diego Costa was the player most likely to leave on the back of a successful campaign. Only Cristiano Ronaldo (31) and Lionel Messi (28) netted more in Spain's top tier last term than the Brazilian-born Spain international (27), and his sale is a real blow to Diego Simeone's side. His and Filipe Luis' moves to Chelsea, coupled with Thibaut Courtois's return to the Blues and David Villa's transfer to New York City FC mean Atlético would certainly have struggled without investing the money recouped.
However, Simeone has spent wisely so far this summer. Costa's departure to Chelsea was perhaps the worst kept secret in football, so the Argentine had ample time to convince a replacement to switch to the Spanish capital. Despite reported interest from Premier League sides, Mario Mandzukic was signed following Bayern's acquisition of Robert Lewandowski, while Jan Oblak and Guillherme Siqueira were brought in as replacements for Courtois and Filipe.
Pending a medical, Antoine Griezmann will join them, while reports suggest Cristian Ansaldi is expected to sign from Zenit this week. As far as replacing the outgoing attacking players, Atlético have done a fine job. For Mandzukic, replacing a striker of Costa's ilk is no easy feat. The 25-year-old netted 35.1% of Atlético's league goals last season, scoring the most clear-cut chances (20) in Europe's top 5 leagues in the 2013/14 campaign.
His ability to get into dangerous goalscoring positions is what convinced Chelsea to part with £32 million in order to bring him to Stamford Bridge. Costa scored the most goals from inside the box (26) in Europe last term, so his predatory instincts will have appealed to manager José Mourinho, whose striking trio in the Premier League last season - Demba Ba, Samuel Eto'o and Fernando Torres - bagged just 19 league goals between them.
Furthermore, Costa's work rate, ability to run the channels in order to draw defenders out of position and muscle the opposition off the ball are further traits that Simeone needed to replace, but it's reasonable to suggest he has done just that with Mandzukic. The Croat did not exhibit a similar never-say-die approach for Bayern last season, but the fact is he did not need to as a result of Bayern's dominance of the Bundesliga. Costa is effectively the striking equivalent of a pitbull, a player who will chase the ball into the channels regardless of whether he can overcome the opposition defender, and with Atlético averaging less possession (48.9%) than Bayern (71.2%), this work off the ball was essential.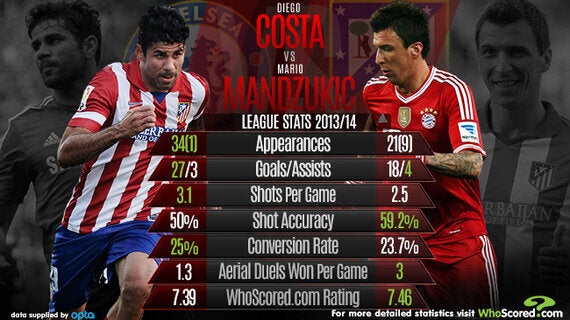 The tenacity that Costa brought to Atlético, particularly last season, will be hard to replace, but that does not mean Mandzukic will shy away from the hard work, having made the same number of tackles (0.6) and interceptions (0.2) per game as the Spain international, while Costa averaged marginally more fouls (1.8) than his Croatian counterpart (1.6). Mandzukic will have to adapt his approach and maybe even work on his fitness to modify his style of play to suit a team that will be in possession for less time than Bayern. Simeone demands his players defend from the front, so Mandzukic will have to work harder for his new team, but he is certainly capable of doing so. The signing of the 28-year-old early in July, though, means he has a full pre-season with his new team and time to adjust to the rigours that come with playing under Simeone.
With all 18 of his league goals coming inside the penalty area, a figure bettered by no player in the Bundesliga last season, Mandzukic has the goalscoring pedigree to replicate Costa's exploits. The two players had similar conversion rates (Costa's 25% to Mandzukic's 23.7%) and a comparable clear-cut chance conversion rate (45.5% and 45.8%), so as far as replacing the Spaniard's goals, Simeone has done well to bring in the Croatia international.
However, the focus at present will be on the signing of Griezmann. Villa's advancing years meant his exit came as little shock to supporters, though the 32-year-old still needed replacing. He didn't show his Valencia or early Barcelona form in his solitary season in Spain's capital, but 13 goals and 4 assists is a return not to be scoffed at. Nevertheless, a younger equivalent has been signed, with both Griezmann and Villa preferring to start on the left of attack before cutting inside and driving for goal.
The Frenchman may not have lit up Brazil 2014 as some had expected, but his acquisition has rightly excited Atlético fans. Only Ronaldo (216) and Messi (160) had more shots than Griezmann (111) in La Liga last season, so it's fair to say the Frenchman is confident in his shooting ability. With 16 league goals to his name last term, it's very much a case of 'If at first you don't succeed, try, try again' for the 23-year-old, who will aim to replicate his Real Sociedad form for the La Liga champions.
Perhaps his one main weakness, though, is his inconsistency. Griezmann enjoyed a purple patch between October and January, netting 11 of his 16 league goals in 10 matches. However, after scoring in the 2-0 win over rivals Athletic Bilbao at the beginning of 2014, the attacker bagged just 4 goals in his final 19 league appearances for Real, and the drop in the level of his performances gives cause for concern.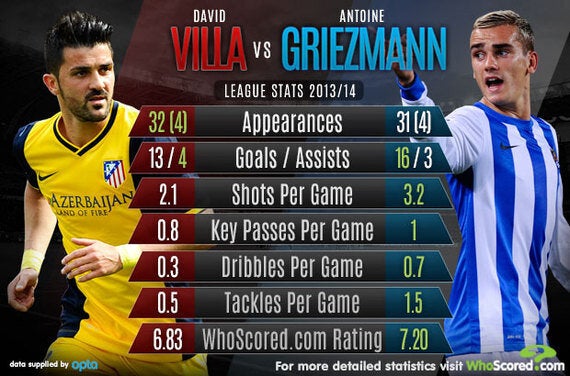 This dip in form will not have gone unnoticed by Simeone, who relies on his players pulling their weight together in order for his all-action gameplan to function properly. Nevertheless, this is one weakness that Simeone and assistant manager Gérman Burgos can work on, especially with Atlético needing to pull together more so than ever as a result of the summer signings made by Madrid and Barcelona.
Replacing Courtois and Filipe is another task that is easier said than done and while Oblak and Siqueira are good signings, they are not of the same standard as the aforementioned duo. Only Vincent Enyeama and Morgan De Sanctis (both 21) kept more clean sheets than Courtois (20) in Europe's top 5 leagues last season, while only 2 players made more tackles per game in La Liga than Filipe (4.1).
Oblak may have conceded only 3 goals in 390 minutes of Europa League action for Benfica last term, while Siqueira's WhoScored rating for the Portuguese side (7.07) is solid, but it's fair to say neither are in the same league as Courtois and Filipe. That isn't necessarily a bad thing, with Simeone turning the former Atlético pairing into household names and he has a chance to do so once more with the recent signings. Factor in the imminent arrival of Ansaldi and Simeone has a vast array of defensive options available to him.
With Tiago, Koke and Juanfran all signing contract extentions at the club, things aren't as desperate for Atlético as they are at Saints. The signings of Mandzukic and Griezmann in particular are a real statement of intent by the club, while Simeone has acted accordingly in bringing in defensive reinforcements. With Madrid and Barcelona attempting to outspend one another however, as is customary each summer, Atlético will find it a lot harder to defend their La Liga crown, regardless of the signings made.
How do you think Atlético Madrid will perform next season on the back of their recent transfer dealings? Let us know your thoughts in the comments below.
All statistics courtesy of WhoScored.com where you can find yet more stats and player ratings.