In the absence of Robin van Persie, Danny Welbeck has been charged with leading the Manchester United attack. The England international has been forced to deal with his doubters in the past, but he's been a leading light for the Premier League champions of late.
Granted, United succumbed to a 2-1 defeat to Tottenham on New Year's Day, but his goal, a deft chip over the onrushing Hugo Lloris following a darting run between Vlad Chiriches and Michael Dawson meant he has now scored five goals in his last five top flight appearances. This takes his seasonal tally to seven in the league, a significant mark up on his solitary goal last term.
Pertinently, his last five strikes have come when he's been operating as the focal point in the attack for United, although one of those was as a substitute in the 1-0 win over Norwich City where he partnered Javier Hernández up front. Evidently, manager David Moyes has looked to utilise Welbeck in his favoured position, with that being as the lead striker rather than in the supporting midfield trio.
This notion is reinforced in that 11 of the 17 league goals he's scored since becoming a regular in the United first team have come when he's started as a striker. Unfortunately for him, Van Persie will often be given the nod to lead the attack such has been his importance to the club since signing from Arsenal 18 months ago.
The Dutchman netted 26 times in the Premier league last term and while he's failed to replicate his form this season - in part due to injury - it's likely Van Persie will regain the spot upon his return. Nevertheless, Welbeck has performed above and beyond expectations in the role for United, as highlighted in his goals-to-game return in those appearances in the position. The only time he didn't score when operating as the lead frontman came in the 3-2 win over Hull on Boxing Day.
His average WhoScored rating of 7.69 in those five appearances reinforces how impressive a performer he is as a striker, especially when taking into account that his rating sat at a lowly 6.49 in his nine appearances prior to them. A notable difference is the significant increase in shots per game he's taking, averaging 3.2 per encounter up front compared to only 1.3 when he's utilised elsewhere. The faith placed in him by Moyes has evidently had a positive effect on the player, with Welbeck seemingly more confident in his goalscoring ability than he has been in the past.
With a conversion rate of 25%, only Yaya Touré (29.4%) and Seamus Coleman (27.8%) are performing better in that respect of every player to score five or more Premier League goals this season. United are desperate for a goalscorer in Van Persie's continued absence and Welbeck is providing on that front as they look to defend the title. As the lead striker, that figure rises to 31.3%; his seasonal conversion rate has risen impressively from a disappointing 2.6% last season.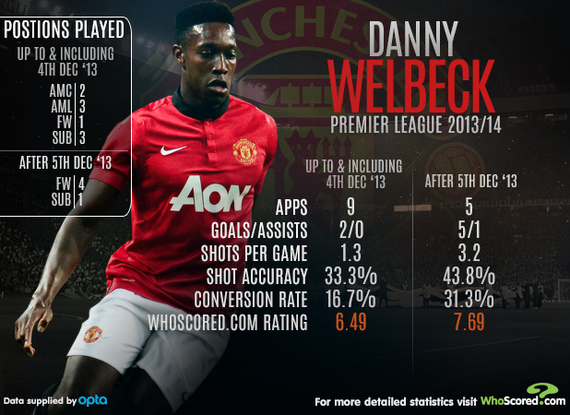 With Van Persie sidelined for the foreseeable future and doubts surrounding whether he'll be with the club come the end of January, Moyes can call upon Welbeck to lead the attack without the former Arsenal star. Favouring a 4-2-3-1 formation in the Premier League, his pace and ability to get in behind the defence will also see his teammates prosper.
A prime example of this came in the 2-2 draw with Spurs last month, where Welbeck broke down the left to win a penalty from Lloris and help United secure a point at White Hart Lane. Moreover, his movement off the ball will benefit the more creative players available to Moyes, most notably Wayne Rooney.
The 28-year-old has operated as the central attacking midfielder in four of Welbeck's five appearances as a striker, missing only the win over Norwich due to injury. The England international has been in impressive form for United under Moyes, highlighted in his nine goals and nine assists; no player has bettered the latter in Europe's top five leagues so far.
The inventiveness Rooney brings to the team is evidently a benefit to the Manchester outfit and it's Welbeck that is profiting tremendously with his compatriot in support. Furthermore, this link up play between the pairing bodes well for the national team ahead of the World Cup this summer as England look to spring a surprise in Brazil.
For the champions, this form as the lead striker is a boost to Moyes as he aims to win over the United faithful this term. While Van Persie's injury was initially a blow, Welbeck's upturn in form has seen the club win four of their last five games and allowed the player to showcase his ability in a position that he clearly excels in, and will be hoping he can eventually call his own.
For more detailed statistics and player ratings visit www.whoscored.com