Ligue 1 fans must have been pinching themselves when Edinson Cavani and Radamel Falcao joined PSG and Monaco respectively. The duo had become the most coveted strikers on the continent following a barnstorming season that saw the players' net 57 league goals between them last term. Yet, despite interest from Europe's biggest teams, Cavani and Falcao left Napoli and Atletico Madrid for France and had been tipped to find the net on a consistent basis following their moves.
The South American pairing have scored a combined total of 21 goals in their debut Ligue 1 season thus far, not a return to be looked down upon from two players adjusting to a new league. However, Cavani was adjudged to have secured the move that would be somewhat easier than his Colombian counterpart. PSG romped to the league title last season, finishing an impressive 12 points ahead of 2nd placed Marseille having netted 69 goals over the campaign, the most in France's top tier, and with Cavani available; they were tipped to build on their 'goals for' column.
With the likes of Zlatan Ibrahimovic, Ezequiel Lavezzi and Lucas Moura providing the ammunition for the Uruguayan, Cavani was expected to hit the ground running and he did just that, netting on his first league start for the Parisian outfit. Having made 17 appearances, 13 of which have been starts, Cavani is now scoring every 103.2 minutes on average, helping push Laurent Blanc's side to the summit of Ligue 1, and the 26-year-old is evidently impressing, picking up a WhoScored rating of 7.33 thus far.
El Tigre, as Falcao has been nicknamed, has also performed well since signing for Monaco and his average rating of 7.01 reflects this. However, while the Colombian has 9 goals to his name, he's perhaps underperformed by his standards, especially when compared to Cavani. The summer arrival is netting every 132.1 minutes for Monaco, not necessarily a poor run of form, but he's netted only twice in his last 7 league outings, having scored 7 in his first 7.
Of course, while Monaco boasts the likes of James Rodríguez and João Moutinho to provide the inventive threat from the midfield, the level of depth in this particular department pales in comparison to that of PSG. As a result, it's perhaps viable that when one of either Rodríguez or Moutinho, or both, aren't performing; Falcao's goal getting capability isn't exploited to its full potential.
However, the Colombian's preference to remain in and around the 18-yard-box rather than drop deep may have contributed to this barren spell of goals. Operating as the focal point in Monaco's attack means that his duty is to perform as high up the pitch as possible and he's evidently done this, as judging from the 4-2-3-1 in which Les Rouge et Blanc have started in 12 of their 18 Ligue 1 games this term.
His heatmap reinforces this as he looks to hang on the shoulder of the last defender and capitalise on any possible mistakes the opposition defence may make, while Rodríguez and Moutinho can utilise their WhoScored strengths of 'through balls' and maximise the off-the-ball movement of Falcao. Unfortunately, as previously mentioned, if this isn't paying off, the striker isn't as effective as his Uruguayan counterpart.
Cavani has previously exhibited his ability drop into deeper positions in order to win the ball back for his team, with his high energy levels assisting this. This aspect of his game has seen the striker develop a statistically calculated WhoScored strength of 'defensive contribution'. "He's (Cavani) a very industrious player and being utilised on the wing has helped him adjust to the French league," said WhoScored's Ligue 1 and Bundesliga expert, Andy Brassell, with 11 of his 13 league starts coming on the flank.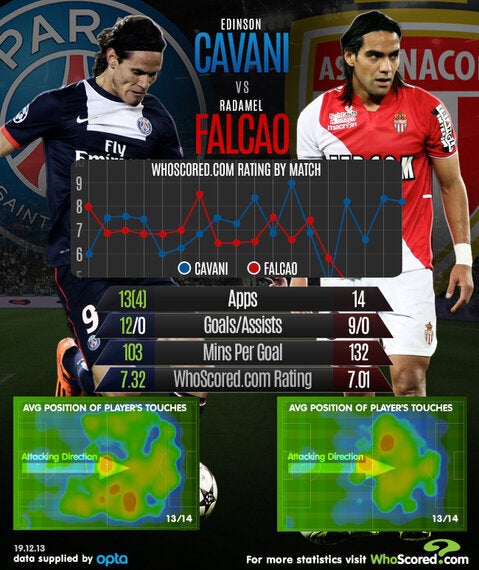 "While it initially appeared that Falcao had adapted the quicker of the two, the options available to PSG head coach Laurent Blanc means that Cavani can be used more sparingly than Falcao, who, when fully fit, will play,"Brassell added. Cavani is therefore able to be kept fresher, and as a result is less likely to succumb to fatigue and injury. With Blanc also able to exploit the attacking capabilities of Ibrahimovic and Lavezzi, the quality of the alternatives means PSG won't be hampered should French football's most expensive signing be unavailable.
As Brassell mentioned, this isn't the case with Falcao. While Monaco have won every game in his absence, with the Colombia international having not made a Ligue 1 appearance since the 1-0 win over Nice last month due to injury, if the striker is available, he'll start every game. It's perhaps the minimum expectation of a player who cost a supposed €60m; only €4m less than Cavani.
Unfortunately, with the replacements somewhat inadequate when compared to that of Cavani's at PSG, he isn't gifted the opportunity to be rested when needs must. Moreover, playing as the focal point in Monaco's attack means he's targeted by centre-backs, perhaps more forcefully than Cavani is on the wing.
"The roughness of defenders in France is something that is clearly causing him (Falcao) frustration," Brassell said here and it's reinforced in his recent mini goal drought where the striker has been booked 4 times, all of which have been as they result of a foul he committed. This matches his WhoScored style of play of 'commits fouls often', but clearly highlights his irritation as of late, something that hasn't been a problem for Cavani.
Being utilised on the wing means he's less susceptible to the rough treatment that Falcao continues to endure, while allowing the Uruguay international to utilise his WhoScored style of play of liking 'to cut inside', with 6 of his 12 league goals coming when he's been playing on the wing. Furthermore, this allows Cavani to utilise the defensive side of his game to track back and reclaim possession.
Nevertheless, both players have settled fairly well in their new surroundings, although that was hardly a shock given the quality of the duo. However, it's Cavani that continues to prove to be the better value for money, as judged by his goals and WhoScored rating compared to Falcao.
The quality of personnel supporting Cavani would certainly have aided his adjustment to Ligue 1, while the lack of such an illustrious supporting cast as that in the French capital may have slowed Falcao's progress of late. Nevertheless, all in all it's been a successful start to life in the Hexagon for the pairing.