Whoever said that fashion is not an art form clearly hasn't seen the work of Indian designer Suneet Varma. For over 25 years Suneet has been the driving force behind Indian fashions rise on the world stage. The brand Suneet Varma has become synonymous with mixing fantasy and poetry, creating a never-never land of fairy tale fashion that accentuates the feminine qualities. Suneet's aesthetic draws its inspiration from a culture of exploration, of art, film, books and imagination.
Like any great artist, Suneet casts his creative eye over a wide area, and thus his collections seamlessly meld traditional Indian contours and shapes with European sartorial traditions. This year Suneet released a photographic retrospective of his work over the past 25 years, published in India by Niyogi Books, and released in the UK this September. In it we're able to see the progression he's made as a designer, setting trends with each season and exploring all avenues of his creativity. In an interview with India Today, Suneet says "It takes a certain amount of time and to have amassed a certain body of work to be able to say what you really have to say."
"Even though I'm the subject of the book" he says "I think the book is much larger in its perspective, it talks to a lot of industry people, a lot of ex-models, fashion students, retailers etc. It really brings the journey of where the Indian fashion industry started 25 years ago, to where it is today."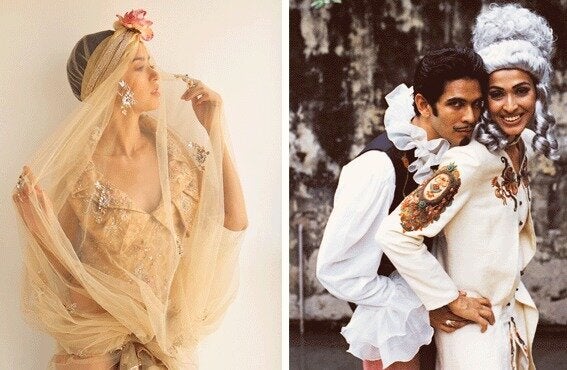 Left: Thread and Swarovski crystal embroidered silk tulle veil with rose headdress. Collection: The Coronation, 2011. Model: Tamara Moss. Photographer: Vibhash Tiwari; Right: Long silk coat with thread and zardosi embroidery on Madhu Sapre and embroidered waistcoat and ruffled shirt on Milind Soman. Collection: Madame de Pompadour, 1995. Photographer: Bharat Sikka.
The Indian fashion industry is currently experiencing a huge upsurge in creativity, with both new and established designers pushing the boundaries of style, from Manish Malhotra, Sabyasachi Mukherjee and Rohit Bal etc, along with Suneet, and the world is taking notice. As part of the early struggle the industry faced, Suneet says "I feel very grateful that I was part of the struggle of the early years. Although things are alot easier today, in a way, it becomes a lot more of an interesting industry to work in, because you can find more people who you can work with closely and very easily. I found Tamara Moss (Indian fashion model) from nowhere, and she is an inspiration."
Suneet's latest collection is as one would expect, a coterie of poetical fantasies made real, cascading chiffons and figure affirming silks are the foundation, structured with fine stitching and given an eye catching edge by an exploratory colour palette, that is the icing on the cake. Most notably, Suneet keeps that theatricality firmly at the forefront, something which has become his signature approach over the years.
Suneet Varma is now riding high on the success of his book and attention from the global fashion industry is continually growing.