It's a pretty solid bet that there will be occasions over the Christmas and New Year period when the roads of the UK get overly congested. For many, the time to avoid will be the final day before the seasonal break comes to an end. In other words, when the motorways will be filled with people leaving wherever they've been and heading to wherever they came from.
As part of my research for this blog post, I took the time to speak to a chap who will be getting behind the wheel of his car on this very day, Sunday 5th January. His name is Tony Harris, and this is what he has to say about his particular journey:
"There's massively varied terrain. We often drive through the Atacama Desert, and over the Andes. You have the salt flats of Bolivia and Argentina to negotiate as well. It's 9,000km in 14 days, at speeds of 120 mph whilst off road. It is a huge mental and physical challenge."
Ah yes, I forgot to mention that Tony is actually former Army Captain Tony Harris, and on the 5th of January he will be in Argentina to take on the Dakar Rally.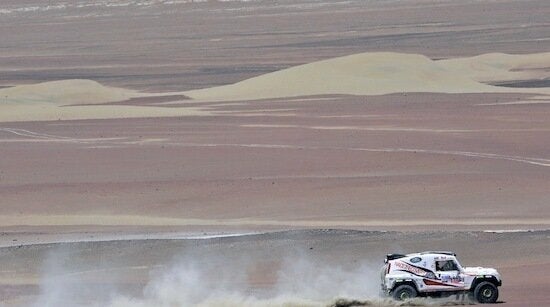 This sounds difficult enough, except the Race2Recovery team of which Tony is a founder member are a group of predominantly injured servicemen, and these are injuries that have been picked up in combat. What they all have in common is the suffering they have endured has led to their life being completely changed. Yet each has resolved to prove that their situation will not stop them completing the toughest race on the planet.
Tony is a below knee amputee, who was blown up in 2009 in Sangin, Afghanistan. Injuries like these pose unique problems in what is a unique race:
"As a driver, not having a left leg means my clutch control is not as good as it was or should be. So we have technology that flashes up if I am 'riding the clutch' - as you can imagine if you are racing over 9,000 km then not burning out the clutch is a key detail. We have also suffered with the degradation of our stumps in the heat. We cope with this with a strict and rigid hygiene routine. It is tiring having a prosthetic, but we prepare our bodies and we have to have that singularity of purpose as a team"
This is the second year that Race2Recovery have taken on the race. Earlier this year it became the first disabled team to finish the Dakar against all odds. The vehicle was piloted by Matt O'Hare and co-driven by Phillip "Barney" Gillespie and despite overheating issues over the 8570km, they overcame all adversity to cross the finish line in Santiago, Chile.
Yet again the team will be driving Land Rover Defender-based Wildcat rally-raid vehicles, and yet again they will be raising money for Tedworth House. This recovery centre in Tidworth, Wiltshire is run by Help for Heroes, and is designed to give injured servicemen make a 'launch-pad to life'.
All of this adventure and bravery is performed under the banner of 'Beyond Injury, Achieving The Extraordinary' and come the 5 January they will yet again strive to live up to this motto. So the next time you are caught in a bit of festive traffic, remember these guys and the sacrifices they have made. It may just put your half an hour delay into a bit of perspective.
Related