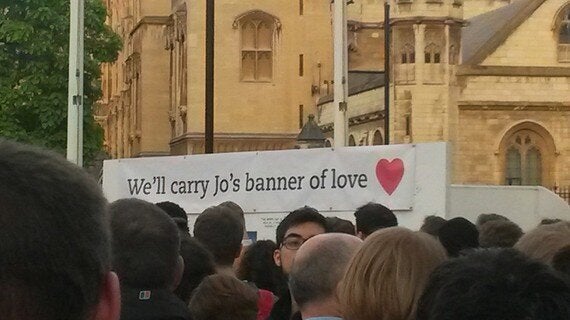 I never met Jo Cox. But after reading about her amazing life in the hours after her awful murder, I wish I had.
I spent Friday evening at a vigil in Parliament Square, with hundreds of others, reflecting and celebrating her life and renewing her message of hope and love. Even though she has been taken from us, her message must live on.
Her killing has impacted me far more than I expected it to.
First, because a mother of two children, aged five and three, has been gunned down. I don't have my own children yet, but I have two nephews, of exactly the same age. Indeed, I spent my birthday two days before Mrs Cox's assassination with my almost three year-old nephew, and I spent the day after her murder looking after him then too. I spent yesterday celebrating his third birthday. I cannot imagine how Brendan Cox told his children the news.
Secondly, Jo Cox spent almost all her adult life devoted to the same two causes to which I have devoted mine: humanitarian aid and human rights, and politics. And she was the same age as me. Indeed, we were only eight days apart.
In the first 24 hours after her tragic death, I learned that she worked for one of my political heroes, Glenys Kinnock, that one of the many causes she championed was Burma, a cause I have dedicated most of the past two decades to, and that she served on the board of Burma Campaign UK.
Yes, you read me right: Glenys Kinnock is one of my political heroes.
I am a Christian and I am a Conservative. And I will always be. Glenys, as she told me a year or so ago when we had tea in the House of Lords, is a "raving atheist", as well as lifelong Labour. But her commitment to the struggle for freedom in Burma, a cause that is uppermost in my heart, has been second to none. And I twice visited Alexander Aan, an atheist jailed in Indonesia for his beliefs, while he was in prison, and campaigned for his release, because freedom of religion or belief, whether you are religious or not, is a basic right for everyone. I told Glenys that, and she smiled and said on that basis we could totally unite. I believe - I certainly hope - Glenys and I have a bond that transcends party politics and religion, and it centres around two fundamental values: humanity and human freedom. And had I ever had the privilege of meeting Jo Cox, from everything I have read, that would have brought a bond between us too.
I work for a human rights charity, Christian Solidarity Worldwide. While I never met Jo Cox, many of my colleagues - especially those who work on Syria - did. And they loved her. Andrew Mitchell, whom I took to the Thai-Burmese border in 2007, has said all that needs to be said about her: his media tributes have been powerful. Jo Cox transcended everything: party politics, religion, partisanship of any kind - because she was a true humanitarian. And that's what matters most. Her lack of tribalism clearly shone through, and that is very appealing. The longer I work for human rights, the more I cherish working with people of other political persuasions and other religious beliefs for basic freedoms for everyone - and the more turned off narrow tribalism and partisanship I become.
I stood for Parliament in 2005, in the City of Durham, as a Conservative, and I am on the party's Candidates List with hopes to stand again. Whilst I come from a different political party, Jo Cox inspires me. At the vigil on Friday were the words "We'll carry Jo's banner of love". We will, and I will do my part, and that banner of love will triumph over hate. We must all heed the extraordinarily courageous and inspiring words her husband Brendan wrote hours after her death, a challenge and an opportunity for us all. We must also listen to her sister Kim's remarkable statement, and take heart that so many people have spoken out in the hours and days after her murder.
It would be wrong to make too many political associations with her killing, beyond the fact that her killer was clearly influenced by the hateful ideology of the far right, which is as poisonous and dangerous as radical Islamism or any other form of extremism and hatred. But I hope that in these next three days, the tone of the EU referendum campaign will change, and the tone of politics with it. It was right that campaigning in the referendum was suspended, and it is right that my party has decided not to context the by-election in Batley and Spen. And I agree with Ed Miliband that there's too much hatred and not enough respect.
That said, democracy must continue, and from everything I have learned about Jo Cox she would want it to. In this referendum, there are valid opinions on both sides. There are people on both sides whom I respect. It is an issue that divides political parties, colleagues, friends, families and indeed even individuals. Many feel split in themselves. I did for a time, though in the end I have voted Remain. There are legitimate critiques of the EU institutions and Vote Leave have a powerful case. But the Remain campaign must be heard, the dangers of leaving must be considered, and the unsavoury and extreme voices on either side must be marginalised. Jean-Claude Juncker has stuck his fingers in his ears and covered his eyes in a remarkable piece of physical and political dexterity, and I find him the epitome of distastefulness. But worse, Nigel Farage on his absurd barge with his ghastly and vile racist poster is dangerous. We must not sink into an abyss of parochialism or worse, extremist nationalism. We are an open, free, diverse and outward-looking people and we must not forget that. Can't we chart a common sense course between these two extremes, which honours the human beings whom Jo Cox devoted her life to serve? Can't we vote to remain but reform, as The Times so eloquently argued? I pray for a miracle. And whatever happens, we must work as a nation to tackle the far right as much as radical Islamism and every other hate-filled ideology.
There is a cynicism about politicians and politics that is, in moderation, understandable but now, taken to the extreme, deeply and profoundly disturbing. I work closely with many Members of Parliament of different political backgrounds. And among the MPs I know, they are utterly devoted, hard-working, courageous, principled and sacrifice so much to serve the greater good. I agree with all those commentators who have argued that we ought to re-evaluate our attitude, thank them for their courage and support them in their work, whatever party they belong to and whether we vote for them or not.
I didn't know Jo Cox, though I have many friends who did and I wish I had. The world has been deprived of a woman the same age as me, with a similar career path as me through humanitarian work and into politics, with similar values as me. The only difference is that we came from different political traditions - but as she did and I hope I do, we know that the most important values in life transcend party politics. May Jo Cox rest in peace; and may we all learn from her.
Popular in the Community