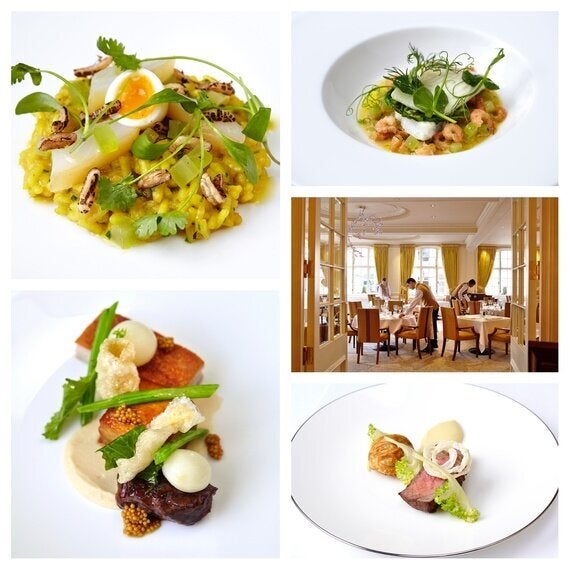 A few weeks ago, I had one of the best meals I think I've ever had in London. It's a strong statement to make but the evening I experienced at The Goring Hotel was so memorable and delightful that I will remember it for a very long time.
First of all, it was lovely to go out for a meal on a Saturday evening and get really dressed up. The Goring is a 5* hotel and although we weren't told we needed to dress up, we knew that it wasn't the sort of place you don't turn up in your jeans to. It felt exciting to make more of an effort and it made us feel like we were really going out for a special evening.
When my other half Steve and I arrived at The Goring, we took a seat in the bar, which is just off the main reception area, and ordered a glass of wine and a beer to start the evening off. We hadn't been sat down long when one of the restaurant managers came over to introduce himself and asked us if we'd like to peruse the menu. We declined as we wanted to save the surprise for when we sat down to dinner and we'd heard such great things about new chef Shay Cooper - The Goring's first new chef in 15 years - that we couldn't wait to try his food later on.
Whilst we finished our drinks, a waiter came around the bar with a silver tray of canapés, which we thought was a lovely idea, especially for guests that weren't dining in the restaurant that evening.
When our table was ready, we were taken through to the restaurant area (along with our drinks on a silver tray) and seated at a lovely table for two by the window. We were given menus and spent a little while deciding on what to order, with information on the dishes from the friendly and knowledgable restaurant manager, helping us to decide on our final dishes.
Straight away we noticed how observant, polite and welcoming all the staff were at The Goring and they continued to be helpful, but not obtrusive, which is sometimes something hard to get just right, all evening.
For starter I decided on Day Boat Plaice Fillet with Cucumber, Dill and Potted Shrimp Butter and Steve chose Arbroath Smokie Kedgeree. Once we had ordered, the sommelier came over and told us he would be matching wines to each of our courses, which is something we always love when having a nice meal and were pleased to experience this at The Goring.
For with the first course, I was given a glass of Saumur Chateau De Fausse Seche, Arcanes 2009, France and Steve had a glass of Chateau Ste Michelle & dr Loosen Eroica Riseling, America 2012.
We were also told by the restaurant manager we must try the Eggs Drumkilbo, which The Goring is quite famous for with the dish having been the Queen Mother's favourite, and even though on paper it wasn't something I would have ever chosen, we thought we should sample it. The dish came with a glass of Cotes Du Rhone Vin Gourmand, Domaine Dauvergne Ranvier, France 2011.
The dishes arrived presented beautifully and the plaice completely melted in the mouth and was complimented perfectly by the fresh tastes of cucumber and dill and the delicious potted shrimps. Steve's kedgeree was delicious with Quail's Egg and an unusual addition of puffed wheat on the top of the dish which added a lovely crunch to it. The Eggs Drumkilbo consisted of chopped Boiled Eggs, Creme Fraiche, Mayonnaise, Tomato Jelly, Lobster and Prawns topped with Caviar. It was served chilled in a glass dish and was very fresh tasting, with the tomato jelly adding a lovely texture to the bite of the prawns and lobster and the creaminess of the egg and dressing. Eggs and mayonnaise are too of my least favourite things but it was surprisingly enjoyable for me!
All three of the wines were dry white wines and really brought out the flavours of the fish in the dishes but I think we both preferred the taste of the Riesling out of the three wines.
We thought we were moving onto main course at this point but were brought out another starter to try chosen by the chef - Rose Veal Tartare, Smoked Anchovy and Fresh Horseradish. We were given another wine for with this dish of Mercurey La Framboisiere, Domaine Faiveley France 2010. I would never have chosen veal tartare from a menu but it was a very light dish and the saltiness of the smoked anchovies and strong taste of the horseradish really worked with the delicacy of the veal. The crispness of the wine was just right with the dish.
For main course I ordered the Glazed Pork Belly, Pig's Cheek, Crisp Suckling Pig, Turnip and Mustard and Steve chose the Oxtail Bun, Dry Aged Sirloin, Malted Parnsip Puree and Ale. Both came with a glass of red wine and Zisola Maseii Sicili 2009 was matched with my pork and Alamos Malbec, Argentina 2013 came with Steve's.
Both courses were rich, comforting and absolutely divine. The pork was all cooked perfectly with the belly wonderfully soft, the pig's cheek melting in the mouth and the suckling pig a mixture of the two. The pork came with a rich and meaty sauce that also complimented the flavours of mustard and turnip. The sirloin was cooked perfectly medium rare and the taste of ale and parsnip were a perfect match to the richness and heartiness of the oxtail in wonderfully buttery puff pastry. The Malbec, which is actually Steve's favourite red wine, was good but we both decided the Zisola was exceptional and I thought it was the nicest red wine I've ever tasted.
We were quite full after our main courses so were given a relaxing breather before we decided on dessert. After pursuing the cheese menu for a long time (yes, there is a separate menu devoted to a huge variety of cheeses on offer) and seeing other diners order cheese with it arriving on it's own cheese trolley, we both decided to go for something sweet, even though the cheese looked quite amazing.
I opted for the Manjari Chocolate with Smoked Caramel and Milk Ice Cream and Steve decided on the Ice Lemon Meringue Parfait with Limoncello. Both dishes looked spectacular when they arrived and we were glad we'd decided on something sweet.
The chocolate was very rich but balanced out well with the smoked caramel, which was thick and slightly salted, and the creaminess of the milk ice cream. The lemon was meringue parfait was zesty, fruity and sweet with gorgeous smooth lemon cream, soft and toasted meringue and a sharp lemon sauce with just the right amount of limoncello. It was probably the nicest lemon meringue we've ever eaten.
After finishing the fruity Madeira Henriques & Henriques, Bual, Portugal that came with my dessert and the sweet yet refreshing Jurancon Charles Hours uroulat, France 2012 that accompanied Steve's lemon meringue parfait, we ended the meal with a cappuccino and an espresso and some homemade petit fours before retiring to the comfortable sofa area in the bar for a final drink of Amaretto Sour.
We had an absolutely amazing meal at The Goring and could not recommend a visit enough. Opulent surroundings, impeccable service with waiting staff that could not assist you enough and of course most importantly, delicious food and drinks. We never visited The Goring before Shay Cooper arrived but I think the food at The Goring would be hard pushed to be better than we ate during our visit. It was a meal that was fine dining without being over bearing and was traditional whilst also incredibly new and exciting.
We are already planning our next visit - thank you The Goring for our 5* evening of pure delight.
A 3 course meal at The Goring costs £52.50 for dinner and £42.50 for lunch.
The Goring, Beeston Place, London, SW1W 0JW.