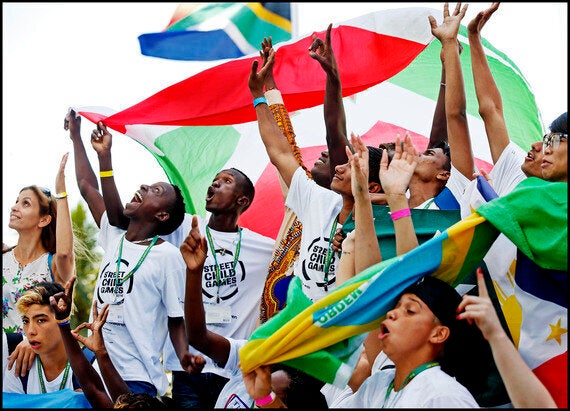 Photo: Terre des Hommes/Pim Ras
Watching street children from all over the world take to the podium to the strains of Chariots of Fire for their athletics medals in Rio de Janeiro recently was undeniably emotional.
The children, from Burundi, Brazil, Pakistan, India, Great Britain and Mozambique, among other nations, were taking part in the Street Child Games, an event which mimicked the Olympics to be held later this year in Rio.
Many had suffered prejudice, abuse and violence at the hands of police while living on the streets, and were helped by various local projects to leave that life behind.
"People used to hit me. I slept with one eye open all the time, I was always on edge," said David*, now 15. He ended up on the streets of Fortaleza, north of Brazil, at 11 years old after fights between his parents at home became unbearable.
"If I was still there I would be dead, I would have killed other people or I would have been in prison by now. They are the only routes."
The event was a chance for children like David, who has now left the streets and is studying for a apprenticeship, to get noticed for the right reasons.
Brazil will host the Olympics in August, but unfortunately the official games will not bring as much benefit to many vulnerable children as this one did.
Gabriela Silva, 16, lives in host city Rio de Janeiro and has experienced the positive power of sport. Since becoming involved in a girls football team in her Penha favela community, she says she feels more confident and happier.
But the community, which has been occupied by a police "pacifying" force since 2011 to tackle drug gangs there, is a difficult place for young people to live in.
"It is more dangerous than it used to be, since the police came," she said. "They come to our football field and shoot, even when there are children playing there."
Much has been made of Rio's attempts to clean up organised crime, but a violent, corrupt force and lack of investment have caused it to falter.
A UN report last year found that street children in Rio were victims of summary executions by police, who enjoyed impunity for their actions, as Rio sought to "present a problem-free city to the world."
This week, five people were killed in a police operation in Acari favela in Rio de Janeiro.
The Olympics is one of the reasons that pressure has increased. As half a million foreign visitors arrive in Rio and the world's cameras turn towards it, the authorities want to ensure its social problems are not also on display.
Responsibility for such human rights violations lies with many different authorities, which is part of the problem.
The IOC, for example, has awarded the Olympics to Rio de Janeiro but it is the local authority which will take on organising much of the nuts and bolts of the mega sporting event, including decisions about where to spend for related projects such as new infrastructure.
In Brazil, the existence of federal, state and municipal authorities, all with varying responsibilities, can further muddy the waters.
As part of the Children Win campaign at Terre des Hommes, we have been looking at potential solutions.
Firstly, the human rights situation of a country should be considered as part of the criteria when awarding mega sporting events, and this should be followed up with independent monitoring.
Many things are promised during the bid process but there is currently no recourse if these promises are not fulfilled.
Issues such as police violence are often exacerbated by mega sporting events but are usually pre-existing problems.
In recent years, a trend for awarding mega sporting events such as the FIFA World Cup to autocratic regimes such as Russia and Qatar has increased awareness of their potential negative effects in countries with existing bad human rights records.
The Children Win campaign seeks to increase the publicity around these issues, and pile on pressure to sponsors who will want to avoid the negative exposure.
Public opinion is changing, and there is an increased awareness of the negative effects mega sporting events can bring to the population of the host country or city if they are not carried out right.
The results of independent monitoring should be made public, and consultation with the population should be incorporated throughout the process.
A lack of engagement with the public has been obvious in the Vila Autodromo community in Rio de Janeiro, which is being evicted to make way for a transport route to the Olympic Park.
Residents have struggled to get clear and consistent information from City Hall, and they have not been able to get their voices heard when it comes to future plans for their community.
If it is strictly necessary to remove homes for Olympics-related works, that should be carried out according to international laws and the uprooted families fairly compensated.
Despite the problems they face, all the vulnerable children I spoke to at the Street Child Games were looking forward to the Olympic Games in Rio this year.
The power of sport to inspire and transform lives is immense - how much better it would be if that was harnessed without any harm being committed at the same time.
Visit: childrenwin.org for more information
* David asked us to exclude his second name for safety reasons
Related