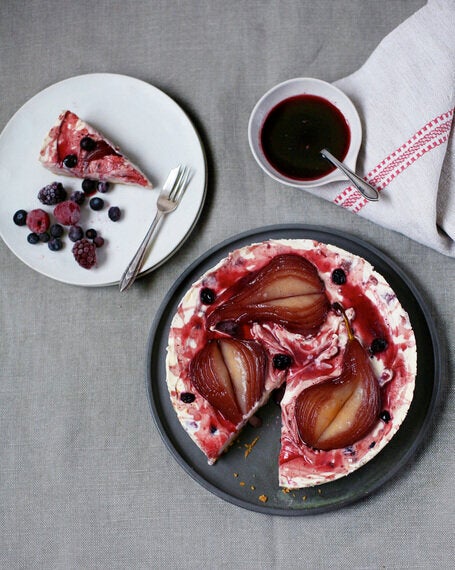 Cheesecakes are a fantastic, easy dessert to rustle up when you're entertaining. Although not typically a Winter sweet, my version is perfect for the chilly winter months, combining the classic biscuit case and cream cheese topping with all of the delicious flavours of the Christmas season - red wine, cinnamon, orange and cloves. The mulled wine poached fruits add a richness that's sweet, tart and spicy, and look beautiful decoration on top of the cheesecake.
Mulled Wine Poached Pear and Berry Cheesecake
100g soft light brown sugar
For the cream cheese topping:
180g/ 1 tub of cream cheese
For the mulled wine poached fruit:
75g frozen berries (forest fruits/ blueberries/ blackberries etc.)
the zest and juice from ½ an orange
Peel the pear, cut it in half lengthways then cut each half into 8 long strips. Add the caster sugar, red wine, whole spices, orange zest and juice to a small saucepan. On a medium heat, bring the mulled wine to the boil then add the frozen berries and pear slices and simmer for 5-10 minutes until the pear has softened and the sauce is thick enough to coat the back of the spoon. Using a slotted spoon remove the fruit from the mulled wine and drain on some kitchen paper. If the mulled wine syrup seems to thin, simmer for a further 5 minutes with an extra tbsp of caster sugar. Set aside the poached fruit and mulled wine syrup to cool completely.
Gently heat the butter in a saucepan until it has melted. Seal the biscuits in a sandwich bag and bash with a rolling pin, or use a food processor, to break up the biscuits. Once you have reached a breadcrumb texture, pour the biscuit crumbs into the saucepan with the melted butter and soft light brown sugar. Mix well and pour into the tart tin. Squash the base down well using your fingers. Now keep the base in the fridge for at least 10 minutes while you prepare the filling.
In a large mixing bowl, whip up all the double cream until firm peaks are formed. Now mix in the cream cheese. Take the biscuit base from the fridge and scoop the cream mixture on top, flattening the surface with a palette knife. Place the cheesecake in the fridge for 30 minutes to firm up slightly.
To create the marble effect, remove the cheesecake from the fridge and pour blobs of the mulled wine sauce on top using a teaspoon (keep any leftover syrup for garnish.) Next take two chopsticks in one hand and use to swirl the sauce around the top of the cheesecake quickly and randomly, using a scribbling motion, until you have created a marble effect on top. Decorate the top with the berries and pear slices.
Chill in the fridge for at least 2 hours before carefully removing the sides of the tin from the base. Serve sliced with any remaining mulled wine syrup.