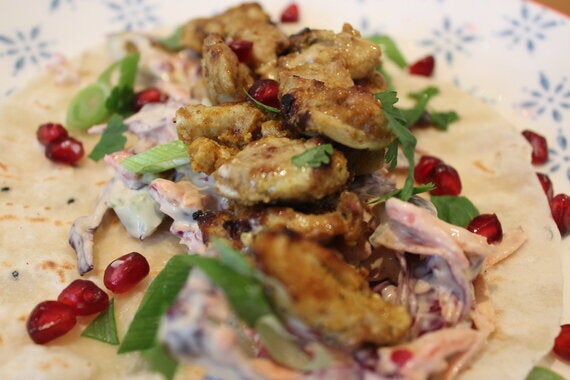 Curryslaw is my twist on British coleslaw, with fresh coriander and lime and aromatic Indian spices. It tastes like classic Coronation sauce, which is why it works so perfectly with sticky honey chicken thighs. I use crunchy and sweet pomegranate seeds, but you can use raisins or sultanas if pomegranates aren't available.
Nigella seeds (or onion seeds) are normally found in onion bhajis, so give a delicious authentic Asian flavour. If you can't find them, try adding a pinch of onion powder to the curryslaw instead.
a small bunch of coriander
½ tsp nigella (onion) seeds
6 chicken thighs, skin and bone removed
½ tsp red chilli powder, or chilli flakes
Start by making the coleslaw. Peel and finely slice the red onion and spring onions, shred the cabbage, grate the carrots and roughly chop the coriander. Add everything to a mixing bowl and squeeze over the juice of the whole lime. Cut the pomegranate in half, hold one half over the mixing bowl and hit hard with the palm of your hand so most of the seeds fall into the coleslaw (you will only need half the pomegranate.) Add in all the mayonnaise, creme fraiche, garam masala, nigella seeds and turmeric. Give everything a good mix, check for seasoning and leave to the side for all the ingredients to mingle and become friends.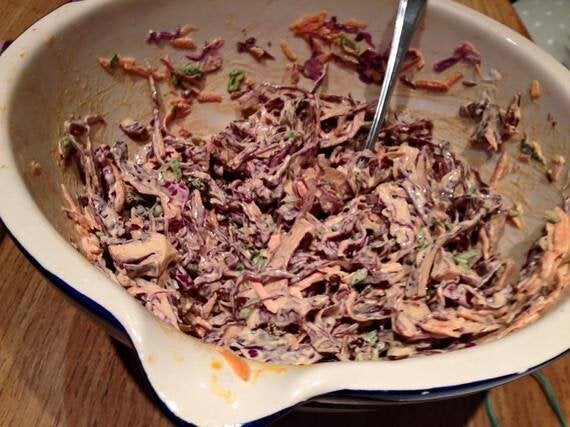 Meanwhile, cut the chicken thighs into bite-sized chunks. Add to another mixing bowl with the curry powder, onion powder, red chilli and mustard powders, mix and season. Leave to marinade for at least 30 minutes. Heat a frying pan or griddle pan on a medium heat and add a glug of oil. Add the chicken and cook for around 4 minutes until golden on both sides. While still on a medium heat, pour over the honey and sesame seeds and carry on cooking for 1-2 minutes until the honey caramelises and the chicken is sticky and rich. Remove from the heat.
To assemble the wraps, add a good dollop of the coleslaw in a rough vertical line in the middle of a wrap. Place a good portion of chicken on top. Fold up the bottom half of the wrap into the middle and then flip over each side to enclose up the filling. Repeat with the rest of the wraps and serve. These make a perfect light Summer evening meal, or you can make them up in advance and enjoy cold in a picnic or in your lunchbox.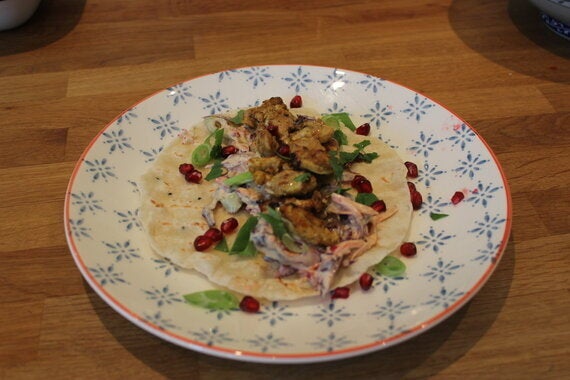 It's really easy to make your own homemade wraps to go with this dish. A recipe and tutorial video can be found on my website: