Every summer my Italian family take a trip down to the region of Calabria ie. the toe of the boot to visit relatives and never fail to return laden down with ingredients that you simply can't find here in Tuscany, or in the rest of the world for that matter. Last year they packed the car so full of food that my boyfriend's mother had to take the train back to Pisa as we couldn't fit her in the car! I am a huge fan of Calabrian flavours and was pleasantly surprised to see that they seem to have increased in popularity lately - last time I was in the UK I noticed that even Pizza Express now offers two Calabrian-style pizzas!
N'duja (pronounced un-doo-ya) is possibly the most successful ingredient to make it out of Calabria and is one of my favourites. For those of you who haven't tried it, 'nduja is essentially a spicy sausage paste which doesn't look that appealing but tastes wonderful. So in tribute to my number one Calabrian ingredient here is one of my favourite pasta dishes, super quick, super easy and super tasty!
Maccheroni con n'duja e mascarpone
(Spicy Sausage and Mascarpone Pasta)
400g maccheroni rigate
1tbsp n'duja sausage
1tbsp mascarpone
Parsley for serving
Cook the pasta in boiling salted water until it is al dente then drain, keeping to one side some of the pasta water. Stir the n'duja and mascarpone into the pasta, adding a little of the water until you get a smooth, creamy sauce. Garnish with a sprinkle of chopped parsley. It's a simple as that! Buon appetito!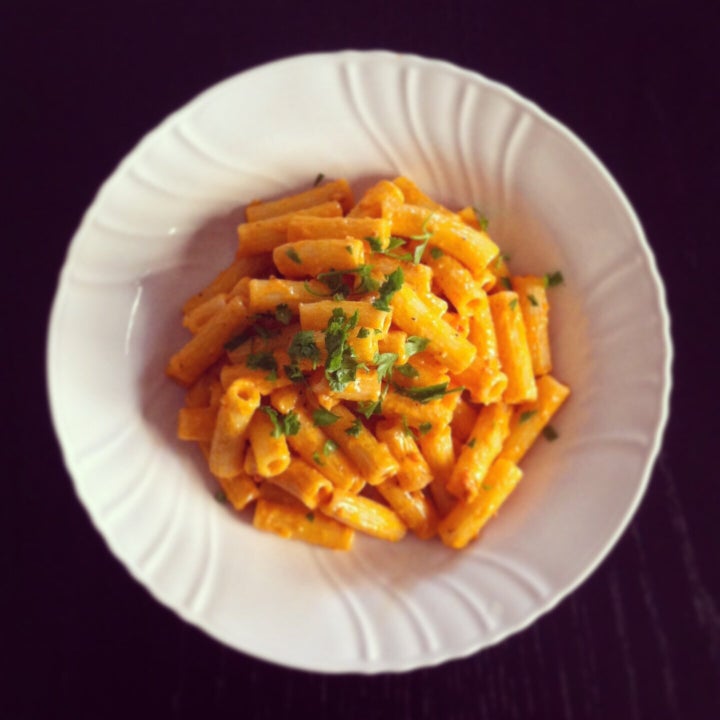 Related