As a busy mum of two, aged 18 months and three, a business owner, a Trustee for a group of schools and Vice Chair for the Chartered Institute of Marketing's North West branch, you can imagine that the mobile phone plays a significant part in my life. Whether I am planning my life on our synchronised family calendar, researching things to do with the kids, blogging, responding to clients, photographing my kids (I've taken a photo every day since I found out I was pregnant with my first born) or just catching up on social media when the kids are busy/asleep/eating, there is always something to be done.
Authors own: Inspired By Joseph Photography
My mobile phone gives me the freedom to do so much on the move as I no longer sit behind a desk for hours on end. Consequently, it gives me instant access to a map when I am lost and in need of finding the nearest baby changing facilities. I can book on baby swimming for next week at the click of a button when I'm making breakfast. Likewise, I can take a photo of where my car is parked because my mind is on a zillion other things. I look back at my days in school in the 90s when, shock, I had to go to the library and read books to learn! I'm grateful technology has contributed so much in my life.
The flip side of course, is that at times technology never leaves me. When I left the house to meet a couple for a photo shoot, I forgot my phone. I don't recall this happening. Ever. I felt anxious and sick which I couldn't shake off. I had planned to reply to a few emails and was annoyed that I was 'wasting' time without my phone. Consequently, I had words with myself - I sounded pathetic!
So, when we bought a trailer tent and decided to camp, I decided it would be the perfect time to unplug, appreciate the stunning beauty, reconnect and quieten my brain down!
Once the tent was (finally!) up with the BBQ sizzling, I started thinking about my phone. Instantly, I wanted a quick check of Facebook and to investigate the weather for tomorrow. Nope. I tried to focus on eating my dinner but I kept getting a niggle of wanting to check, to just see what was happening. I watched the familiar red number of my inbox increase. Notifications from WhatsApp kept popping up. It felt difficult and alien not to react. This carried on, on and off for hours, made all the more difficult when that usual glow of the phone lit the tent. As a result, I felt embarrassed with myself that it was this awful. Was I really that reliant on my phone?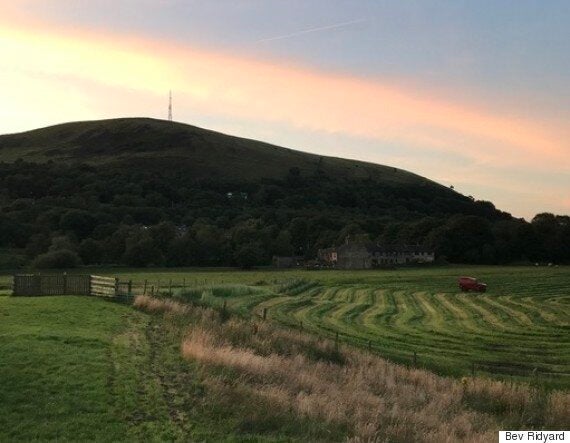 Authors own: Inspired By Joseph Photography
However, the longer this exercise continued, the easier it became. I started to feel less anxious about what I was missing. The FOMO (Fear Of Missing Out) subsided and my head began to clear. I felt great, relaxed and refreshed to the point when I wasn't even thinking about my phone, freeing up my brain! A two night stay in the great outdoors felt like twice as long and I returned home vowing to take some applied learning's with me:
1. Repeat the experience again. Like a muscle, I figure the more I exercise the no phone muscle, the better for my mind, body and spirit. And the easier it will be to do.
2. Be more conscious around my phone. I try and pick up my phone less, asking myself if it can wait. I find myself wasting less time doing the things that don't add value.
3. Review my notifications. This one has been transformational for me! Not only does my battery last for days on end but NOT seeing the notifications for all of my apps pop up on screen seems to have a truly positive effect. I'm so used to them not being there now that I really don't miss them!
4. Blog about it to encourage others to try it. If one person gives it a go and feels all the better for doing so, all the better!
Honestly, if you haven't give it a go, what is stopping you? I'd love to hear your experiences!