"Listen, Lady plot writer, we can't go on like this, either you deliver or (OMG I wanna put a hashtag and I can't find it on my keyboard! WTF!) Hashtag Quiver Quiver Hashtag and vibrate - you'll succumb to/whazz called in mah neighbourhood/ Hashtag FATE Hashtag."
This excerpt from ****So Yeah, 2013 by Sophie Jung gives a flavour of the kind of stream of consciousness ramblings in the audio that accompanies some of the works in her solo exhibition Learning About Heraldry. Words are important to her.
"If you crack words open and destabilise their meaning a little bit," she tells me, "all concepts on which they are founded become wobbly as well. It's like de-familiarising everyday objects and seeing them in new ways."
This deconstruction and de-familiarisation is at the heart of the exhibition. A suitcase with a smiley on it may have been used by a door-to-door salesman trying to sell his wares but doesn't get his presentation right. Sentimentality and humour abound. In fact, judging from a performance she gave at the preview, Jung is something of a stand-up comedian. Actually a sit-down comedienne. Her ramblings were full of double entendres with jokes that ended with 'wear the fox hat' and so on. I thought she'd tell the one that asks what comes between fear and sex. Funf. German is her second language. First comes Luxembourgish - she was born in Luxembourg 32 years ago. She didn't learn English until her teens. She sees words as images. She knew all the lyrics to the Beatles songs without knowing what any of them meant. All the more remarkable then that she can play with English words so naturally.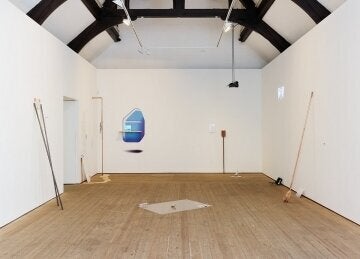 She bubbles, babbles. Maybe she bobbles too. Her exhibition is a mix of sculpture and audio-visual involving materials that include Perspex sheets, a chunk of Berlin Wall, hand sieved paper with watermark, stone, air dough hand-prints, a PVC handball and an origami duck.
"I love playing with objects' elements and I ask what do they actually mean?" she says.
One exhibit sees a spider on top of a copper pipe, the end of which is encased in a conch shell. Called Notice Otis, the accompanying audio on the ipod shuffle contains the words of an Otis Redding song that begins with "The candy coloured clouds they call the sandman". I thought the song was Roy Orbison's but the spider sounds better as Otis than Roy.
"On the pole, the spider has spun lots of webs which says the world isn't really linear but there are many webs inside the poll."
Once again Jung has taken an object and endowed it with different associations. She thinks both literally and laterally, combining her formal training in photography in Germany with a freedom of expression that nevertheless is imbued with artistic references. She is currently studying for a Fine Arts degree at Goldsmith's College in London.
Grayson Perry, in one of his recent Reith Lectures, ventured the outrageous idea that art might be about creating beautiful things. Sophie Jung, however, is suspicious of lovely looking objects. She complains that those she sees at The Frieze or whatever, "don't let you in at all". She says she wants them to be a bit more vulnerable, even embarrassing, to admit that they're not infallible.
"The only thing I can do as an artist is to change the way people look at things and that will open up your perception of the world a little bit."
Learning About Heraldry is showing at the Ceri Hand Gallery, 6 Copperfield Street, London SE1 0EP until 30 November. The image is used with the permission of the gallery.
Related