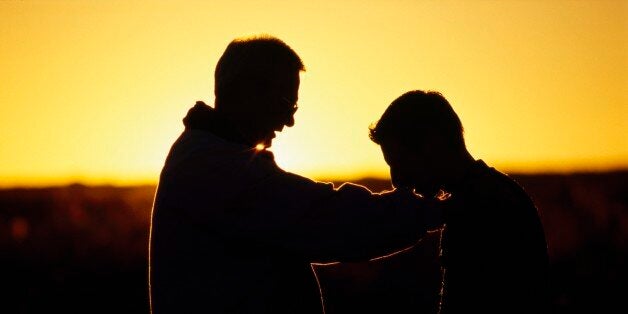 It's not easy being a dad.
Yes, the joy that comes with watching your child develop from nothing more than a tiny collection of cells into a walking, talking confident adult can't be matched, in the depth of its meaning, by anything else. But being a parent can sometimes feel like the only task that gets harder with practice.
It is hard enough to be a consistently good role mode but in an era of unprecedented change, children face a range of problems today many of which didn't even exist when I was young, and so quite how you light the way when you've no idea what the road ahead looks like is a question I've not yet found the answer to.
But maybe, in its own way, that presents an opportunity. New research from Time to Change, the campaign run by Mind and Rethink Mental Illness to change public attitudes towards mental health, shows that almost half of young men would find it difficult to talk to their dads about their anxieties, pressures or even depression. Around a third cited the fact that they didn't want to burden their father as the reason. Those are troubling figures, yet the same research showed that 70% of sons felt completely comfortable talking about their mental health when this had been encouraged by their father and virtually all (98%) said that they would want to have a similarly open relationship with their sons in the future. In other words, when dads demonstrate to their sons that they are open to talking about mental health - it seems to work.
Sure, it can be confusing to be a father today; the role of dad is in constant flux as we adjust to rapidly changing social, economics and technological advances. Our own fathers' notions of what it means to be "strong" are also eroding day by day. Only this week, American actor and wrestler, Dwayne 'The Roc'" Johnson (no weakling, by any means) spoke about his experience of living with depression for the first time.
So perhaps our real job as role models today is to get over our own "need to fix it" mentality that we are often guilty of as men. Our sons will be no lesser men and we no lesser fathers if we start by acknowledging our own difficulties, so that we normalise conversations around mental health in the same way we would consider it our duty as dads to encourage our sons to think and talk about good physical health.
Think of it like this - it's tough to talk. But it's also tough to talk.
HuffPost UK is running a month-long focus around men to highlight the pressures they face around identity and to raise awareness of the epidemic of suicide. To address some of the issues at hand, Building Modern Men presents a snapshot of life for men, the difficulty in expressing emotion, the challenges of speaking out, as well as kick starting conversations around male body image, LGBT identity, male friendship and mental health.
To blog for Building Modern Men, email ukblogteam@huffingtonpost.com. If you would like to read our features focused around men, click here