I have just returned from 3 days in Kosovo visiting our Women for Women International (WFWI) Programme which focuses on giving socially excluded, poor women access to knowledge and resources, to help them build better lives for them, their families and community.
As always following a trip to meet women in the countries we work (Afghanistan, Bosnia and Herzegovina, DRC, Kosovo, Nigeria, Iraq, Rwanda and South Sudan), I find myself inspired and humbled, and struck that there is so much that connects us even though we are from different backgrounds - we are striving for the same things; better lives for ourselves and our families.
To have the chance to meet women, like Hava and Valbona, see their leadership and how they now inspire other women to be strong is an inspiration to us all, and spurs me on to share their stories. You will find here blogs by Claire (Rwanda) Mukonondo, (Democratic Republic of the Congo), Seida, (Bosnia and Herzegovina) and Hava - who is one of the women I was just with in Kosovo.
As we celebrate International Women's Day I would like to praise and acknowledge the unique role that women play in advancing peace throughout society. Women as the bellwether of society; their well-being directly correlates to how society fares overall. I believe that lasting change can only be achieved when women have access to both knowledge and resources. A belief very much supported by what we see and hear in Kosovo this week when we visit the first class of Kosovar Serb women graduates in Scence.
The WfWI Kosovo team tell us that it was not easy to build the trust with the community, but that with the help of a local trainer, they were able to recruit the first class of Kosovar Serb women, who graduated recently. Knowing the challenges around reconciliation, it is impressive to hear that a Kosovar Albanian group of graduates had invited the Kosovar Serb group of graduates to their graduation ceremony.
I can see that WfWI is not only changing individual women's lives and the lives of their families, but it is also helping with building bridges and creating links across divides with women from different ethnic communities, by focusing on what links them. Another testimony of this is a recent cooperative that WfWI has helped to set up of Kosovar Albanian and Kosovar Serb women - the first ever of its kind in Kosovo.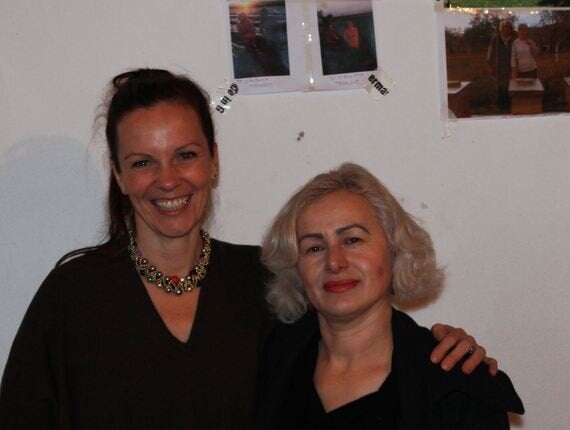 Brita and Hava credit: Women for Women International UK
In the community of Henz, just a few kilometres outside Pristina, the capital, we are welcomed by Hava (47 years old and 5 children) and Valbona (40 years old and 3 children), two formidable women, who graduated 2 years ago and who I had met when they first enrolled in the WfWI programme in 2011.
Hava shares with us how difficult it was during the war and it is clear that she personally has experienced a lot of really difficult and haunting incidents - and yet there is no bitterness. In fact she says:
We have to forgive and leave the bad things in the past - we need to reconciliate - yes the people who did the bad things we need to take them to justice, but we need to forgive and move forward.
We are all deeply moved by the courage and wisdom Hava displays.
Hava talks so eloquently about how the programme has increased her confidence. She says:
I was a woman staying at home and didn't know anyone else and now I know so many other women. I want to help other women to break their isolation and for them to know that they can be different. When we went to the fair to sell products everyone was laughing at us because they said women should not sell products - that has now changed, people don't laugh anymore.
Valbona is no different, she has used the skills she learnt in the WfWI programme and has applied for a grant that has enabled her access to half a hectare of land where she now grows cucumbers and peppers. It is wonderful to see how both Hava and Valbona, through the association they have set up, are supporting other women - both are very clear that helping others to achieve the same changes is part of who they are.
We leave inspired by the strength, determination and spirit of the women we have met. We know that our belief in them and the support WfWI gives them is making a real difference.
Sponsor a woman through the one-year program for £22 per month and help us change the world one woman at a time.