Earlier this week, world leaders unanimously adopted another resolution to support women in conflict-affected countries at the UN Security Council in New York. This is the eighth resolution on women, peace and security (WPS) in the last fifteen years and I couldn't help but wonder - how have women in conflict-affected countries benefited from this growing base of international law?
This question was also posed by the UN Secretary General who commissioned a High Level Review last year and which reported at the same meeting where UNSCR 2242 was adopted. The report found that there had been some progress including a more robust international framework to address sexual violence in conflict, growing awareness of WPS issues and developing the international framework through WPS resolutions and the inclusion of WPS into other resolutions. The report also highlighted increases in women's representation in the UN and at peace tables and increases in funding for gender equality. This last achievement comes with the significant caveat that funding was almost non-existent a decade ago.
For women's rights organisations, who are proven to be the most important and consistent factor in driving policy change, funding has been shamefully scarce over the last twenty years. More funding that supports women's participation and provides better services is crucial as part of humanitarian responses as well as peacebuilding and recovery efforts. Women have fundamental rights to be actively and genuinely included in all processes that affect their lives - from household decisions to peace negotiation processes. The report recognises that women's participation is key to sustaining peace, yet their participation "may be temporary, their delegated roles may be more symbolic than substantive and their influential capacity may be directly resisted by cultural norms."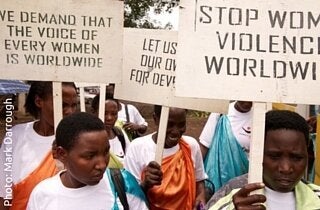 Women for Women International has worked with marginalised women in conflict-affected countries for more than twenty years. The women we work with have been physically and mentally traumatised, denied access to basic services (such as healthcare or education) and live in intensely patriarchal communities where norms dictate that women's voices should not be heard and where they are both carer and provider for the household. We have seen how women are the first to suffer, bear the greatest burdens, face the biggest challenges and receive the least support.
In July I met with women in Bosnia and Herzegovina who, even twenty years after peace, are still living in a war - unable to escape the constant reminders of the conflict and forced to relive trauma on an almost daily basis. Not knowing what happened to their loved ones and unable to come to terms with the abuse they suffered or any hope of justice or redress. In February, I visited Kosovo where I saw how present ethnic divisions remain and how women are breaking down these barriers and working together to teach each other's languages and form economic cooperatives. The WPS framework is yet to filter down to have an impact for these women, who lived through the events that inspired that same framework. This has not stopped them, because women are strong, resilient and do not need permission to fight for peace, but the international community needs to do more.
If 2242 is to have an impact then we have to see an increase in resources that support an inclusive and comprehensive approach for these women. Through 2242, the UN has committed to doubling the numbers of women in military and police contingents of UN peacekeeping operations over the next five years. The UK also committed to ensuring that women's voices are heard at all UK-hosted peace-building events. These commitments are welcome but we need a much greater step change if we are to see progress for the most marginalised women survivors of conflict. It is long overdue for the international community to put its money where its mouth is.
Popular in the Community