Even in the best circumstances having your period can be an unpleasant experience, but for many women and girls around the world, it presents a serious problem.
In low income countries, many women and girls don't have access to affordable and hygienic feminine products; instead they are forced to use improvised materials like rags or leaves, which are not only uncomfortable but can also lead to infection or embarrassing leaks.
This isn't just a "third world problem." Many women and girls in the USA also struggle to access the hygiene products that they need. Homeless women in particular struggle to obtain these products, which despite high demand, are frequently unavailable at shelters and food banks.
And, it's not just homeless women and girls who face these problems. Feminine hygiene products are expensive--the estimated cost of a year's supply is $70--and they are not covered by food stamps. Periods are a significant expense, made even more expensive by the fact that in 40 states nationwide, tampons are considered a "luxury" and so are taxed.
Women and girls also need access to safe, private, clean bathrooms or latrines with a place for washing up so that they can manage their periods and keep themselves clean. However, for homeless women in the US, and women and girls in low income countries, this is often difficult to find, if not impossible. One in three people worldwide don't have access to a toilet--that's a lot of women left searching for a private place to go.
Compounding these issues, is the fact that menstruation is an incredibly stigmatized topic worldwide. In most cultures, including our own, menstruation is not openly discussed. If girls are lucky, they may learn about the menstrual cycle as part of their school curriculum, but in many places worldwide not even that happens.
Harsh social taboos also limit the roles and actions of women and girls while they are menstruating. For example, in some parts of India, women and girls may be excluded from eating with their families or bathing when they have their periods.
It's difficult to imagine that in 2016, a simple biological process experienced by 800 million women and girls every single day can be such a problem, but it is.
It's an education problem: When girls don't have access to the supplies and facilities they need, they may miss school during their periods. Even if they do attend school, they may be distracted, anxious and uncomfortable. This can have a serious impact because educated girls are more likely to earn a good income, are less likely to be married as a child, and are more likely to raise healthy babies.
It's an economic problem: When women have to miss work because they are unable to manage their periods in the work environment, they lose out on potential income. When feminine hygiene products are expensive (due to taxes, limited supply, etc.), many women and girls have to make critical choices between buying these products and other necessities.
It's a dignity problem: Women and girls shouldn't have to suffer from anxiety, embarrassment and discomfort because of a natural process, but in almost every country they still do.
There is hope though. Recently, the issue of menstruation has been gaining attention, and an increasing number of organizations are working to combat this issue. To address all aspects of this problem, approaches must be comprehensive:
Improve access to supplies: Women and girls need access to affordable, safe feminine hygiene products. That's why child rights organization Plan International has partnered with social enterprise BeGirl in Ethiopia to provide girls with access to their reusable panty-pads. And why, Camions of Care--founded by Nadya Okamoto, a member of Plan's Youth Advisory Board--works to collect and distribute hygiene care packages to nonprofit partners across 10 states in the US.
Improve access to facilities: Women and girls also need proper sanitation facilities, which is why Plan engages in a human centered design process to create girl-friendly facilities in schools, health clinics and communities.
Improve knowledge and reduce stigma: But providing facilities and supplies isn't sufficient--the stigma of menstruation must also be addressed through large-scale behavior change. Internationally, Plan is working to break the silence surrounding this topic by providing women and girls with education and information on menstruation and options for managing their periods. In addition, Plan engages men and boys in discussions about menstruation because they have a critical role to play in changing societal attitudes and creating a positive environment. On the domestic front, Camions of Care is also working to raise awareness about menstruation, and to reduce the stigma.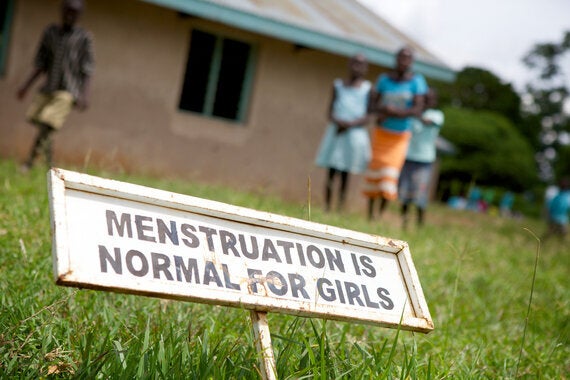 Photo credit: Plan International/Richard Wainright
Through the work of these organizations and others like them, a lot of progress has been made, and we're just get started. Menstruation is still an uncomfortable topic for most people to talk about, and it remains underfunded, under researched, and underrepresented in global policy. However, by breaking the silence that surrounds this issue, raising awareness and combatting taboos, and ensuring access to supplies and facilities, we are changing the way this issue is addressed.