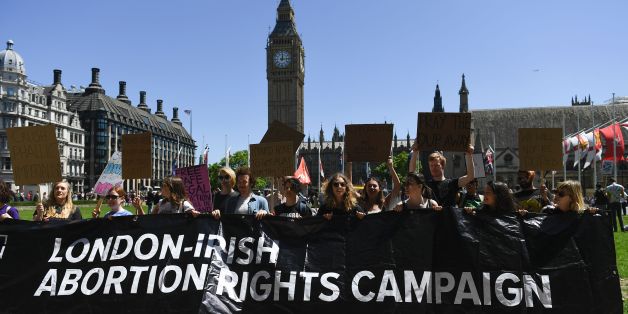 JUSTIN TALLIS via Getty Images
2017 is the 50th anniversary of the Abortion Act 1967. Half a century ago, Westminster passed this Act, legalising abortions by registered medical practitioners in many circumstances - but only in England, Wales and Scotland. The Act did not extend to Northern Ireland.
Half a century later, abortion law in Northern Ireland still differs starkly from rest of the UK. Women in Bradford, Bangor and Bathgate can access services which women in Belfast cannot. Abortion remains unlawful in all but a tiny number of extreme cases. The maximum criminal penalty under the Victorian Offences against the Person Act 1861 - life imprisonment for both the woman undergoing the abortion, and for an individual who assists her - is the harshest in Europe and amongst the harshest in the world. International human rights bodies have repeatedly made clear that criminalisation of health services which only women require, including abortion, is a form of discrimination against women and girls. The United Nations Committee on the Rights of the Child has called on the UK Government to decriminalise abortion in Northern Ireland and to ensure girls' access to safe abortion and post-care abortion services. But the UK has failed to heed these calls.
Women in need of abortion services in Northern Ireland live in the UK but - unlike all other UK women - they are at risk of the most serious criminal penalty if they procure an abortion in their own area, and - unlike all other UK women - they cannot access abortion services through the NHS, free of charge. In terms of reproductive rights, they are second-class citizens. This results in approximately 1,000 women every year (about three women each and every day) making the lonely, expensive and distressing journey from Northern Ireland to England to access abortion services - although Northern Ireland's Department of Health, Social Services and Public Safety and the Family Planning Association say official statistics are likely to significantly underestimate the numbers, as women give false addresses for fear of detection; they estimate the true figure is about 2,000 women per year. As well as those who travel, there are many women who do not - often for financial reasons. Little wonder that the charity Abortion Support Network calls the criminalisation of abortion in Northern Ireland "a class issue... a restriction which only hurts poor people... refugees, homeless people, people in abusive relationships, young women, old women. These people might not have visas, passports, money or the support network to travel to England".
50 years on, and with a new focus on Northern Ireland's women's rights record due to the Conservatives' deal with the Democratic Unionist Party, campaigners' hopes are high that things may finally be changing. They have been awaiting two decisions today, one in Belfast and one in Westminster.
The first decision has come in, and it is disappointing news. The Northern Ireland Court of Appeal in Belfast has given its long-awaited judgment this morning in a case brought by the Northern Ireland Human Rights Commission. In 2015 the High Court ruled that the current law in Northern Ireland is incompatible with women's human rights. Mr Justice Horner found that the ban on terminations of pregnancy in cases of sexual crime (rape and incest) and where there are fatal foetal abnormalities violates women's right to personal autonomy under Article 8 of the European Convention on Human Rights. The Government (the Department of Justice and Attorney General) appealed, and today the Court of Appeal has allowed their appeal, concluding, by majority view, that the Court should not intervene and that it is a matter for the Assembly to decide. Lord Justice Gillen described it as "institutionally inappropriate and a reach too far" for the Court to interpret the law to permit abortions in certain circumstances.
This is a disappointing result. The Court has held that the draconian abortion laws pass legal muster even in the most extreme cases - including where women are pregnant as a result of rape or incest. It is also a frustrating result: the Court has passed the baton to the Assembly, despite power-sharing having broken down a number of months ago and there having been no functioning government in Northern Ireland for six months.
All eyes now turn to Westminster, where the signs are more promising. 105 MPs have backed Stella Creasy MP's amendment to the Queen's Speech on allowing Northern Irish women access to free NHS abortion services in England. While this would not address the lack of free, safe and legal abortion services in Northern Ireland, and would still require women to travel at least some of the financial stress would be removed. This would be a significant step in the right direction. The Speaker has selected the amendment, and it will be debated and put to a vote this evening, at 5-6pm. Will Parliament protect the rights of women in Northern Ireland when the courts have not? Let's hope political progress is made today where legal progress has stalled.