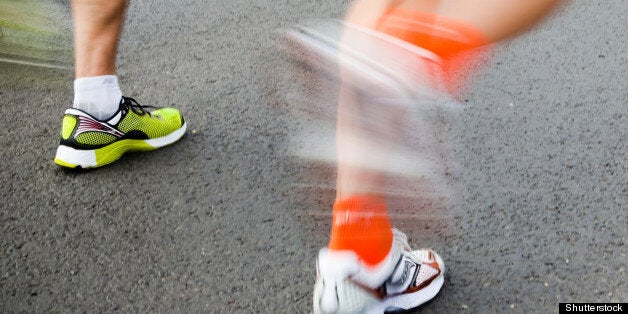 Some people listen to music when they run; others prefer silence. When I was younger, the soundtrack to my after-school jogs around the streets of Gloucester was my Dad testing me on capital cities and river formations. I never won any of the county cross-country runs I entered, but I landed an A grade in my Geography GCSE without any sweat.
Then I grew up a bit, discovered boys, and my Dad lost his jogging partner.
About six months ago I rediscovered running, the last and most successful venture in a long list of activities designed to make my brain switch off and tire me out enough to sleep properly.
In a pretty short space of time, I've become borderline obsessive about my weekend runs. Playlists are carefully crafted (Dad's teacher voice replaced by Rihanna, David Guetta and Calvin Harris), I've got bedroom drawers entirely packed with day-glo leggings, breathable vest-tops and sports bras, and I check my personal bests on my Strava app with the same zeal I used to reserve for the latest Whistles clothes drop. (I'm writing this blog still wearing this morning's running gear, with mud-splattered leggings and sweaty hair scraped back from my face).
I finally understand the almost religious fervour running fanatics have for their sport. And yet despite all this, the idea of running an actual marathon is some pie in the sky idea. I greet Monday morning feeling pretty good about myself if I've managed 12 miles over the preceding two days; and the half marathon I've signed up for isn't until September, giving me plenty of time to build up to the stretch (or book a holiday at the same time if I need a good excuse to back out).
I have the utmost admiration for those who do commit to a marathon. The sacrifices that are made in the months leading up to one, the changes in diets, in socialising, in life, in drumming up money for chosen charities...
For those who took part in this week's Boston marathon, all those life changes will be long forgotten now; a distant memory obliterated by the dramatic events that unfolded on Monday.
With one suspect behind the bombings dead, and his younger brother, Dzhokhar Tsarnaev, now in custody, we still don't know the reasons behind the attack. We may never know. What goes without saying is that lives were unnecessarily taken on a day when 23,000 people had turned up to give their all in one of the most famous and prestigious marathons on the planet.
People run for all kinds of reasons: to raise money for good causes, to get fit and healthy, to get away from the rest of the world, and sometimes just to prove to themselves they can.
A bomb designed to wreak havoc and take lives is never justifiable; to detonate one at the heart of an event where people have come together for the sheer joy of running seems most especially cruel.
Running is often a solitary sport, but if there is any positive to be gained from this week's events, it is the way not only a city came together, but an entire country. People united in one goal: to find those responsible.
Plaudits are already pouring in for the work done by Boston's police force, who launched one of America's most focused manhunts following Monday's explosions, but citizens of the city also played their part.
On Friday, the governor of Massachusetts, Deval Patrick, thanked the public for their "extraordinary patience and their participation in this investigation". On Twitter he added, "It's a night where I think we are all going to rest easy."
Meanwhile, speaking at the White House, President Obama insisted: "Tonight our nation is in debt to the people of Boston and the people of Massachusetts. All in all, it has been a tough week, but we've seen the character of our country once more".
The celebrations after Tsarnaev was captured - cars honked their horns in the streets and flags were flown across the city - were described by Boston residents as "bittersweet".
Many who cross the finishing line at the London marathon today will have their hands crossed over their hearts in memory of those who lost their lives in Boston this week. They will be joined by many of us thinking of that loss.