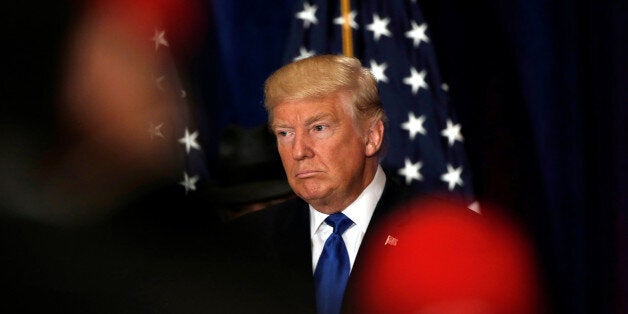 Did anyone feel like puking after watching Donald Trump's appearance at Jimmy Fallon's Tonight Show? I did.
Earlier this year, Annalisa Barbieri warned the American electorate that presidential hopeful Donald Trump was anything but a joke. Drawing on her experience as an Italian watching her country fall apart under Berlusconi's rule, Barbieri drew a parallel between "Il Trumpo" and Berlusconi, referring to how "people love to laugh at them," both thanks to their showmanship and to their penchant for making rather foolish remarks.
I was born in 1992 and I can say I had the "privilege" of growing up during Berlusconi's rampant years - from 1994 to 2011. As Rula Jebreal wrote on the Washington Post, "Italy's longest-serving prime minister, Berlusconi started out as a wealthy demagogue on the brink of bankruptcy, whose celebrity was -- like Trump's -- rooted in both real estate and popular entertainment culture."
Watching Donald Trump have his hair ruffled by Jimmy Fallon, being served the chance for killer one-liners or winning demagogic promises by the host himself, I couldn't help but feel a sickening sense of deja-vu. The owner of Mediaset, Italy's most popular network of entertainment channels, Berlusconi knew that entertaining his potential voters both through explosive political debates and fun TV appearances was a one-way ticket into the presidency.
As a wannabe journalist, I remember wanting to escape the world of meek Italian interviewers, calling Berlusconi "Mr. President" even when that wasn't his title, inviting him to shine a light on what a marvellous family man, what a wonderful entertainer, what a fun, relatable, inspiring dude he was.
What happened in the latest episode of The Tonight Show was too similar to be true. Jimmy Fallon basically served Trump the chances to pimp himself to the public on a silver plate: so how healthy are you, Don? Is your hair really that great? You're such a great businessman, you must know how to run a country, right? Fallon might as well have asked him: "Why are you so awesome?" from the word go and we would have been done, we would have avoided the cringe spectacle that appearance was.
The difference between this appearance and Berlusconi's interviews during, before and after his campaigns is that Silvio actually owned the channels. But as my (British) housemate and I watched the Jimmy Fallon interview, the unease at the way the interview was conducted slowly mounting, we couldn't help but notice that all the YouTube comments under The Tonight Show's video were positive, in the likes of: "Haters gonna hate, but Donald is cool." Considering the social media outrage after the interview and the public opinion of Donald Trump, both the comments and the interview look at least suspicious.
It doesn't matter whether you support Donald Trump or Hillary Clinton, Malcolm Tucker or Kermit The Frog. No politician should receive such a favourable treatment at such a crucial time, when an interview like that can seriously shift the balance in the electorate. It should be every entertainer or journalist's responsibility to use the incredible power they are given by the public in a more impartial way. That didn't happen at The Tonight Show and, knowing how Italy reacted to Berlusconi's TV fame, I can only worry.
Related