Christmas is my favourite time of year for dating. There's something about twinkly lights, hot mulled cider and enjoying a glass of red in a cosy corner in the pub by a crackling fire that sets the mood for romance.
If you haven't been making the most of the fantastic Christmas events on offer in London, there is still time and they are the perfect venue to surprise your date.
Here are a few ideas to make sure you have a cracker of a date....see what I did there?!
A traditional Christmas pantomime will be sure to have you both giggling! From Puss in Boots to Dick Whittington there is plenty to choose from for your pantomime date.
2) Take a river cruise and see the capital lit up in all its finest sparkles
There is something very magical about seeing London all lit up for Christmas. Take a romantic festive lights river cruise down the Thames to enjoy a relaxing and carefree date. If partying is more your thing, see the lights whilst on a Thames Christmas Party Boat with a live DJ. Whatever you and your date are interested in, there are plenty of options to choose from. http://www.citycruises.com
Beautiful in the summer and even more enticing at Christmas time, Somerset House is THE venue for your date. Quite simply, if you can't have fun together here then you won't have fun anywhere! Sponsored by Fortnum and Masons, this year they don't just have a gorgeous ice rink with a beautiful tree, nope they have a whole shopping experience where you can pick up Fortnum goodies alongside sipping champagne. Perfect!
Insider Tip: Fancy treating your date but don't want to give them the traditional flowers or chocolates? Gemstone jeweller, Amara Amara (http://www.amaraamara.com) are hosting their 12 Days Of Christmas Treasure Hunt, where you can visit secret locations around London and win gorgeous jewellery. It's the perfect activity to get conversation going and work as a team, whilst having lots of fun. Plus, I have a secret... Today's prize is hidden on the tree at Somerset House Ice Rink. (For more clues, follow https://twitter.com/amarajewellery)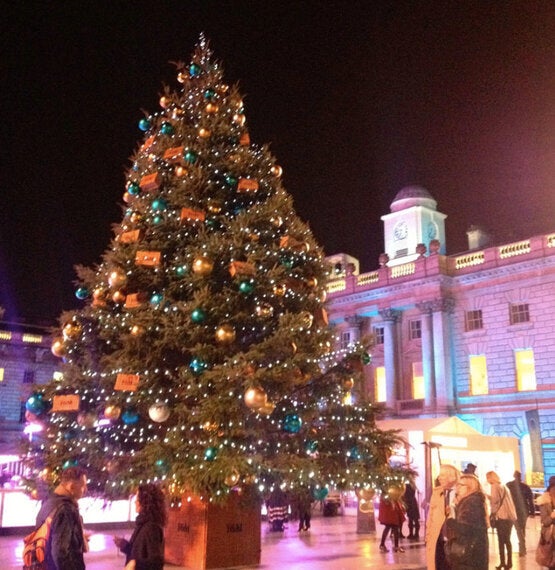 Well you can't go to a Christmas market and not have a Bavarian sausage now can you?! It's not always the most delicate food to eat on a date but sharing a hot dog is pretty romantic....right?! Think lady and the tramp with a sausage! There are lots of Christmas markets all over London and they provide the perfect opportunity to take a walk, have a warm drink, chat and get to know one another. It's also a GREAT opportunity for us ladies to wear our cute hats, scarfs and loves. Not that we need an excuse. This year sees a Christmas market with 70 chalets outside the Tate Modern so why not have a mooch around the stalls then pop in the Tate to show off how cultured you are (and to get warm). http://www.timeout.com/london/shopping/christmas-markets-and-fairs-in-london
From Canary Wharf to Somerset House, there are plenty of ice rinks to choose from in London to get your skate on. What's not to love about ice-skating? It's romantic, you hold hands as you glide elegantly across the ice showing off your poise and grace....something like that anyway ;) http://www.timeout.com/london/things-to-do/ice-skating-in-london
As twilight falls, the magic begins... Walk through an illuminated winter wonderland landscape with pretty lights and lots of treats on the way. The best times get booked up early so get your tickets asap to enjoy this very romantic Christmas date.
7) Walking in a Winter Wonderland
Hot chocolate with amaretto? A revolving traditional carousel bar? Stalls selling festive knick-knacks? What better place to take your date than Winter Wonderland in Hyde Park?! With Christmas music blaring out, hot mulled wine aroma filling the air, live bands and everyone in a festive spirit there will be plenty to keep you occupied. Entry is free but make sure you take plenty of pennies as those mulled wines soon stack up! http://www.hydeparkwinterwonderland.com
Whatever you choose to do for you Christmas London date don't forget one thing - mistletoe!