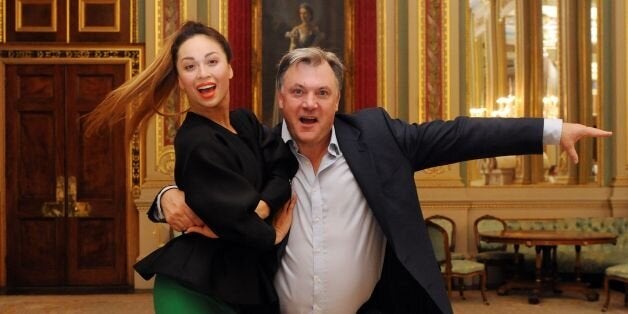 This weekend saw the double departure of The People's Choices - Ed Balls' ecstatic exit from the Strictly dancefloor was swiftly followed by the despatch of Honey G from X Factor.
This brought to a close a bizarre reality TV autumn season which saw two unlikely outsiders become, for a while, the ones to beat on Saturday night.
To say they were polarising characters is to understate their importance to both these shows. For every person cheering on Ed Balls - and was there a person in the country who could resist his Gangnam Style antics? - there was someone else suggesting it was time he graciously fell on his tap shoes and removed himself from the competition, where he was apparently denying a spot in the latter stages for someone more worthy.
Over on The Other Channel, Honey G was stirring up even more ire with her continuing success at... adding a familiar sounding rap to a series of timeless hits. Ironically, by her final week, we'd got so used to her defiantly un-melodic tone, she was actually sounding okay. But for some, she'll always be the middle class white girl who took the mickey out of rap, for which the term 'cultural appropriation' barely covers the horror.
Why were people getting so stirred up? Why did they continue to vote for them? And why did they stop?
Let's not forget that Honey G afforded The X Factor more newspaper space in the last couple of months than any 'insider claims judges' feud' could have done. By Simon Cowell's admission, the entire concept of this show is a tired one - it's been decommissioned in the US, and ratings are floor-low in Australia - and he dug into his box of tricks this year to bring out the best of the old - from Dermot to Mrs O - in one last roll of the dice. He couldn't have predicted it would be someone looking suspiciously like Jennifer Saunders in a sketch that would actually rescue his ratings.
Strictly continues to do better, and the quality of the dancing on show this season has been particularly superb, but even those producers will have been eternally grateful to a former MP with a sense of humour more concrete than his rhythm, to ride them through the first few weeks before other celebs' personalities have had time to blossom.
Should Ed Balls or Honey G have volunteered to leave? Of course not! You can't pitch these shows as popular entertainment for the masses, and then get cross when you get the wrong winners. I mean that sounds suspiciously like, "I'll accept the result... if I win."
The good news is, for both of these shows, we've probably given them both more thought and chat than in many a previous season. There will have been every incentive for producers to get every last drop of outsiders' delight at both of them - and cheer when Ed comes up with Great Balls of Fire, when Honey G gets her very own stage invasion. You know you've made it when, etc.
However, this has been a strange year. We've seen one or two demonstrations of people power triumphing over experience, expertise, credibility - would it be a stretch to say that, even in the sunlit world of reality TV, viewers decided it was time to secure victory for, not necessarily the most popular person, but at least the right one?
Even for the army of fans lamenting the departures of these two brand new national treasures, let's not get too disheartened by the events of the weekend. It's only showbiz, folks, and for anyone lamenting the decline of popular culture when a politician can get more attention for simply doing a very wobbly waltz than for anything he ever did during his time in the shadow cabinet... well, at least it's politics becoming popular, and not the other way round. We've had quite enough of the latter in 2016 to last us a while.
Related