If you think Wendi Deng Murdoch has tucked herself away since her high-profile split from media mogul Rupert, you'd be wrong.
It turns out the woman with the most accurate right hook since Rocky Marciano has been more than busy, her latest project being a film she hopes will "build a bridge between China and the rest of the world".
If that sounds overly ambitious, it matches the bold aspirations of the subject of her film 'Sky Ladder: The Art of Cai Guo-Qiang' - an artist who uses gunpowder as the backbone of his work.
When he created his actual pyrotechnic Sky Ladder, a 1,650-feet stairway to the heavens, it was to celebrate his grandmother's 100th birthday. It became a phenomenon, viewed more than 30million times on YouTube.
Now, with his work finding a whole new audience with this film, Cai Guo-Qiang and Wendi sat down with HuffPostUK to talk about working together on a film that boasts Oscar-winning director Kevin Macdonald at its helm and is now available on Netflix.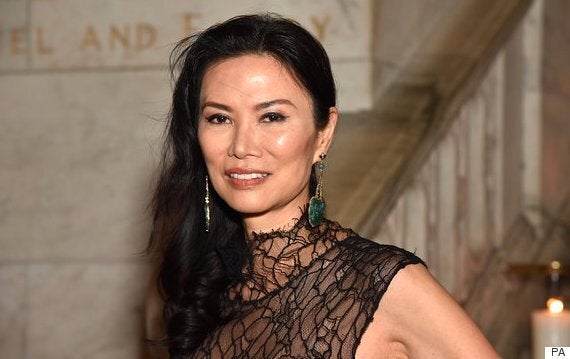 I wanted to make this film because I wanted to tell the story of a truly amazing artist, also a dear friend, and show the world the extraordinary art he's creating, also his life story, this amazing story that everyone can relate to.
His art is quite explosive, but his personality is kind, quiet, and I love that tension.
This film is also a lot about China's culture, it's a great window, a good bridge between China and the rest of the world.
There is always a lot going on in my life, so a film crew following me round didn't really bother me. Indeed, it was a pleasant experience working with the crew, including film director Kevin Macdonald.
I was indeed curious as to how they were going to make it work. But they managed to capture my perseverance in art and my journey, and the difficulties. It also captures my complicated affection for my family, my home town and my country. The film managed to capture something you wouldn't get in a museum exhibition.
Kevin Maconald did something very special. He took thousands of hours of footage, and was able to find a narrative that reflected the art and the artist's life, but also helped him touch the story.
The artist's childhood traumas were included in this film - why?
Those were actually the decisions of the producer and director. My job was to be there for them to film. It was important to include my upbringing, including the tumultuous time of my childhood, so that the audience can better understand the relationship with my art and why I'm doing what I'm doing today.
What do you want audiences to take away?
WENDI: This movie is meant for the whole world, not just Chinese people. I want them to get to know art work, Chinese culture and also personal stories - family, emotion, love for each other - and also to enjoy the moment.
On the one hand, Sky Ladder was about my childhood dream to communicate with the universe, to touch the clouds, pick up the stars, but those sentiments of the little boy remain consistent with my older art life.
I want to follow this to Red Square in Moscow, to coincide with the 100th anniversary of the Russian Revolution. It's a continuation of my childhood dream. Sky Ladder is not just the actual project, it represents a continuing dream and aspiration.
Sky Ladder: The Art of Cai Guo-Qiang is available on Netflix.