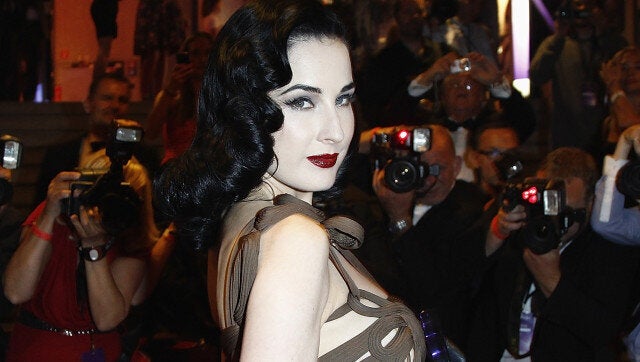 The news that Dita von Teese was late to a launch party when her cat napped on her chosen outfit will strike a chord with every cat and dog owner.
Of course it's not the first time that an animal has disrupted human plans (Legend has it that the prophet Muhammad cut off one of his sleeves with scissors to avoid disturbing a sleeping cat when he went to pray), but it shows the ways our pets adapt their needs to modern human life.
Dita has several cats and dogs . When seven-year-old cat Aleister selected his owner's vintage Mugler suit it was lying on a stool or bed. Cats like high resting places, away from predators or rivals. Luckily Dita has space enough for her cats to find somewhere to be alone.
Aleister was the only cat implicated in the "crime". Cats that dislike each other can end up lying together if there is only one resting place, though they often pretend to be alone by facing away from each other.
The choice of Dita's clothing shows the power of scent in the animal kingdom. Our dogs and cats are aware of scents everywhere and the suit provided a comforting "presence" of Aleister's owner.
We can only marvel at our pets' ability to detect odours although it's sometimes inconvenient when they chose to mask new or unwelcome odours by providing those of their own (for example by spraying).
Fortunately Aleister didn't resort to claws to mark his visit. Scratching sites tend to be visible upright items at territorial boundaries. So even though Aleister is no stranger to designer items - he has a Louis Vuitton travel carrier - it may be that he has little feeling for them.
Let's hope his Christmas stocking has more entertaining items like cat toys and puzzle feeders instead.