I love this time of year. The summer beckons, filled with possibilities. No more early morning school runs. No more packed lunches. No more homework hassle. Just six uninterrupted weeks of family time. What could possibly go wrong?
A lot of parents feel pressured to provide constant entertainment for their kids, but the summer break is a fantastic opportunity for children to explore and develop their own imagination and creativity. Allowing your child to become bored isn't necessarily a bad thing. It opens up their imagination and initiates spontaneous creativity as they develop their own games and stories. It helps them to find out who they are and what makes them tick.
As technology has continued to infiltrate our daily lives, our attention spans have shortened and we have come to expect instant gratification. Being mindful and taking time out from external entertainment is vital to discovering the treasures that lie within. For more on this, check out Dr Vanessa Lapointe's blog post, Why you should do nothing when your child says, "I'm bored!".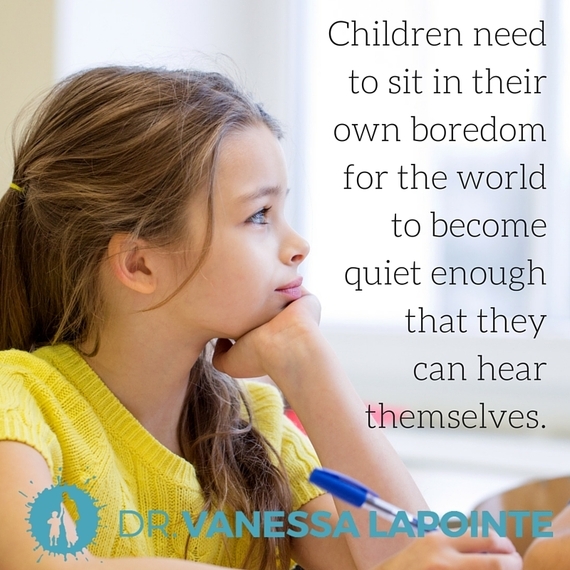 Photo credit: Dr Vanessa Lapointe
Go on! Be brave! Try it! You'll be amazed by some of the initiatives your child will come up with!
All that being said, you can't leave your children to 'get bored' for six weeks at a time. It's just not cricket. So it's important to factor in some quality family time, some trips, activities and even summer camps, that will educate and inspire your mini-mes to grow into themselves and stimulate their innate curiosity and love of learning. When you start digging into what's available out there, the question changes from 'How on earth will I keep them happy for 6 weeks?', to 'Gosh! How can we fit it all in?'
Of course there are blog posts all over the internet documenting ideas and activities for you to choose from. I once went geocaching, for example, which was a very surreal experience and such good fun with the family. The ultimate treasure hunt, there are currently two million geocaches worldwide, so this is one activity you can do wherever you are in the world! You can go to music or art festivals, take in a show, camp out in the backyard, bake a cake, take up yoga... the list is endless.
But I wanted to take a moment to focus on summer camps. Favoured in the States for many years, summer camps have grown in popularity across the globe and are now being offered by many international schools as well as independent companies. Some offer purely residential camps, some offer day camps, while others provide the opportunity for both. The range of specialist activities on offer is truly fantastic - whether it's drama and the performing arts, outdoor sports and adventure, science and technology, film-making, language, nature and the environment or even cookery, there really is something for everyone!
One of my favourite holidays when I was growing up was spent at a PGL camp in the UK. I made some fantastic friends and took part in some amazing activities - the most memorable being abseiling, because it really pushed my fear barrier at the time. The camp was just for kids, but I know that PGL now offers family adventure holidays as well in the UK and France - after all, why should the kids have all the fun?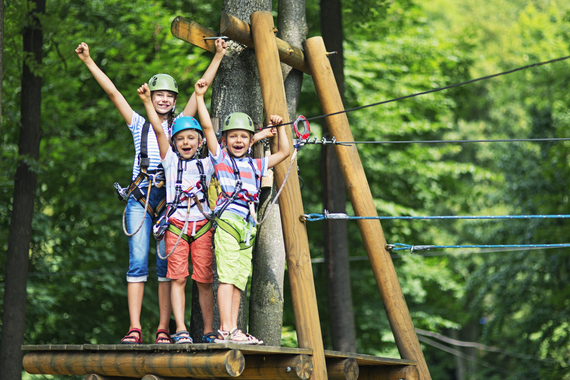 Photo credit: iStock
COGNITA Education runs camps in the UK (Super Camps, ages 3-14) and Singapore (Camp Asia, ages 3-16), offering a mind-boggling array of activities to choose from. The camps are located in schools such as Akeley Wood Junior School in the UK, and Stamford American International School in Singapore, and there are various options to choose from.
If you're in Spain, why not check out Sotogrande International School, which offers a wide variety of summer camps every year for children up to 17. Creative activities, play-based learning, languages, and sports skills are just some of the pursuits offered, and all sessions are run by qualified professionals.
The International School in Portland, Oregon, offers language immersion camps for Chinese, Spanish and Japanese, while Village Camps has been running a variety of language camps (and other active residential camps) for 46 years in France, Switzerland, Singapore, Canada, Austria and Spain.
If you're in Bangkok, take a look at the summer camp options at the Regent's International School, running from June 26th - July 14th 2017 and promising students their best summer yet! The International School of Stuttgart, in Germany, is running a summer camp from July 3rd - August 18th 2017, where children can sign up for a week at a time. If you're keen to go to the States, a company called American Summer Camps works with families from around the globe, helping them to find the right summer camp for their child. They have decades of experience and will answer your questions relating to flights, accommodation, camps and much more.
I'll leave you with this list of the 16 best summer camps in the UK. Honestly, the choices are endless, so wherever you're going to be this summer, I heartily recommend you do a little research and see if there's a summer camp near you! Happy holidays!