For a politician in his 40s (I'm just about hanging on to that title), I'm probably not the greatest at new technology, but I do okay.
I tweet; can make my way around Facebook and I use my phone to take pictures and email. I get most of my news these days from a mobile device and I'm also rarely without my iPad, which is these days a sort of mobile Ministerial box for me.
However, the difference in the way I use mobile technology and the way my kids - the iGeneration - use what is essentially the same kind of kit, is absolutely vast. The explosion of social media and message sharing apps has revolutionised the way we communicate and my children see and use this technology in a completely different way.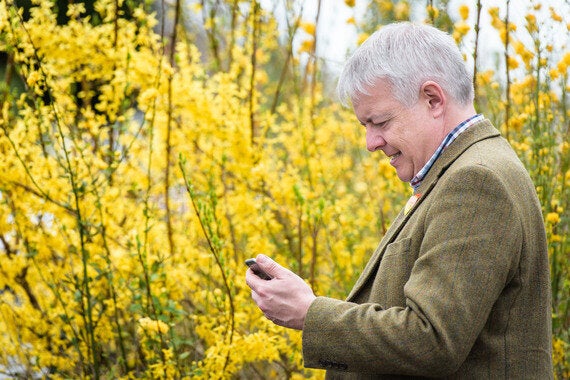 First Minister Carwyn Jones. Photo by Natasha Hirst.
The statistics are quite astonishing. This time last year there were 30 billion WhatsApp messages being sent daily, with the company employing just 34 engineers to oversee that volume of message sharing. A company just seven years old now has a billion users with 1 million new social media users being added every day, that's 12 each second.
Over 1.5 billion smartphones are sold every year, and that includes some of the poorest parts of the world. There are more people in Sub-Saharan Africa with a mobile phone than have grid electricity.
Technology is changing what we think of the world around us, the promise of self-driving capability means that a car will become a computer on wheels, and you could define a drone as a computer that flies.
We are in the midst of a revolution and rapidly changing technology provides both an opportunity and a challenge for those in education. But it is difficult trying to work out what skills and understanding our children need to acquire so they can thrive in the world and the labour market of the future.
I am not alone in believing that giving our young people the digital skills they need is an investment in the competitiveness of the Welsh economy. Recent stats suggest there are 900,000 unfilled computing jobs across the EU, because of a lack of skills, and Wales has its share of that.
This is why we are, today, launching a five-point plan to support coding and digital literacy skills. We want Wales to meet the aspiration set for us by a group of industry experts to become 'an Agile-Digital Nation'. I want Wales to be renowned for producing talented tech innovators, world class software engineers and successful entrepreneurs capable of fuelling high skilled digital industry growth.
Of course, not everyone will become a coder when they leave school, but everyone will need basic digital skills in the same way they need literacy and numeracy. This means exposing young people to skills such as coding at an early age in school because that knowledge is going to play a critical role in their lives - whatever career they go into.
We know from both research and indeed our curriculum review that coding, or "Computational Thinking", is increasingly a required skill across all professions. The doctors, lawyers and architects of the future - not professions you might associate with coding - will increasingly be working alongside all manner of computing and digital technologies. You only need to talk to GPs about the number of patients that come in having first searched Google, or the number of apps which track health and exercise-related metrics, to see the direction that the technology is taking us.
Wales has a great record of promoting the learning of digital skills and coding, for example the fantastic success of Raspberry Pi and that's why we've chosen Sony's UK Technology Centre in Pencoed to launch our plans today.
As a government we've made a good start to developing the new curriculum for Wales which includes plans to roll out Digital Competence and developing a new Computer Science subject from the ages of 5-16. Coding skills will be an important part of this. We know that curriculum change takes time however, whilst technology moves fast. And that's why we want to fast-track these changes into our schools.
Our plan will provide every young person in Wales with access to a coding workshop and we'll extend successful programmes like Technocamps, which has already helped educate thousands of children about coding and computer science.
The infrastructure for facilitating the teaching of coding and digital skills is being put in place and thanks to the Welsh Government's Superfast Cymru programme, schools across Wales are getting access to high speed broadband connectivity. However the human infrastructure to deliver effective digital literacy is just as important and increasing the capacity of teachers in Wales is vital.
We will work with teaching training providers to ensure new entrants to the profession have the skills they need to teach children effectively. We'll also make sure that there is effective professional development to facilitate the wider curriculum changes, and as part of the New Deal for teachers we will give more support to initiatives such as Technoteach.
We will also work with partners in business and industry to expand the numbers of Coding Clubs in Welsh schools so young people can develop their skills in time around the curriculum. Part of our work will also be to encourage more girls to take up STEM subjects at both an earlier age and throughout their education. We can see positive changes in other parts of the world - for instance, Computer Science has for the first time become the most popular subject for new female students at Stanford University.
Nobody can predict the future but if we are to fulfil the promise of Wales as an Agile Digital Nation then we need an agile digital Welsh Government ready to anticipate the needs of the changing and growing Welsh economy and invest in giving young people the skills they need.
We need the children of Wales to be comfortable with technology.
Not just by using it, but by building it.
The next Welsh Labour Government aspires to make Wales a world leader in digital skills.
Welsh Labour's 5 Point Plan to Support Coding and Digital Literacy in Schools
1. Support the effective development of the new Curriculum for Wales by:
- Developing a new Computer Science subject for years 5-16 within a new Science and Technology Area of Learning and Experience
- Rolling out Digital Competence as a cross-cutting curriculum responsibility (on a par with Literacy and Numeracy)
- Developing a Digital Competence Framework from September 2016
2. Expand successful projects such as Technocamps and partner with innovators such as Raspberry Pi to give every child in Wales access to a coding workshop and encourage more girls to take up STEM subjects.
3. Work with industry and local businesses to encourage Coding Clubs in every part of Wales.
4. Support projects like Technoteach to provide effective Continuing Professional Development support to teachers.
5. Develop new pathways for Initial Teacher Education and Training in Computing to encourage the best talent into the profession. All entrants to the teaching profession should have the skills to deliver the Digital Competence Framework (DCF).