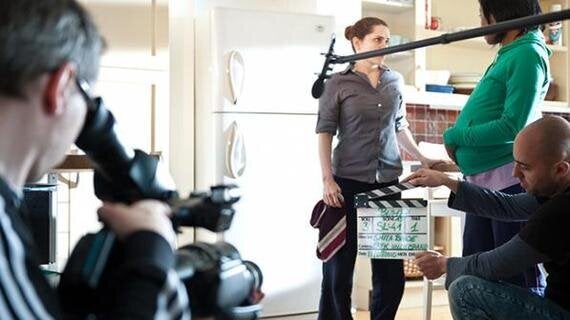 "One of the most cited problem we come across when talking to producers and directors is that nobody knows where to look, despite being willing to search for trans actors." (J. Tebble, "Is the Tide Turning for Transgender Actors?")
We are seeing an increase in transgender characters in film and television. Very recently, performers who identify as trans are being cast in roles such as Judy in the BBC's new sitcomBoy Meets Girl, played by Rebecca Root and Helen in Cucumber played by Bethany Black and Laverne Cox playing Sophie in Netflix original, Orange is the New Black.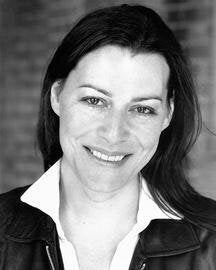 Rebecca Root, photo: Steve Lawton
More commonly, transgender characters are played by non-trans actors. There's Eddie Redmayne playing Lili Elbe in The Danish Girl, Jared Leto playing Rayon in Dallas Buyers Club, Victoria Atkin playing Jason Costello and Modupe Adeyeye playing Blessing Chamber both in Hollyoaks for example.
Juliet Jacques recently put together a great list of "10 Great Transgender Films". Even in this very short list, there are actors whose own gender identities vary, all playing trans women and trans men, including actors who identify as trans and actors who do not. On the whole though, there are very few actors who are transgender and/ or non-binary playing any kind of role on television, on stage, in film or on the radio. The kinds of work that trans performers Jason Barker, Lazlo Pearlman, Emma Frankland, and others are doing is often off the mainstream stages and is work performed at fringe or 'alternative' venues and/ or bars and clubs for example. In terms of screen performance, "there's a 50-year tradition of trans people representing themselves in queer underground film" (Juliet Jacques, "Should trans screen roles be played by trans actors?")
When we open this topic up for discussion, a common refrain is to suggest that we want good actors on screen. The implication is that we don't want trans people to be employed to play a trans character just because they're trans. We want a good actor to do the job. Acting is about pretending to be someone else and the important factor is having someone skilful to tell a story through their portrayal of a character. Their own gender identity shouldn't matter.
However, there is criticism from some that casting a man (Eddie Redmayne) to play the role of a woman (Lili Elbe) is as offensive as casting a white actor (Lawrence Olivier) to play to the role of a black character (Othello, 1965). Criticism too of the exploitation of trans people's lived experiences, taking people's stories and turning them into entertainment:
The Act for Change project, founded by Danny Lee Wynter aims to strengthen diversity in the live and recorded arts, and to communicate to the unrepresented audiences that a future exists with them firmly featured in it. All About Trans work with the media to improve the relationship between the media & trans people in the UK. Some of this work is about representation of trans people in news articles that often scandalise and mis-pronoun people, and some of it is about how shows such as Hollyoaks, Eastenders etc. can develop a trans character that will serve as a respectful representation of a trans person and even possibly, cast a trans actor into that role.
With a similar intention to strengthen diversity within the arts, a new project starting in August this year will be giving trans people who are interested in performing, the opportunity to develop skills in screen acting, working with text, understanding the voice as an instrument, audition techniques and more. The TransActing project is a new collaboration between me at Royal Central School of Speech and Drama, Gendered Intelligence and Lucky Tooth Films.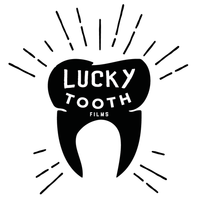 "We need more role models in the media, acting in trans roles and in cis roles too. I think this project will start to open up doors and provide the missing pieces of the puzzle to equip trans people with the knowledge and confidence to apply to any role."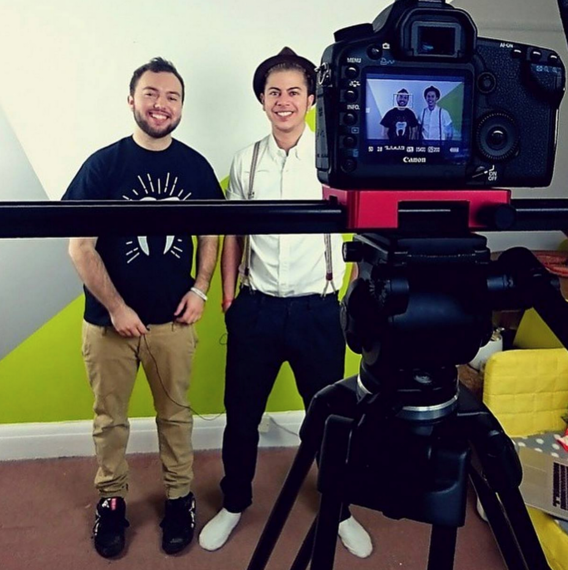 Lewis Hancox (left) and Fox Fisher, Lucky Tooth Films, photo: Sophie Moore.
As collaborators, we'll bring our experiences of facilitating drama, theatre and performance training together with input from a number of TV industry professionals on matters of castings, auditions etc. We'll be reflecting on some questions as we go, asking whether there are specific barriers for trans/ non-binary people who want to enter into this industry and the extent to which gender normativity discourages trans/ non-binary people from considering more formal actor training.
As someone that works at Central, one of the leading Schools for theatre and performance education and training, I want to be part of the revolution in diversifying the creative and cultural sector and enable more individual people from all kinds of backgrounds to become the new generation of makers and thinkers in the arts. Together as a project team we want to contribute to an increase in the number actors who identify as trans, non-binary, genderqueer and more because we think that will make for better art.