Just two weeks ago a young Kenyan volunteer called Felix Owino was invited to London to represent African youth at the first ever Youth Summit hosted by the British Government. He returned fired up about the potential for his generation to do something big to change their path on education in particular.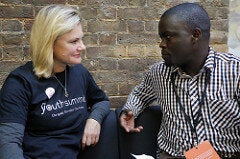 This is a critical time for the future of young Africans because our Heads of State are descending on New York for a UN Summit expected to be the biggest ever. They are signing up to a new set of Global Goals tackling the big issues of our generation like employment, climate change, peace, gender equality and, of course education.
When we look back at the successes of the previous UN Declaration, the Millennium Development Goals( MDGs), people often talk about education in glowing terms. And they would be right. When free primary education was introduced here in Kenya, millions of people enrolled the next day. In Sub-Saharan Africa, the number of pupils in primary school has doubled in the past 15 years.
Yet so many challenges remain. For example, most of the schools where Felix volunteers with Pacemakers International as a teacher have over 100 pupils in each class. They don't have textbooks, electricity or technology. Nationally, we are short 70,000 teachers and many pupils are not getting the quality education which they deserve or that will equip them with the skills they need for the future. The teachers we do have are poorly paid and more than 280,000 public school teachers have been on strike now for a month demanding a pay rise, with little result.
A good education gives people living in poverty the power to improve their own lives. An educated young person is an empowered young person. It's someone more likely to get a job, to start their own business, and to have the confidence to challenge the widespread corruption that we sadly see in our society. An educated woman is more likely to have the confidence and ability to control her fertility and avoid early marriage.
In Kenya, young people like Felix have started to organise themselves to improve this situation. By volunteering in schools and on other VSO or ICS placements, I have seen that they are in a unique position to change things. They raise awareness of the opportunities for earning a living, managing natural resources properly, women's empowerment and stressing the importance of education in the community. They have done practical things like setting up literacy clubs and reaching out to remote rural communities by encouraging more pupils to come to school.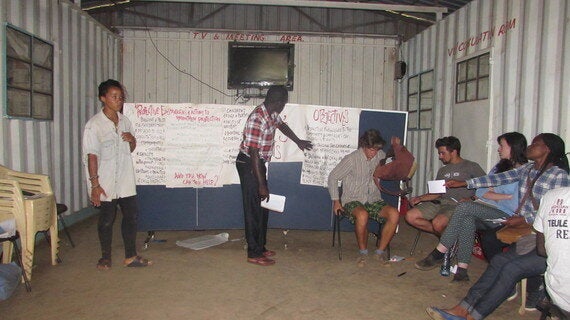 These might seems like very simple, community-level actions that have no mass impact but they are being replicated across Africa, despite not always being recognised. The fallout of no intervention would be pupils leaving school early or with sub standard education, unable to get further qualifications or jobs and therefore unable to become the entrepreneurs, farmers, health-workers and indeed teachers of tomorrow ,that the ambition of the Global Goals requires them to be.
So here I am, inspired by one young fellow Kenyan's enthusiasm, calling on our leaders attending the UN Summit in New York to hear the voices of Africa's youth. When you sit alongside President Obama or Prime Minister Cameron, and rub shoulders with film or pop stars, even Pope Francis, please represent their call for a better education so that we can work with them to achieve these Global Goals by 2030.