January is the month that media outlets around the world predict the next big thing and showcase the newest trends, from exercise techniques to technology.
Sadly, one trend that will continue this year from last will be that youth unemployment will remain high. It should therefore still be considered a crisis by policymakers and businesses in Europe, where one in four young people were jobless in 2013.
While unemployment amongst adults seems to be turning the corner in many economies, the latest data from Eurostat shows that youth unemployment levels are (in most cases) either increasing or remaining stagnant.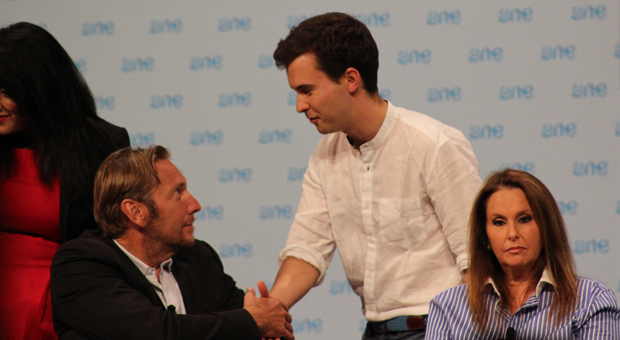 Above: Charlie Oliver shaking hands with B Team Co-Founder Jochen Zeitz at last year's One Young World Summit in Johannesburg, South Africa.
There are currently 5.66 million unemployed young people in Europe, 3.58 million of whom live in the Eurozone area. The difference between members is stark. In Germany youth unemployment currently stands at 7.5%, compared with Spain where it is 57.7%.
The problem with this creeping crisis is that there are not enough "news worthy" developments to merit the media attention it deserves. However, if you're looking for a reason to do something about it here's one: research by the Prince's Trust Macquarie in the UK this month, found that one in three long-term jobless young people have contemplated suicide. In addition, 24% have self-harmed.
In the UK, the number of young people that have been unemployed for over a year is at its highest since 1993 at 282,000. As a group, those out of work are twice as likely to be prescribed anti-depressants by their doctor. This hopelessness is clearly a consequence of joblessness.
Skills Gap
The primary cause of youth unemployment is a widespread absence of skills and experience for the workplace, known as the "skills gap."
In Europe, the IMF's Christine Lagarde has warned that the crisis won't be over if countries cannot stimulate domestic demand and resolve youth unemployment. All our economies need a future pipeline of skilled young people entering our labour forces. Indeed, as global competition continues to increase, young people need to work in productive skilled roles, as unskilled ones are increasingly mechanised.
The most frustrating thing is that many businesses need the digital experience of young people to combine with the pre-digital experience of their senior leadership. My employer O2 found in 2012 that the value of under-utilised talent among young people in the UK was worth £6.7 billion. That's close to the predicted annual benefit of a new free trade deal between the entire EU and Canada, agreed in October.
To address the skills gap, governments need to facilitate education reforms at our schools and universities so that young people can enter the labour force with practical skills and experience, as well as the confidence to embrace their talent in whatever field it might be in.
Further, the private sector can and should do more to support employment of young people, especially in their core markets to underpin their future success. If done correctly, this could become a source of competitive advantage as businesses look towards their digital futures.
In summary, we must continue to push for the government, educational institutions and the private sector to do more in 2014. Employers and educators need to unite and agree on curricula that are more mindful of the requirements of today's workplace.
The need for action is as urgent now as ever before, otherwise this trend will continue for years to come.
Visit Charlie's blog here.