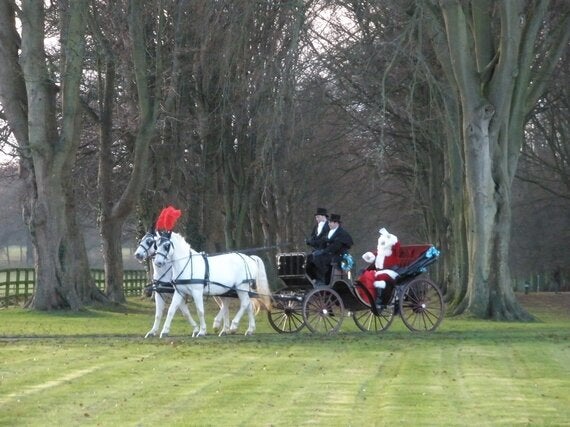 This year, Christmas whizzed back so quickly that it had whiplash, streaming eyes and didn't have time to zip its flies or run a comb through its hair.
I should have been ready and poised, after all, supermarkets sprouted their first rash of baubles in Easter. But I just didn't spot the warning signs and suddenly found myself staring aghast at the calendar, anxiously trying to microwave some emergency Christmas cheer.
Since I was bred in a petri dish specifically for this occasion, I was alarmed, frustrated and disappointed by my Yuletide impotence.
I dug deep and finally realised that it's not me, it's you. Blighty has messed up Christmas.
It all went wrong on the aptly-named Black Friday, when the entire country had a hideous breakdown and dementedly flattened each other with trolleys, while roundhouse kicking elderly shoppers in the blessed name of a bargain foot spa.
Then I questioned whether Peter Andre replaced my heart with an Iceland prawn ring, after the world cried hot, salty tears over a boy's disturbing hallucinations of a horny, tyrannical penguin, and a brat who flew into a violent rage when asked to make biscuits, which proved a far better advert for contraception than it did for Waitrose.
Laurence Llewelyn-Bowen hammered the final candy cane through my festive heart with the launch of The Magical Journey which, for an initial fee of £22.50 promised a "winter wonderland of magic and drama" but temporarily closed after its first day, when elves were caught smoking, the festive train broke down, Santa was hauled in for emergency training and children were photographed weeping in a muddy car park.
But despite all this, by some exquisite miracle worthy of a grinch-to-elf TV movie, I jumped on a train away from London and one hour 45 minutes later, discovered the last bastion of bonafide Christmas... in Bath.
It's an extended, 17th century Palladian mansion and my jaw rested on the floor as we drove up the epic, mile-long drive - lined with great beech and lime trees, which Spitfires camouflaged beneath during the war - and past the three helicopters, casually parked in the stunning 500 acres of parkland, croquet lawns, football pitches and tennis courts.
The staff were nonplussed when I mentioned the helicopters, as if I'd pointed out that bears have toilet habits which frequently spoil woodland walks for others - here, it is perfectly normal to get your chopper out for brunch.
Once in reception, enveloped in a cloud-impersonating sofa, I felt like I'd found Lord Lucan - THIS is where Christmas had been hiding, among the blazing fires, gargantuan Christmas trees and warm, amber glow that you only see in American movies.
The hotel is impossibly grand and deserves every single one of its five gold stars, but there wasn't a sniff of a whiff of snobbery - I didn't feel ashamed about the half-eaten bag of Quavers peeking out of my handbag, neither did I feel the need to subtly remove my enormous, blinking eyeball ring, because the staff made me feel like this was my very own, enormous grotto.
My husband and I worked our way through the hotel's endless attractions, in the weekend break equivalent of ramming your face with Selection Box chocolates on Christmas morning.
We started at the Equestrian Centre stables, which were so neat, I made a mental note never to invite the horses back to mine, for fear of being silently judged.
They have more than 40 beautiful horses and ponies, which run free in the surrounding fields and the guests (from tiny-footed sprogs to big-trottered adults) can hire boots and horses for jumping, dressage or cross country. I decided to be a little more liberal with the conditioner after one horse started greedily munching its piano key gnashers through my hair, mistaking it for straw,
At Christmas, the horses pull a Victorian, horse-drawn carriage to the hotel's entrance for Father Christmas to deliver gifts to its wee guests. Its Christmas Escape Package also includes carol singing, Christmas Eve champagne reception, midnight mass and a Cinderella panto or treasure hunt, explained the immense Resident Manager, Peter White.
Like many of the staff, through black magic, voodoo and mirrors Peter seemed to read our minds, preempting all questions and needs during our stay.
He invited us to the Drawing Room, for dinner - a sentence which is impossible to say without feeling like Bertie Wooster. We were furnished with champagne and treated to a series of brilliantly unusual canapes, while we pondered the menu.
We opted for the Gourmet Tasting Menu, because it looked like a massive wow and came recommended by the omniscient and omnipotent Peter.
This was Christmas feasting on a scale which made Bacchus look like a xylophone-ribbed anaemic.
Over a period of four delicious hours, my husband and I diligently chomped our way through the menu in Lucknam's Michelin-starred and critically-acclaimed The Park restaurant.
I expected such a quintessentially English hotel to serve frightfully traditional nosh, but what makes this place so exciting, are the unusual twists and surprises, such as the thrillingly Willy Wonka-esque dishes, by Marco Pierre White's protege, Chef Hywel Jones's
Each plate was an immaculately presented adventure to wrap our tongues around. And we started with a glorious, poached Cornish langoustine, potato mousse, Exmoor caviar and gribiche dressing - all ingredients were locally sourced, fresh and organic.
The second dish was roast Scottish diver scallop, carrot puree, spiced croquette, raisin and caper vinaigrette and looked like an energetic Kandinsky painting.
We were then invited to try duck foie gras, prepared in two different ways - hot and cold - and the ingenious accompaniments of pickled peach, honey and chamomile jelly were beyond sexual.
The stand out course was the braised fillet of turbot with buttered iceberg and Cornish crab, hand-rolled macaroni and Wiltshire truffle butter. Even writing that makes me want to greedily mop my computer screen with bread.
I was beginning to wonder if I remembered a time before chewing and swallowing, but mentally high-fived myself for having room for each, cunningly-measured course.
The next dish was Loin of Bwlch farm Venison with chestnut gnocchi and fondant winter vegetables with (I am categorically not messing with you) chocolate jelly and Bannerdown sloe gin sauce.
This was followed by several udders-worth of extraordinary cheeses and outrageously good truffle oil, served by a waiter who spoke fluent dairy and placed the grapes on our plates with the love and tenderness of a new mother.
My husband became 93% grin when he clocked the immortal words, "pre-dessert" on the menu. He's always preached the importance of laying the sugary groundwork in preparation for the main event - finally, a respected establishment had vindicated his beliefs.
Our gastronomical journey closed with a vanilla creme brulee, bitter chocolate sorbet and raspberry doughnuts.
And although I needed to be waterboarded with liquid Gaviscon, I felt impossibly content and slid from our suite's vast, free-standing bath and into our bed, secure in the knowledge that I loved those dishes more than I loved many of my own relatives.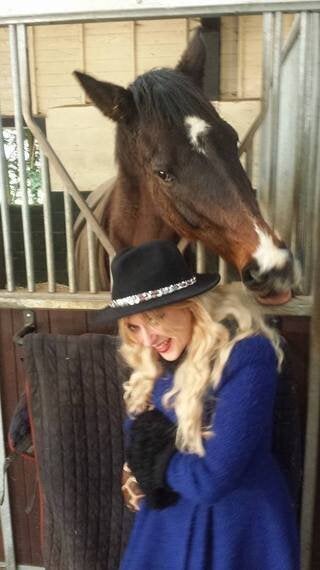 Lucknam Park is a member of Pride of Britain Hotels, a consortium of 49 privately-owned independent British hotels.

A one-night stay in a classic room costs from £275 per night based on two people sharing.

Contact Pride of Britain Hotels - 0800 089 3929 - www.prideofbritainhotels.com.