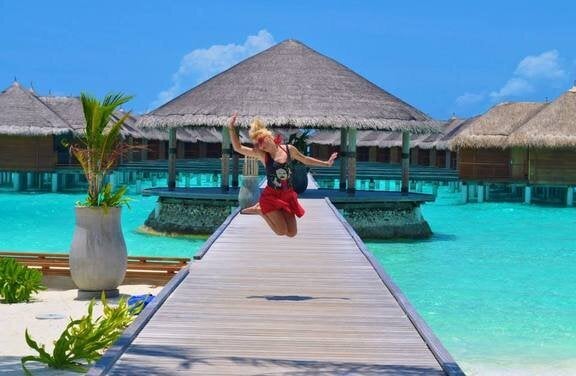 I am grimly accepting the fact that a Bloody Mary is no longer an acceptable breakfast, I must wear shoes and clothes again and won't find a dazed, melon-wedge grin on my chops whenever I look in the mirror.
No, I haven't recovered from a breakdown, I am actually referring to my return from our epic, Maldivian honeymoon. Robinson Crusoe's wildest, wet dreams couldn't have imagined the intimate, five-star Maafushivaru resort which has made the reunion with our previous lives so desperately unsavoury.
The island is just over 500 metres long and can be walked in 10 minutes, across powdery sand and wooden jetties so hot, they are studded with giant vases of cold sea water and ladles to splash in front of your feet. Everything is sand-floored, from the bars to the restaurants, so you can be as feral and shoeless as Joss Stone.
We played it cool when the manager led us down our private jetty to the stunning, thatched Water Villa on stilts which was to be our home that week. But we chest-bumped each other and squealed like adolescent pigs when he shut the door behind him. The ceilings were built for Jack and his Beanstalk and we left the blinds up, so we could open our eyes each morning from our Four Poster bed and gaze out of the enormous windows at the luminous, turquoise ocean outside. Our private sundeck had steps down to the warm, emerald lagoon and marshmallow-soft loungers and sunbeds waiting for us at the top.
There's a psychological theory called the Reminiscence Effect, which explains why time seems to fly faster the older you get. Your first, emotionally charged experiences - first kiss; first booze-up; first flight - are recorded in slow, vivid detail and the next time you encounter these feelings, they pass in a more routine and mundane blur, which gives the impression of time speeding up. And it's a sad fact that there are few, exciting new experiences the older you get.
But I experienced one of these with deliciously slow, childlike delight at Maafushivaru. As we trotted along a jetty to dinner one night, the general manager pointed down at the sea froth beneath us, glowing with what looked like bright, blue fairy lights which were deposited on the sand in a neon line of glowing cobalt. My tiny mind had been blown and sh*t had undoubtedly, got real.
I learned that this was plankton - I was vaguely aware of its work and understood it to be a mucky green blob at the bottom of the food chain and a cheeky sidekick for Spongebob Squarepants. I had no idea it could be so mind-blowingly beautiful. When plankton are disturbed, a chemical reaction causes them to glow even brighter, so I insisted upon walking back via the Dinoflagellates plankton EVERY night, to see our footsteps glowing in blue on the sand, like Michael Jackson in Billie Jean, while electric lights shone from the soles of our feet.
My mind was clearly ripe for blowing, because this happened a second time on one of our many, amazing sea safaris, snorkelling with sting, eagle and manta rays, dolphins and sea turtles with their babies. This time is was during an excursion to swim with the biggest fish there is - the Whale Shark, which can grow up to 12 meters and weigh more than 21 metric tonnes.
After a pleasant, boat saunter between islands, the guide cut the motor and ordered us to jump into the sea - he'd found a whale shark. Cue a boat of tourists frantically ramming snorkels over heads and waddling like demented ducks in flippers to leap into the ocean. Once I'd caught by breath, I thrust my head beneath the waves and was alarmed and thrilled in equal measure, to see an enormous whale shark, seemingly occupying the entire sea bed beneath me and decorated with a checkerboard of vibrant yellow spots and stripes.
My husband - I still feel like an arse, calling him that - swam in front of one and as the bubbles settled, looked back and saw the gargantuan creature swimming through the dark, blue mist towards him. He lifted his sad, little Kodak to get a picture and discovered that he'd wasted the last shot on a sh*tty old fish.
Another underwater marvel took place during a sea turtle safari, when I noticed the other snorkelers were no longer looking down. I glanced around to see what the fuss was about and was greeted with a kaleidoscope wall of Clown Fish, filling the ocean as far as I could see. Inexplicably, the wallpaper of Nemos was broken in a perfect line by another, thick army of never-ending Oriental Sweetlips, which are straight out of Austin Powers's fish tank, with zebra stripes and bright yellow fins covered in Lava Lamp blobs of black.
The 135° East restaurant was extraordinary - a contemporary Teppanyaki and Sushi restaurant on its own sunset pavilion over the lagoon, with a chef who uses dark arts, smoke and mirrors to turn your food into butterflies and flowers as he prepares it in front of you; juggles and flicks eggs into your mouths as you sit around the counter and triumphantly emerges from the flames of his grill with a never-ending succession of imaginative dishes.
Possibly my favourite meal of the entire honeymoon - and I impressively off-set months of wedding dress starvation during the trip - was at The Deck, on a secluded jetty above the ocean, lit by flickering torches beneath a rather apt, Full Moon. My napkin had been folded into a woman's dress and accessorised with real flowers and my husband's was folded to resemble a man's shirt. We were treated to a dazzling, five-course menu which included beef tenderloin cooked in a secret sauce which no amount of drinks could help us prise from the Chef, as well as a whole-baked Snapper fish in a life-changingly delicious, Thai concoction.
We even met the village chief - or Katheeb - in charge of the islands, who let me have a puff on the hookah pipe that one wife was loading, while the other lovingly fanned him - I fear this may have given my chap unrealistic expectations of married life, which I have subsequently nipped in the bud. The chief was at Maafushivaru's Maldivian Night, where we were also introduced to Maldivians displaying native skills like coir rope and curry paste making, constructing toys from palm leaves and teaching us to write our names in their language. Later, we were treated to a troupe of drummers and traditional dancers and singers, known as 'boduberu' in Dhivehi.
My entertainment highlight was undoubtedly seeing my husband attempting to squeeze into pants, made for a five-year-old girl from 10 Denier tights, for our couple's massage at the thatched spa on the beach. He lay on his front to conceal his Nylon shame and halfway through the back-kneading, his therapist said: "Please turn over now, sir." I snorted back giggles as I heard him hesitantly reply: "What... REALLY?!"
There was no point hiding from the boat, when it inevitably came to snatch us away like Les Miserables's party-pooping Javert. We bobbed around the middle of that big, wobbly turquoise thing as a tiny seaplane landed and whisked us away over the glowing atoll rings beneath us.
Happily, to cushion the blow, there were more watery adventures waiting for us when we returned home - our boiler had broken and the cats had p*ssed in the hallway...
Kuoni (01306 747008) offers seven nights on all inclusive at the 4.5-star Maafushivaru, Maldives in a Beach Villa, including flights with British Airways (direct) from Gatwick and group transfers in resort.
Prices for December 2013 are from £2,800 per person, based on two sharing