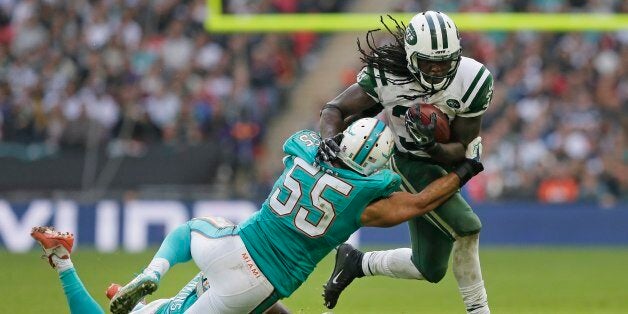 The Miami Dolphins played the New York Jets at Wembley this Sunday. In what was one of the least fun games in the NFL International Series, the Dolphins looked toothless for the duration despite the Jets' best efforts to give away the game in the closing minutes.
Both teams now head back across the Atlantic for a well-earned week off. In the mean time, here's what we learned from the game.
1) MIAMI MIGHT HAVE QUIT ON THEIR COACH
What a difference a year makes.
This time last year the Dolphins crushed the Oakland Raiders at Wembley and everything looked up for the Fins, while Oakland sacked head coach Dennis Allen just four games into year. One year later, it's Miami coach Joe Philbin who looks in jeopardy after his team appeared to simply give up under the first signs of duress.
The Dolphins (1-3), had looked underwhelming in all three games before Sunday, but never looked like they simply didn't want to be on the field. Philbin, nor his offensive coordinator Bill Lazor or defensive coordinator Kevin Coyle, were able to inspire any energy, passion or even sometimes effort in his players.
With a bye week coming, now is the time to make significant changes. Following the game, Philbin said he had no concerns about his job security. Asked about whether he'd consider changes to his staff, Philbin told reporters "Kevin [Coyle] is our defensive coordinator" - hardly a ringing endorsement.
Earlier in the week it was reported that team owner Stephen Ross was ready to fire Philbin if the Dolphins lost in embarrassing fashion in London. Humiliation is subjective, but with a bye week coming and still some hope for the season, now is the time for change.
2) THE JETS COULD SQUEEZE INTO THE PLAYOFFS
Sitting pretty with a 3-1 record and an early bye week, the Jets have a strong chance to make the playoffs. They'll be favoured in six of their next eight games (against Washington, Oakland, Jacksonville, Houston, Miami and the New York Giants), and should give the New England Patriots a close race for the AFC East division title late into the season, barring injuries or stagnation on offense.
The AFC has a middling class of good teams, and New York could yet be one of the best six. Quarterback Ryan Fitzpatrick did enough to earn the win on Sunday, running back Chris Ivory is capable of taking on a hefty workload and wide receiver Brandon Marshall is still exceptional. Combine a solid offense with a defense stout against the run and leading the league in turnovers, and they're on track to reach the postseason right now.
After their presumed starter Geno Smith suffered a broken jaw in a locker room brawl with one of his own teammates in the preseason, many wrote off the Jets as nothing more than a media circus. Sunday's win will go some way toward changing that image.
3) JARVIS LANDRY CAN'T DO IT ALL ON HIS OWN
He may not be as world-destroyingly explosive as his former college teammate Odell Beckham Jr but Jarvis Landry is one of the best young receivers in the league. Although he only registered four catches for 40 yards, Landry looked electric each time the ball was in his hands. His winding punt returns gave Miami's anaemic offense a chance early on, and became the only way the Fins could consistently earn yards - excluding dubious pass interference penalties.
The key to his development will be another role player stepping up and providing another outlet for quarterback Ryan Tannehill. Opposing teams simply aren't worried about any other player on this team at this point, allowing them to focus on shutting down Landry.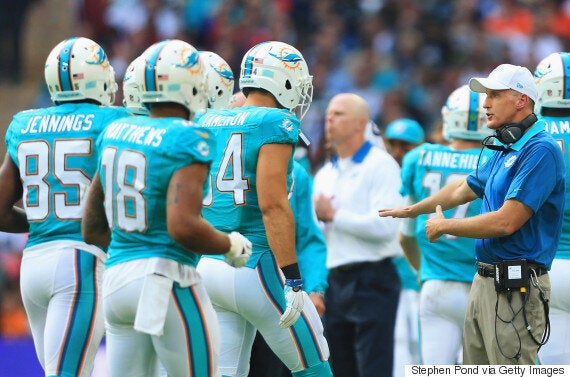 4) NDAMUKONG SUH ISN'T DOING ANYTHING ON HIS OWN
The star defensive tackle's tetchy post-game press conference didn't feel like anything new - his grumpy demeanour is something of a trademark - but it was yet another signal of a dissatisfied and disgruntled team lacking leadership and any kind of vigour. Asked what he feels the defense needs to do to improve, he could only answer "tackle and execute better".
Suh made just tackles on the day and remains without a sack. In fact, the Dolphins defense has just one on the year. The Dolphins handed Suh a $113million contract, $60m of it guaranteed, this summer and quite fairly expected more from the best defensive tackle in the league.
His presence was meant to create opportunities for prolific pass rushers Cameron Wake and Olivier Vernon but neither showed up at Wembley.
5) BILL LAZOR CANNOT RUN AN OFFENSE
Bill Lazor, hired from Philadelphia before last season after one year studying Chip Kelly's vaunted no-huddle offense, has been a disaster. Far from instituting Kelly's high-scoring, high-tempo 'system', Lazor has utterly failed to bring any kind of consistent productivity or excitement to south Florida.
Lazor could not have called a worse game on Sunday. Lamar Miller, a talented runner, was handed the ball just seven times in the game. Jarvis Landry was the only player able to get open and cause problems for the Jets secondary. The entire second half consisted of hopeful lobs toward the endzone, the kind of throw which Tannehill does not excel at.
This game felt over the second the Jets scored early. The crowd had no faith in Miami making a comeback and, honestly, the players didn't either.
6) LONDON DESERVES BETTER GAMES
If the NFL wants to expand the number of games played in London each year, it's vital its a-list teams start making the trip. The league has done a great job sending teams with global recognition, such as the Dolphins and Dallas Cowboys - but the majority of the International Series games have been disappointments.
Fans in London won't keep turning out for average teams and average games. It's time for the NFL to force its best teams into playing premier matchups in Britain. Europe's fans have earned the right to see to teams like the Seattle Seahawks, the New England Patriots and the Green Bay Packers. Support for the game would thrive in Europe if we saw Chelsea v Manchester United-like games. Right now we're getting Stoke-Villa.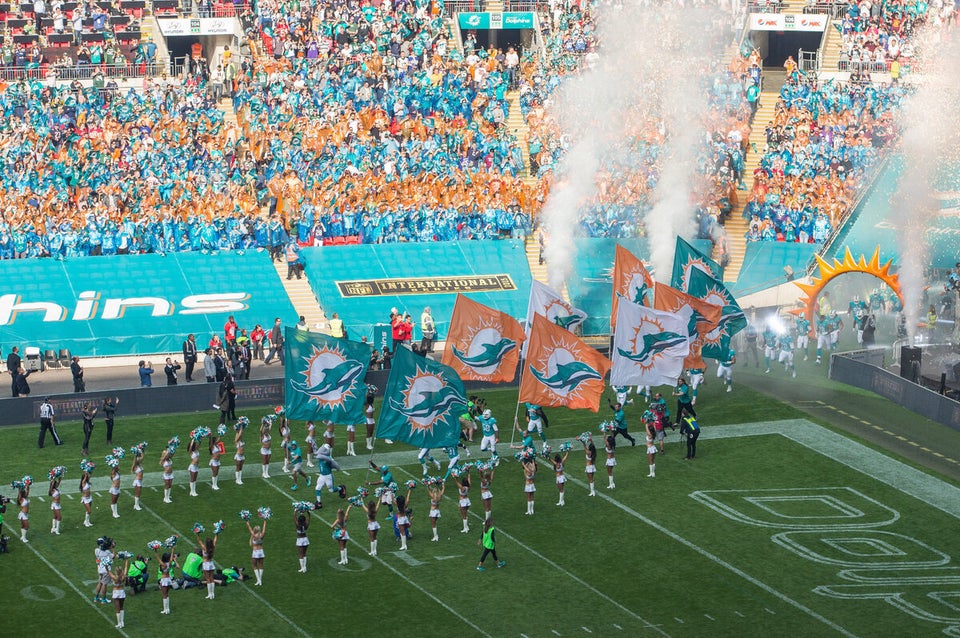 Miami Dolphins vs New York Jets
Popular in the Community