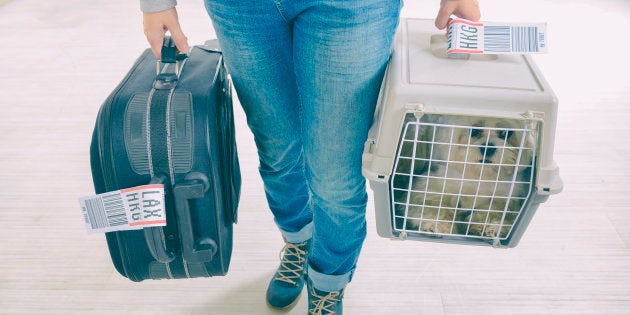 If your furry or feathered,friend is ever denied boarding, you may re-consider flying with Coco, Molly or Charlie altogether. This is the option that faced the owner of an emotional support animal named Dexter, who was refused the right to join his travel companion on board her flight recently.
To be fair to the airline in this case, Dexter was a rather large peacock. Even though his companion was prepared to pay for his seat, Dexter's size, weight and possibly the downright weirdness of having a peacock as an emotional support animal may all have prompted the airline to get on its high horse.
Middle Eastern airlines, for example, are well versed in rolling out the red carpet for pet falcons. Not only are these falcons a status symbol and much-loved member of the family, they also have their own passports and are permitted to fly on the arms of their owners. Of course, they're probably pint-sized compared to Dexter.
Airlines have different policies as they pertain to local and international travel for animals, so the first step is to speak to your travel expert so they can advise what is allowed and what costs are involved.
According to Nicky Potgieter, Flight Centre Travel Group (FCTG) leisure marketing leader, there's a difference between travelling with an emotional support animal, or a service animal, to simply wanting to move your beloved pet from A to B.
She says service animals typically fly free of charge and most airlines allow these animals – dogs, birds and cats – to travel in the cabin with the traveller. Airlines have different policies as they pertain to local and international travel for animals, so the first step is to speak to your travel expert so they can advise what is allowed and what costs are involved.
"You can consider using a service like FLY-A-PET or Aeropets, which can take care of all the details, or you can do it yourself and perhaps treat your jet-set pet with a visit to the PetLounge if you're travelling domestically through Cape Town, Johannesburg, Port Elizabeth, Lanseria or George," says Nicky.
Planning to travel with your four- or two-legged friends in the near future? Flight Centre compiled these purr-fect tips and tricks to consider before you fly:
Check with your vet to see whether your pet is healthy enough to travel and obtain a health certificate, as certain countries require one for international air travel. Requirements may include blood tests, vaccinations and microchips for identification. Rabies inoculations are, for example, compulsory worldwide and are subject to a waiting period of seven to 14 days between the inoculation and date of flight. Certain breeds may also struggle to travel in aircraft or at certain temperatures, so be mindful of this when planning your trip.
Assess whether there is a quarantine period and how long this is, and whether an import permit is required. You can also speak to your travel agent or visit the website of the airline you are flying with, to assess what policies are in place for travelling with pets – whether they're allowed to accompany you to normal check-in, what excess baggage rates apply and what type, and size, of pet carrier is acceptable on the aircraft. All documentation should travel with your pet, attached to their carrier, as well as a photo of the animal, in the unfortunate and unlikely event that it goes missing.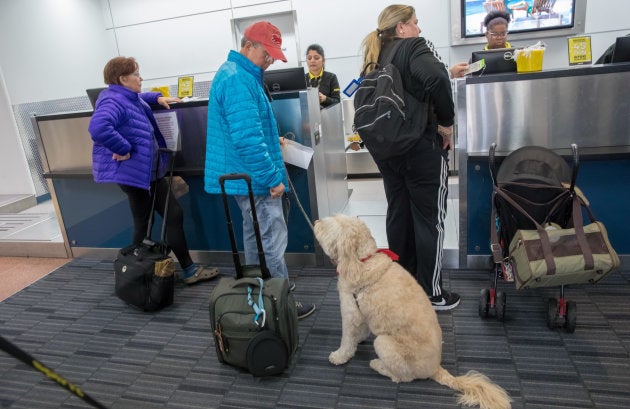 Keeping your pet comfortable
Minimise the stress on your pet by getting them used to the pet carrier before the journey, and look at securing flights with fewer connections and layovers. Also try not to fly during peak periods or holidays, to avoid the crowds. Label the carrier with your contact information and indicate that it contains a LIVE ANIMAL by marking it clearly as such and drawing arrows or writing "THIS SIDE UP" on both sides of the carrier. If the animal is travelling in the hold, check them in as early as possible, so that they avoid the hustle and bustle of aircraft loading. If your airline allows you to take your pet along with you in the cabin, try to check in as late as possible.
It's not as easy as pitching up to airport check-in with your pet carrier like you would with your bag. You need to make a booking well in advance and ask specifically for your pet to travel on the same flight as you, otherwise they will be loaded in a pressurised cabin when cargo space is available. Animals need to be taken to holding areas at least two hours prior to domestic travel and four hours for international flights. In the case of a guide dog, airlines reserve the right to request proof that the traveller is dependent on the animal. Guide dogs that are permitted in the cabin also need to be secured with a safety harness, not a normal collar and lead.
"It's important to check pet policies by airline well in advance, so that you're not left at the last-minute struggling to accommodate your pet and forced to leave them at home because you've forgotten to make an airline booking.
"Your travel expert can also provide advice on hotel properties that are happy to accommodate your pet, so when you're thinking about travel, don't just think about the flight – think about the transfers and hotels," concludes Nicky.