Decadent desserts are all the rage right now and we're so proud to be in such good company. As female foodpreneurs we know first-hand how tough it can be launching a food business so we want to shout out our Top 10 up and coming foodie talent and the amazing women creating show stopping ice creams, cupcakes and macarons you need to try right now.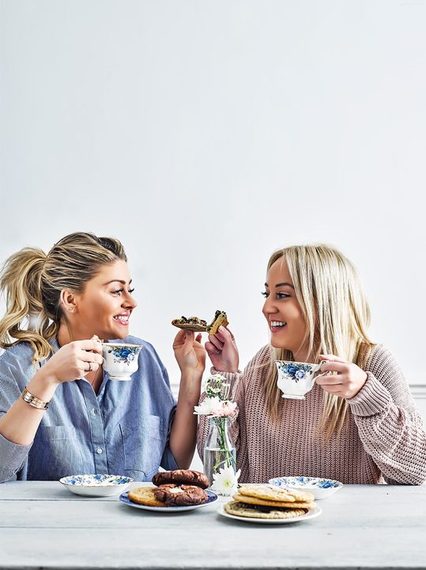 Authors own
Blondies Kitchen x Selfridges - milk & cookie pop up
Starting with yours truly, we are back hot off the success of London's first first milk & cookie popup at Old Street station, where we have been snapped up by Selfridges to sell our signature cookies and milk throughout the month of May. Known for our delicious freshly-baked cookies with just the right amount of chew, crunch and ooze, we will be showcasing our brand-new Cocoberry raspberry and coconut cookie and Frosted Flakes cereal milk available exclusively at the Selfridges' Foodhall pop-up - a limited edition pairing not to miss out on.
Our faves, the signature Cookie Icon - two classic milk chocolate cookies sandwiched together with an outrageous honeycomb chocolate mousse - will also be back due to popular demand available until June 4th.
Chin Chin Labs - nitro ice cream
Europe's first-ever Liquid Nitrogen Ice-Cream Parlour is opening a new venue on Greek Street. Chin Chin Labs uses quick-freezing nitrogen to create gourmet ice cream with a super-smooth texture. With classic flavours such as vanilla and chocolate covered, there are some more adventurous options like burnt butter caramel plus Banana Melt Sundae and a Brownwich classic ice cream sandwich. Nom.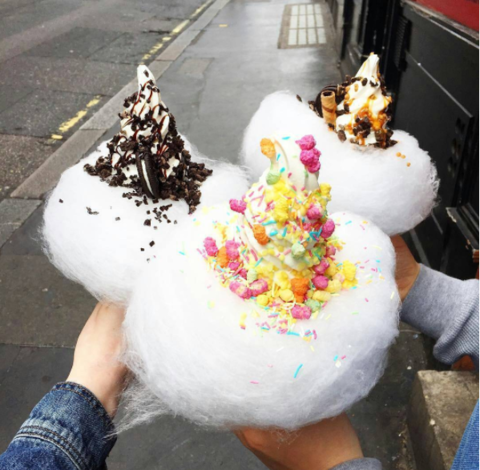 Original image taken from @milktraincafe
Milk Train - Candy floss topped ice cream
Despite the long queues, this soft serve ice cream topped with candy floss is certainly worth the wait. Flavours include salted caramel and chocolate toped with clouds of white cotton candy (candy floss), spinkles, Oreos, Flakes, anything goes! Dreamy.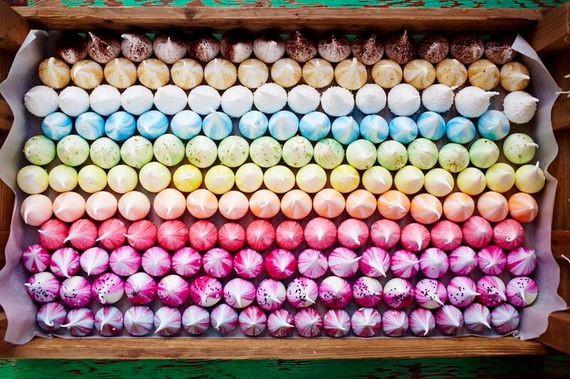 Original image taken from www.meringuegirls.co.uk
Meringue Girls - meringue kisses
Alex Hoffler and Stacey O'Gorman are best known for their delicious and beautiful meringues, hence their name. From mini pavlovas to crates of rainbow coloured meringue kisses, feast your eyes and your appetite on these Instagrammable sugar hits.
Fondant Fox x Meringue Girls - bespoke celebration cakes
The Fondant Fox has teamed up with the Meringue Girls to create an East London baking power house. Carla Fox makes individual celebration cakes to order using the finest quality ingredients such as Madagascan Vanilla Extract, Belgium Chocolate and Fortnum & Mason Preserves. Choose from Victoria Sponge, Rich Chocolate, Lemon, Carrot, Red Velvet and Fruit then decorated with flowers, fruit, icing, tempered chocolate and now stunning meringue kisses from The Meringue Girls. A stunning show stopper to impress your guests. Or just eat it alone, we're not judging.
Ange de Sucre x Selfridges - killer cupcakes
This family bakery based in Acton known for their eye-popping cupcakes are now available in Selfridges. Topped with matcha macarons, Swiss meringue buttercream flowers, walnuts, Rolos and chocolate fingers. Too lazy to move? You can also have a tray delivered to your door.
Peggy Porschen
Fancy noshing the same cakes as the celebs, Peggy Porschen's Belgravia cake parlour is the place to go. Step throught he pastel pink doors into a world of freshly baked delights.
The Marshmallowist - gourmet marshmallows
Founded by Oohagh Simms in 2011, The Marshamllowist was the first gourmet marshmallow maker in the UK. Using only premium fresh ingredients and boutique alcohol, flavours include Blueberry & Gin and Raspberry & Champagne. Devine.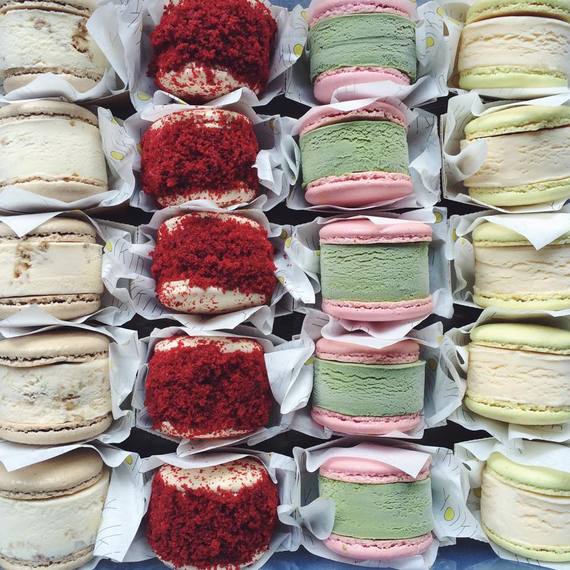 Original image taken from www.yolkin.co.uk
Yolkin - macaron ice cream sandwiches
Macaron ice cream sandwiches. Yes, you heard. This popup moves around and is currently in Siam Eatery in Covent Garden. Founder Sammie was looking for a way to use the leftover yolks from her egg white macarons and stumbled across an egg yolk ice cream recipe. The rest is history. Flavours include Amaretti, Honeycomb, Neapolitan ice cream and Matcha Oreo ice cream sandwiches.
Cutter & Squidge - Biskies
It's all about the Biskies. Essentially a biscuit sandwich but so much more than that as each one is topped and decorated to perfection. Get your chops around Lemon Meringue, Pistachio & Roseberry, Salted Caramel or Classic Smore. Created by two sisters Annabel & Emily Lui in West London.