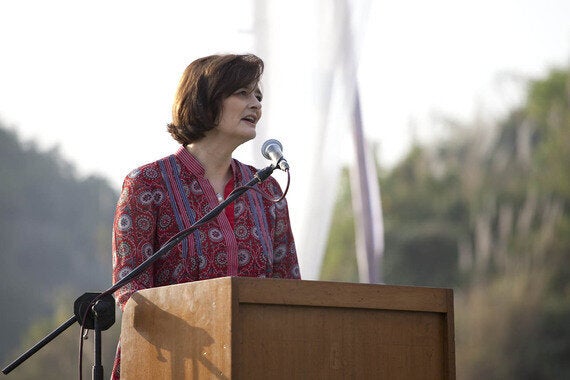 The last months of the year seem set to be defined by growing uncertainty. Concerns over continued economic vulnerability have been compounded by the refugee crisis spreading across the Middle East and Europe. Our governments and legal frameworks are facing unprecedented challenges - our ability and willingness to show solidarity with our neighbours is being tested.
A perfect solution seems elusive but there is a hope that this week will mark a turning point in the global community's approach to our most pressing social, economic and environmental challenges.
On Friday 25 September, world leaders will meet for the UN General Assembly in New York to launch the Sustainable Development Goals (SDGs). One major achievement that should not go unnoticed is that the promotion of human rights is infused throughout the 17 new goals and 169 targets.
This marks a major shift in our approach to the role of human rights in driving sustainable development.
Development must be about more than just measures of poverty and increasing financial resources - it must be about advancing human dignity.
The SDGs are the product of the largest consultation programme in the UN's history, involving over 70 countries, many of which have markedly different approaches to their citizen's rights. Critics have noted the softening of some of the language to keep influential players on board, but the final goals unequivocally state that all human rights must be upheld.
The focus now must be on promoting understanding and implementation.
Governments cannot and should not be expected to shoulder the burden of upholding human rights single-handedly. Whilst the roles of NGOs and academics have long been recognised, businesses of all shapes and sizes also have a transformational impact.
In fact, recognising the integral role of the private sector is built into the SDGs. How could it not be, given the Herculean scale of the project? Some estimate implementation could cost as much as US$5-7trillion annually!
Businesses possess the capital, jobs, infrastructure and new technology necessary to help reshape the development landscape for the better. To achieve this, corporate leaders must focus on creating shared value and avoiding human rights risks.
The international business and human rights framework, especially the 2011 UN Guiding Principles on Business and Human Rights, should be the starting point for this.
I have worked with businesses throughout my legal career and now advise companies on their approach to human rights. Driven by evolving consumer, employee, investor and regulatory expectations, companies are realising that by ensuring they make a positive impact on society and the environment they can also secure their own sustainable growth.
Many businesses are already doing this. For example, having identified commercial opportunities in Myanmar, Coca-Cola dedicated time and money to produce an industry-leading report on how responsible investment should best be made in the country. Independent specialists and auditors contributed to an in-depth assessment of the risks of doing business in this developing and under-regulated market. Human rights assessments were integral and their findings resulted in positive action, such as closing the traditional gender pay gap and addressing concerns about plants discharging contaminated water.
This analysis and reporting was possible in large part because Coca-Cola conducted its human rights due diligence in line with the Guiding Principles on Business and Human Rights.
The SDGs themselves refer to the Guiding Principles as an example of international standards that should be followed to help realise its goals. This is welcome news as the private sector needs guidance and common standards if it is to make a concerted and unified push for sustainable development.
The SDGs and the responsibility to respect human rights go to the heart of a business's social licence to operate, especially in emerging markets. It is clear that the SDG agenda cannot succeed without the private sector. For all of our sakes and for future generations, I hope that companies engage with the SDGs and build respect for human rights into the fabric of their businesses and commercial strategies, and in this way play their part in championing the human right to development.