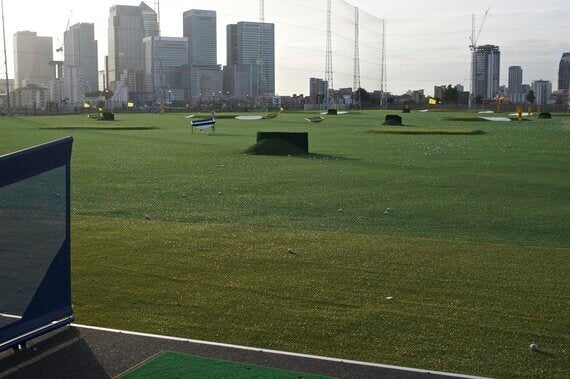 Photography by Chris Osburn © 2015
Realising that one of the better meals served to me this year and the best wine list I've come across in London in quite a long while both happened to be on offer at a new golf range in North Greenwich really threw me for a loop. But hey, I'm apt to take a swing at virtually any possibility if there's the promise of great food and drink.
Accepting an invitation to what seemed like a long shot - an evening of "Terroir and Turf" at Vinotech Compass at Peninsular Golf Range - turned out to be an ace culinary experience that's easy to recommend and one that I hope to repeat soon.
Me and golf? There's nothing there, no history (unless you allow encounters when the term was hyphenated with "mini" or "crazy" at the front of it). But I found the chance to try out the Peninsular range with a complimentary quickie lesson to be a lot of fun. With a flute of Pol Roger and some tasty tapas to augment the session, I'm now all fore gourmet golfing and find myself hankering another attempt.
Opened at the beginning of July by N1GOLF, Peninsular is a 60 bay driving range near London's O2 Arena featuring panoramic views of the Thames and Canary Wharf (taking aim to drive a ball at the glass towers across the river was a cathartic way to get some exercise). From what I could gather based on my instructor's patience and ability to get even a novice like me to hit a few balls in the right direction and with some distance, I'd say it's a great place to learn to play golf. And with most of the other bays filled with folks who seemed to know what they were doing and enjoying the heck out of it, I reckon the range just as ideal a destination for seasoned players as well.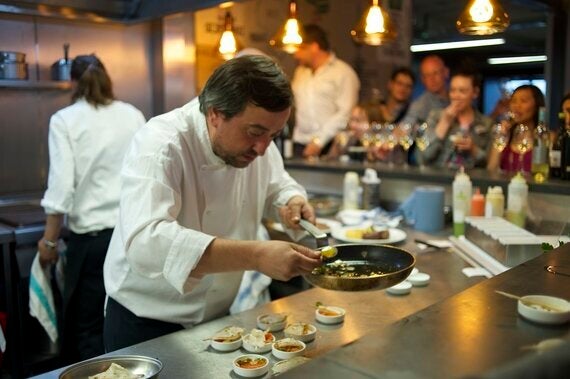 Photography by Chris Osburn © 2015
Whether I make it to North Greenwich for golf again or not, I'm certain to head back for another dine at the range's Extremaduran and Catalan accented restaurant and bar: Vinothec Compass. An opportunity to sample highlights from Chef Jordi Rovira Segovia's menu truly impressed. Simple but full flavoured Spanish dishes like baby squid with tomato and coriander, smoked trout salad, and suckling pig with piquillo peppers where gastro-delights, as delicious as they were stylishly presented. Other wonders from his kitchen included a sophisticated cod confit with Romesco sauce and a perfectly grilled longhorn onglet.
But wait there's more. Lots more, actually. Vinothec Compass has a cellar with more than 600 wines (not to mention a smartly curated Craft Beer Counter to boot) with an emphasis not on region or price tag but great taste and diversity and an admirable aim "to promote the pretty, unusual and iconic - from indigenous grapes nurtured by small independent growers, underlining the importance of sustainable, organic viticulture." Great quaffs had during my visit included a crisp Bulgarian Chardonnay, a tantalizing Tempranillao from Morocco and some rather umph-y French reds. All (I sampled a mix of nine or ten wines over my evening meal) sparked conversation and could be classified in the best of wine tasting categories: distinctive and interesting.
The original version of this review was published at tikichris.com.