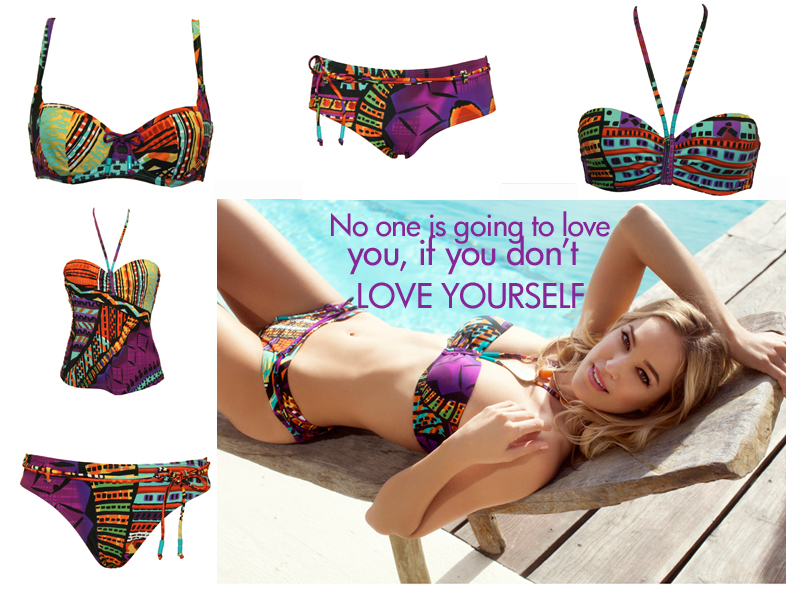 If you are thinking about buying a new swimsuit or bikini but are not sure what suits you - this post aims to steer you in the right direction with some handy advice. The key to finding the perfect swimsuit is to emphasize your assets and draw attention away from problem areas.
Top swimwear trends 2013
Monochrome black and white stripes are huge this summer
Animal print
Neon
Crochet
Fringe
Now how to wear these trends according to your shape.
Curvy
Wrap style swimsuits and ruching are brilliant for curvy girls. Tankinis and monokinis can also work for you plus they are a bit sexier as they show a bit of skin. If you wear a bikini make sure the top offers support, sweetheart necklines and halter-necks are a great choice.
Avoid
Tiny triangle tops.
Bottom heavy
Draw attention away from your lower half by emphasizing your bust and shoulders with halter-necks. High-cut legs are also flattering as they help elongate your legs.
Avoid
Boy cut bikini bottoms and shorts.
Small breasts
Choose a bikini top or swimsuit with ruffles to fill you out, horizontal stripes also help give the illusion of bigger breasts. Don't rule out an underwired bikini top - it can provide definition and shape.
Avoid
Bandeau tops will leave you looking flat.
Top Heavy
Underwire is essential to give you the necessary support. Halter necks are great as they offer support and a hint of cleavage. If you go for a strappy swimsuit make sure it has wide straps otherwise it will be uncomfortable.
Avoid
Teeny weeny triangle bikinis - no support.
Got a tummy?
Draw attention away from the waist area - halter necks are great for this. If you choose a one piece - ruching helps give the illusion of curves. Go for high-cut legs - they are flattering if you have bigger thighs.
Avoid
Shiny swimsuits like the plague - they won't do you any favours as they highlight lumpy bits. Tankinis are also a no-no.
Athletic build?
This body type is known as the inverted triangle - you need to choose a style that gives you curves. First off draw attention away from your upper half by focusing on your hips. Go for bikini bottoms with a belt, gold hoop details or beading. Opt for bold prints.
Avoid
Halter-necks - as they emphasise your shoulders, bra-straps are a better option for you.
A quick word on patterns
Black is slimming but boring - geometric patterns and prints are also good for breaking things up and diverting attention away from shape. Avoid horizontal stripes if you want to create a slimmer silhouette.
Where to shop?
The photo features swimwear by Dutch label LingaDore; they have a great selection of bathing suits in different styles to suit most body shapes. The current collection also has some fabulous prints from Aztec to leopard print. You can buy LingaDore at online fashion store www.glam-net.com.
Enjoy your holidays!