The current migrant crisis in Calais and beyond is one in which there are no winners - truck drivers unable to do their jobs, holiday makers forced to cancel plans and over-stretched security services.
So the fact the UK is making an effort to look after those migrants that make it to our shores is one that should be applauded and make us all proud - but not if you're the Mail on Sunday.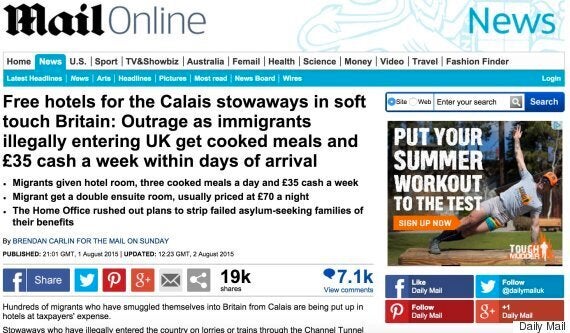 An article in the Mail on Sunday has felt the need to highlight that some migrants being given three cooked meals a day, £35 in cash each week and are being put up in hotels as six dedicated immigration centres are already full.
Tory MP Alec Shelbrooke has been enlisted by the paper to sum up the outrage.
He said: "It is outrageous that asylum seekers are being put up in hotel rooms at public expense. It's this sort of soft touch that makes this country so attractive to migrants.
"The message should go out that they will be detained in disused military camps."
The article then interviews two men feeing war-torn Sudan who are being put up in the three-star Best Western Park Hall hotel in Chorley.
SEE ALSO
:
They are free to take advantage of the "banqueting hall,function rooms and a tree-lined lake" and "leisure facilities including two indoor pools, Jacuzzi, gym and spa".
The article continues: "Both Sudanese men said their treatment in Britain was far better than in it had been France, providing a possible explanation as to why so many people are risking their lives trying to board cross-Channel trains."
Let's back it up right there.
Firstly, the alternative to three cooked meals a day is to let migrants starve. Is this really a viable alternative and one that would pacify the rage of Middle England?
Secondly, £35 a week - £5 a day math fans - is nothing. And remember that migrants are forbidden to work to earn extra money while their asylum requests are processed meaning this is all they have to live on.
Thirdly, no disrespect but Best Western Park Hall hotel in Chorley is hardly the Ritz.
And finally, to address some of the points raised by Tory MP Alec Shelbrooke, what these migrants are being given hardly constitutes a 'soft-touch' but is more aptly described as the bare minimum a person needs to survive in a country that is fortunate enough to not be wracked with the kind of awful scenarios that would make its population risk everything to escape.
Don't get me wrong, I'm not naive enough to believe that amongst those seeking to gain entry to the UK there are absolutely none that are trying to play the system but we can't let those few sully the image of the majority of genuine asylum seekers.
The rhetoric around the current migrant crisis is one fuelled by fear and misinformation, all the more disgusting when it concerns some of the most vulnerable people on the planet.
Media reports like this do nothing but inflame bigotry and fear with the same old (false) arguments informing the debate.
"Why do they all want to come to the UK?"
"Isn' t the real reason that they know they'll get benefits as soon as they make it across the Channel?"
"Why don't they stay in their country and fight?"
These same questions surface time and time again and it is up to us a decent, intelligent individuals capable of feeling some empathy to question attitudes to migrants informed by facts not inflammatory headlines.