A few of us international students had our first experience of culture shock when we went to an improv play entitled 'Sex Signals'. It was performed by two actors from Chicago and began with them showing the ways in which a boy and a girl might approach each other when flirting at a party, for example. The actors had most of the freshers/freshmen in the audience laughing out loud, but sadly it wasn't at all my humour. As the play progressed, the actors started talking about consent and whether or not a situation would be classed as rape. The situation was as follows:
A girl had been dating a boy for about a week, she invites him over to her house to study. He comes round, they study for a while then order pizza and have a few beers. After that, they begin kissing and tickling each other. He tries to have sex with her, she says no but carries on kissing him. This continues for a while until eventually the girl is lying still and only able to whisper "no" in his ear, while he has sex with her.
The actors then turned to the audience to ask whether or not this was rape and if so, whose fault it was. To our absolute horror, there were mixed reactions from the audience. Several students, men and women, said that the girl should have left her bedroom door open, had other people in the room, not gotten drunk or not invited him over in the first place. Other students thought that because she said "no" several times but then carried on kissing the boy, it made her final "no" invalid, like a boy who cried wolf situation. Thankfully, the message of the play was that victim blaming is wrong and even if the girl was drinking alone in her room with the boy and kissing him after inviting him over, this does not mean he has a right to have sex with her. The actors explained that the girl was not moving and saying the word "no". It seemed glaringly obvious that there was not consent, nor was it in any way the girl's fault.
For those who may still be unsure, I refer you to Jessica Valenti's article on anti-rape nail varnish and this satirical piece on "How Not To Get Raped".
The images below are from the 'Sex Signals' Facebook page.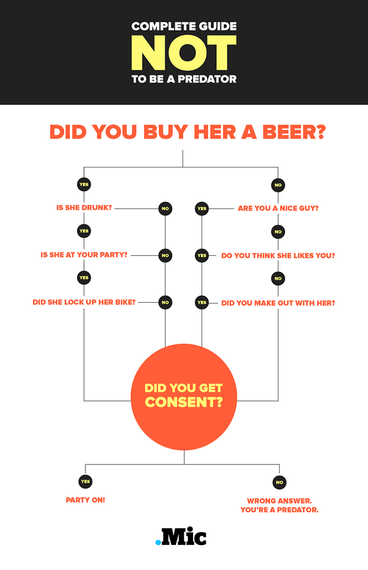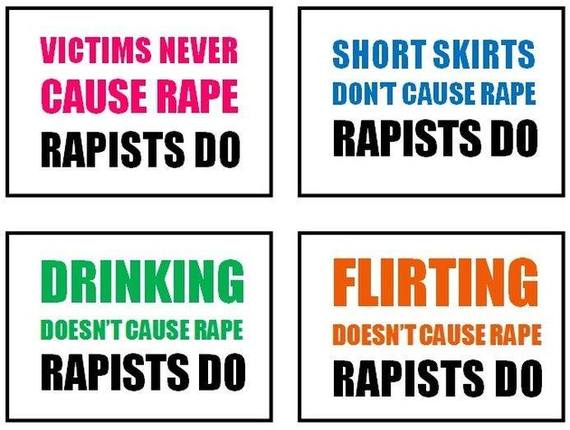 On a slightly funnier note, at the end of the performance, the actors encouraged the students to move away from the idea that cock-blocking is such a bad thing. They took out a t-shirt with an image of a giant octopus on it, called Blocktopus. The t-shirt had the slogan on it "by the power of Blocktopus I will!" This was to persuade students to interfere if they could see a friend approaching someone who was clearly disinterested or too drunk to stop them. One lucky audience member was awarded the t-shirt and made a pledge to cock-block any behaviour such as this.