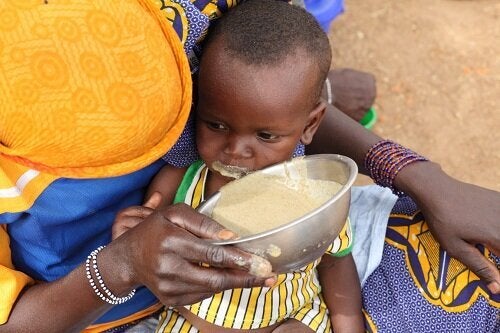 A new report from Action Against Hunger shows that investments in proven nutrition interventions are falling far short of what is needed to address global hunger and raises serious concerns about the reactive and short-term nature of funding for nutrition programmes.
'Aid for Nutrition' finds that whilst there is increased donor funding for the treatment of malnourished children in emergencies, long-term investments in nutrition-specific interventions that create sustainable solutions are a mere fraction of what is needed.
Current funding for programmes addressing undernutrition is just 1.2 per cent of the estimated $11.8 billion that is needed annually to (directly) tackle child hunger. Whilst this is a 0.6 per cent increase on previous years, the majority of funding has been allocated in emergency contexts, rather than longer-term development programmes that address structural issues.
Action Against Hunger argues that funding for nutrition needs to be a longer term marathon effort, rather than a series of sprints at times of crisis.
Programmes that include both direct action on undernutrition such as improved breastfeeding, improving dietary quality with multivitamins and minerals and treating severely malnourished children, coupled with long term elements such as initiatives that help families grow their own crops, improve water quality and general hygiene and access to health services, are cost effective and offer some of the best returns of any investment in development.
'Aid for Nutrition' provides a detailed analysis on aid reporting systems and assesses the transparency, quantity and effectiveness of nutrition funding in recent years, with recommendations on what is needed to adequately address undernutrition.
Action Against Hunger is calling for greater investment in direct nutrition interventions in both emergency and development contexts and for donors to keep their promise of spending 0.7 per cent national income, with investments in nutrition to be prioritised. The humanitarian aid organisation also calls on donors to target aid to the countries with the highest burden of undernutrition and improve the reporting, transparency and accountability of aid funding.
Great progress was made at the recent Nutrition for Growth event, which saw governments, civil society organisations and business leaders make sustained political and financial commitments to help treat and prevent undernutrition. Action Against Hunger alone committed to saving 600,000 severely acutely malnourished children's lives by 2020.
Much more remains to be done but few can deny that the time for nutrition is most definitely now.