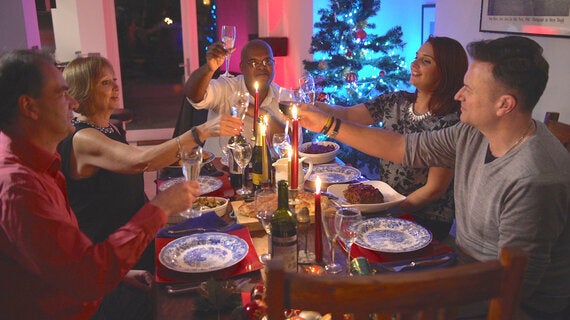 Yes, I just used those two words in the same sentence! I know... I'm as surprised as the next person! In fact, I am the last person I ever would have thought would be asked to write a blog about veganism and Christmas; A year ago, neither of these things were important in my life.
But now I barely even recognise myself from the fragile, dejected and fatigued individual I was this time last year... As I looked at another holiday period punctuated by shift work, microwaved meals and stress, little did I know I was about to embark on a life changing journey which would lead to a dramatic shift in my diet, my career and my entire way of thinking.
On New Years Eve 2015, I took a leave of absence from my job as a DCI in the police force and I boarded a night flight to Thailand, alone. By a quirk of fate, I had been offered a place at a Retreat on the Island of Koh Phangan, which boasted a promise to save your life in 28 days. There was one major proviso, I had to agree to be filmed for a documentary, alongside a number of other participants (including TV personality, Nick Knowles) for the duration of the stay. This was a terrifying prospect, but at this point I was desperate and was willing to give anything a shot.
Accepting that you actually need some help yourself when your career was based on helping others is a difficult pill to swallow. A police officer's job is relentless, dealing with traumatic and distressing situations on a daily basis. I am not sure exactly when things became too much, but after 10 years in the force, I was no longer able to sustain the pressures of the job. My life became a blur and I was diagnosed with depression, anxiety and PTSD. It began to affect every aspect of my life. My relationship began to break down and even the most simplistic of tasks became seemingly impossible. Pills and counseling kept me going, but I knew deep down that this was not sustainable. My mind and body were quite literally shutting down, a shadow of my former self, never to be seen again... or so I thought.
Arriving on Koh Phangan on the first day of a new year resonated with me. I knew I needed to embrace the experience wholly, no matter what was thrown at me. This was easier said than done once I heard that my first dinner on the island would be a raw salad, followed by a 1 week fast, twice daily colemas and 3 further weeks of a strict vegan diet. Let's just say I was pretty devastated that I hadn't even taken the chance to enjoy a last minute McDonalds at the airport!
Despite my reservations, the positive effects of our diet and yoga regime were clear for all to see. Even the most meat loving members of the film crew couldn't deny that there could actually be something in this vegan food lark. We all watched with bewilderment as it was announced that Milton had reversed his Type 2 diabetes after just 1 week on a plant-based diet. And as for me; I felt like a more focused and energised version of my old self again.
I returned home with a renewed sense of purpose and direction, embarking on a journey of culinary discovery, rapidly expanding my repertoire of plant based meals. Although initially skeptical, friends and family were soon won over by the flavour packed dishes in front of them.
The more I cooked the better I felt, and the better I felt, the more I wanted to share my experience of this diet with others. Having championed the vegan diet all year, I felt the need to do more, which is when Maggie (another of 'The Retreaters' ) and I took the plunge and decided to set up our own food establishment, The Retreat Kitchen. We realized we didn't want to go back to our old lives but we wanted to bring hearty, delicious vegan food to those who would normally give it a wide berth. Unlike some, our vision is not political, but to help others feel as good as we do.
So with the holiday season upon us, here I am contemplating my first vegan Christmas dinner and I am excited to share what I have learned with family and friends. Moreover at the start of another new year with another adventure into the unknown I am truly looking forward, which is some change from last year. When people ask me how they can make healthy changes it's often prefaced with "I could never give up meat'. I like to tell them it isn't about giving up, it's about taking up. In my case I took up a plant-based diet, and it has made all the difference. Although I still have some way to go in trying to convince my stepdad to give up his treasured bacon sarnies.
Claire and Maggie own The Retreat Kitchen, opening soon in London.
And they haven't managed to shake the film crew... Watch them in action in The Retreat Kitchen Christmas Special: