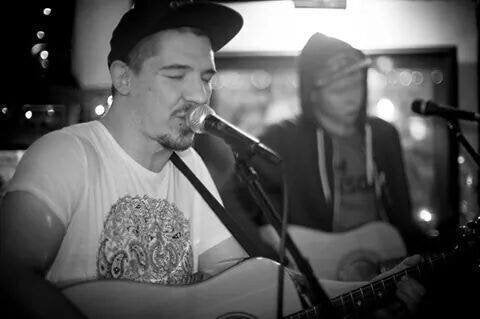 Photo credit:Patrick Aloysius Douetil
Making a living from music is a notoriously hard thing to do and by January 2014 Markie Walton was seriously considering quitting it altogether. He had toiled away at his acoustic project, Sanchez vs. Fighter Pilot, for years but it was getting him nowhere. With no musical direction and being a young dad with more pressing responsibilties, he had resolved himself to the fact that Sanchez vs. Fighter Pilot was to be no more. As a final hurrah he headed to the tattoo parlour and got a 1950s style microphone and the letters S.V.F.P. tattooed under it. It was a way of saying goodbye, a memento of sorts. Yet, as so often is the case with these things, when you think something is a certainty, life has other ideas. You can call it fate or just damn luck, but it seemed like Markie and his music wasn't going to go down that easily.
The story of Sanchez vs. Fighter Pilot starts a few years earlier and was initially born out of frustration and confusion. As an angry young kid Markie could have very easily slipped down a dangerous path, blending into the background noise and living a life unsatisfied. In trouble with the police and getting kicked out of school, things were looking very dark. It was around this time that he was handed a bit of sage advice; someone told him he needed to channel his anger into something worthwhile. As he tells me sitting in the back garden of The Cricketers in Kingston, "I've always loved music, never that academic, never great at that side of things, always more creative. I went to someone and they told me I should effectively write what I'm feeling, just write it down as a way of getting it out. I was such an angry child, so angry, kicked out of school, police and all that shit".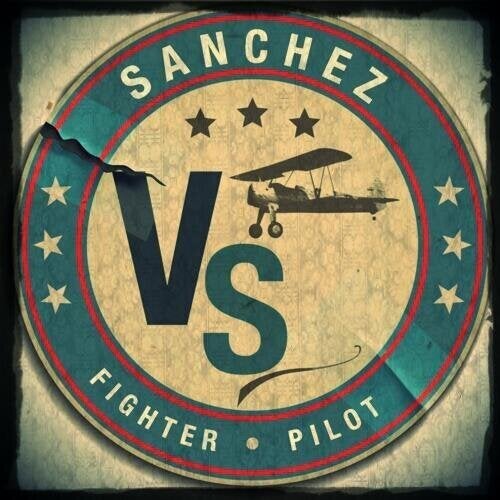 Music became his outlet, a cathartic way of processing his emotions. With no grades just ruddy determination, he enrolled in a college and began focusing on making music. Spurred on by the success of everyday poets like Jamie T and fuelled by a love of both hip-hop and rock music, Walton began writing songs. Buoyed on by this he started busking and it was a fortuitous meeting with fellow busker Jack Warren that kick started Sanchez vs. Fighter Pilot. Over the next couple of years, through busking and putting on impromptu gigs, Sanchez vs. Fighter Pilot began to build a small local following. Yet, something was still missing and the daily stresses of life and being a young dad meant that it was placed on the backburner.
Which brings us back to January 2014, despite all the hard work that had been put into Sanchez vs. Fighter Pilot it was clear to everyone that a slow death was taking place. Then things took a turn. Gathering around him a group of talented musicians from the Kingston music scene, Sanchez vs. Fighter Pilot was reborn. With the help of guitarists Jack Warren and Tim Bartlett, singer Charlotte Trowse and cajón player Rob Winterbourne, Sanchez vs. Fighter Pilot was transformed from a bare bones solo acoustic project to an energetic 5 piece. Fusing the best of acoustic melodies over a strong hip-hop core and with impressive lyrical dexterity, Sanchez vs. Fighter Pilot were ready to grab life by the throat and live it to pieces.
It was this opening up that saved the project and helped bring that extra creative edge. No longer despondant, a new vibrancy and positivity could be found in the music. The group connected so well, with each member bringing a different approach to the creative process. This creative experimentation and diversity is as Markie notes what makes Sanchez vs. Fighter Pilot so much bigger than the sum of its parts. As he notes rightly, "I can trust these guys to know what they're doing, they've come in, they've put their own little tweaks on things, they've worked it themselves. These guys are not just session musicians, they're writers." This isn't the case of one man and his backing band, Sanchez vs. Fighter Pilot are a unified force where everyone is crucial in making it work.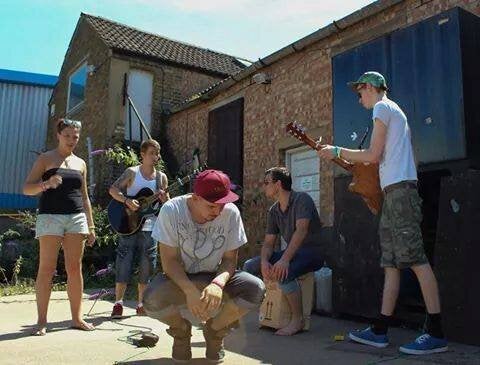 Photo credit:Giles Wendes
The difference this change has brought about is striking to anyone who has seen the band live in the last couple of months. Bringing in these different musical perspectives has seen Sanchez vs. Fighter Pilot not only explode with new ideas but has also freed Markie up to do what he does best, be a brash and in your face frontman. It's a role that he relishes telling me grinning "I love that rush, looking at people in the crowd and seeing 'yeah you're with me'. I don't want people to sit there and watch it and go 'yeah that was really good music' I want people to walk away and go 'that was sick music and a sick show'. I want everyone to get involved and feel good."
Being a frontman seems to come naturally to Markie but it wasn't always like that. "When I was doing it solo I couldn't finish songs, like it was a running joke! I'd get halfway through a song and I'd get so in my head, cuts songs off and make silly mistakes that no one would even notice but I'd be like 'that's it I'm done!' It was really awkward. Now that I've put down the guitar I'm in control! Now it's like for the first time in my life I can be a frontman. It might be The Cricketers, whether it's the cricketers or fucking Wembley, I don't care!" he says laughing. He's completely sincere when saying this, there's no front or bullshit with him, and as anyone who has seen Sanchez vs. Fighter Pilot can confirm, Markie really does play 200 cap rooms like they're Wembley Stadium.
Drawing on musical influences from all genres, hip-hop to soul to punk, it's this fusion, energy and drive that makes watching Sanchez vs. Fighter Pilot live such a joy. It's undeniable that these guys are talented musicians, but for Markie when writing the songs, it's always about how it feels over technical ability. He tells me emphatically when writing songs you should "just feel it, how does it feel you know? Feel it, play it your way, then play it that way." It's this heart on your sleeve mentality that has helped Sanchez vs. Fighter Pilot get such a strong local following.
When talking to fans after the gigs, it's clear that Sanchez vs. Fighter Pilot are more than just a band, they help prop up a whole community. While they're not known to the masses (though they really should be) to the people who have clocked onto them, songs like Captain Cupboard and Push Up speak volumes. They've helped make their mark on music, it may not be to millions, but it's still meaningful.
With the full lineup coming together Sanchez vs. Fighter Pilot has spent the last few weeks in the studio working on an EP. There's a new air of confidence to them, a lust for the live performance and an anarchic streak that runs through what they do. They have the talent, the songs, the drive and the frontman. With the release of their forthcoming EP, Sanchez vs. Fighter Pilot are going to break out and run a riot of positivity and hope all across the country. You better be ready.
Sanchez vs. Fighter Pilot-Captain Cupboard (Live)