Terence Davies's visually stunning 'Sunset Song' has emotional power and but slips slightly towards it's conclusion - 'The Lesson,' Kristina Grozeva and Petar Valchano's neorealist feature debut sees a twist of fate lead a dedicated and principled school teacher to extraordinary acts of desperation - 'Chemsex' is a raw, powerful and uncompromising documentary look at the bleak and claustrophobic underworld of chemsex urban gay life.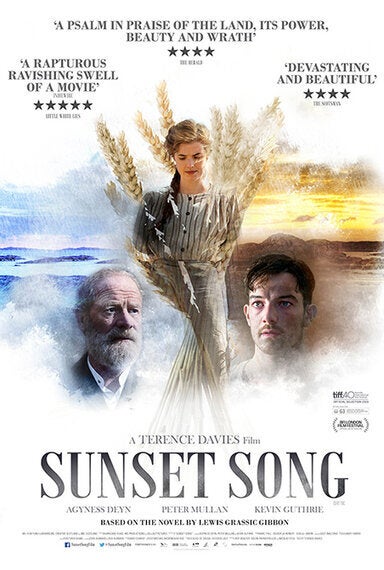 Director: Terence Davies. Agyness Deyn, Peter Mullan, Kevin Guthries. Drama. UK, Luxembourg 2015 135 mins. (15) ****
Terence Davies's literary adaptation of Lewis Grassic Gibbon's 1932 classic novel is set in rural Aberdeenshire in the early 20th Century with Chris Guthrie (Agyness Deyn) centrepiece from teenage years to womanhood, enlightened with a love and feel for the written word and an independent streak that matches the land that her family work. Hers is a family ruled by the violent, repressive and god-fearing John Guthrie (Peter Mullan) who's made for spitting venom and handing out punishment when it's his want to belt whip eldest son Will (Jack Greenlees) or take his abused wife for his pleasure until she can no longer absorb the hurt. Peter Mullan plays it full throttle.
The stunning sweep and beauty of the landscape captured by Michael McDonough's camera is the backdrop to joy and suffering, beauty and pain and memories that haunt the characters. As Freedom beckons when Ewan Tavendale (Kevin Guthrie) wins Chris's hand the First World War emerges to devastating effect and the power of the land and family remain ever present.
Agyness Deyn, last seen as the lead in 'Electricity' offers a captivating performance perfectly matched by Kevin Guthrie.The film staggers slightly and slips into cliche as it moves from the land and enters the closing chapters but that doesn't detract from it's visual splendour and emotional power. I saw it at the BFI lff press screening and hoped for a further viewing to pick up again on the final moments but it wasn't meant to be.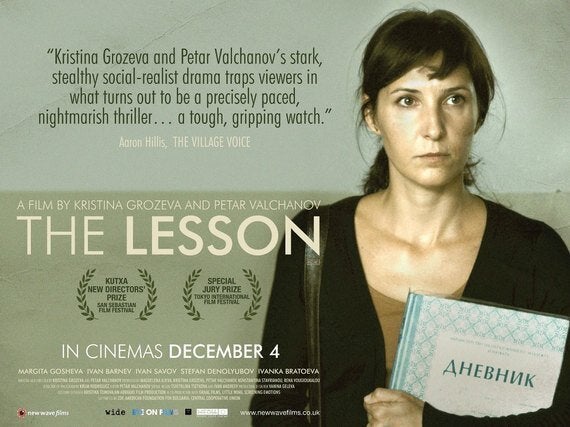 Director: Kristina Grozeva and Petar Valchano. Margita Gozheva, Ivan Burnev, Ivan Savov, Stefan Denolyubov. Drama. English & Bulgarian with English subtitles. Bulgaria, Greece 2014 105 mins.
Cruel twists of fate that lead to extraordinary acts of desperation form the backdrop to Kristina Grozeva and Petar Valchanov's gripping neorealist debut feature.
Nadezhda, (Margarita Gosheva), a principled and dedicated teacher of English in a provincial Bulgarian school is shocked when money is stolen in her class and finding the culprit becomes an obsession. As this slowly unravels fate mockingly deals a blow that draws Nadezhda into a bizarre and ever desperate sequence of events. The bailiffs are at the door, the bank are foreclosing on her house and monies set aside for the mortgage has been spent by her husband Mladen (Ivan Barnev) on drink and spare parts for his camper van. Extra monies from Nadezhda's freelance translating remain outstanding and bankruptcy looms. Reluctantly Nadezhda approaches her father (Ivan Savov) for a loan but memories of his relationship with her late mother haunt her and desperation leads her to a money lender (Stefan Denolyubov). As fate merges her personal and professional life, a bizarre mix of triumph and tragedy spirals into all consuming desperation and Nadezhda begins to question the principles that she instills in her students.
Inspired by real life events with naturalistic performances from a mix of professional and non-professionals and no music track, 'the Lesson' is compelling cinema with hints of the influence of Luc and Jean-Pierre Dardenne.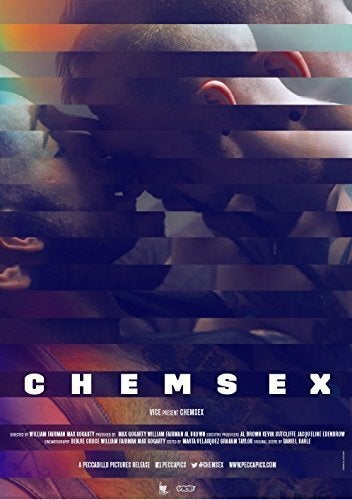 Directors: William Fairman, Max Gogarty. Documentary. UK 2015 83 mins. (18) ***
A powerful, raw and uncompromising look at the bleak and claustrophobic underworld of chemsex urban gay life where sex and intravenous drug use compliment one another to enhance libido and free inhibition. Crystal meth, GHB and mephedrone feed a destructive life style fuelled by the use of online apps in a nightmarish pursuit of sexual hook ups and group sex. Interviews with health workers and men who've been affected offers an insight into the dark underworld of the chemsex subculture of self-inflicted dependence.
With HIV infection accepted as an integral part of this life, it's a sobering picture of a vicious cycle that trades the search for happiness for addiction, emotional turmoil and a self-destructive emptiness.
For further Film and Blu Ray/DVD Reviews see www.film-reviews-and-news.co.uk
Related