Some 1400 killed in an apparent chemical attack in Damascas, pressure on Obama to act, events in Egypt leading Douglas Alexander to suggest a robust response from EU governments and the Palestinian question remains unanswered. The Middle East is rarely out of the headlines. Two remarkable films give an insight into the complexities of this region.
The Palestinian director, Elia Sulieman's sophisticated, poetic and funny semi-autobiographical 'The Time that Remains' a tale about 'Israeli-Arabs' living as a minority in their own homeland which shows that dignity and humanity can survive defeat and dispossession and the Israeli director, Dror Moreh's 'The Gatekeepers' a sombre, gripping and revealing documentary on Shin Bet, the Israeli security Service that controls the West Bank and Gaza.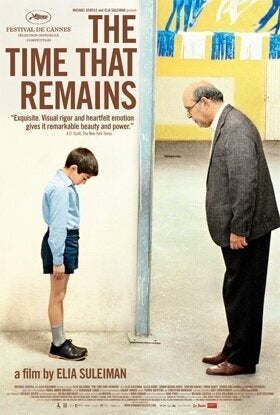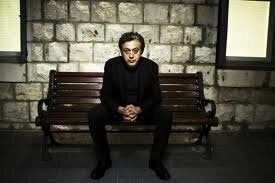 Director: Elia Suleiman Cast: Ali Suliman, Elia Suleiman, Saleh Bakri Country of Origin: France, UK, Italy, Belgium 2009 Genre: Drama In Competition Cannes 2009 Language: Arabic, Hebrew, English with English subtitles 109 mins. Rating: *****
Sophisticated, beautiful, poetic,funny, surreal and quite breathtaking.
' The Time that Remains' is the third in a trilogy about the Israeli state and the Palestinian people by the actor, writer and director Elia Suleiman.
"It's semi-autobiographical in four historic episodes about a family - my family - spanning from 1948 until recent times. The film is inspired by my father's diaries and his personal accounts when he was a resistance fighter in 1948 and by my mother's letters to family members forced to leave the country since then. Combined with my intimate memories of them and with them the film attempts to portray the daily life of those Palestinians who remained in their land and were labelled 'Israeli-Arabs' living as a minority in their own homeland".
There are many scenes that linger in the mind and make 'The Time that Remains' such a breathtaking piece of cinema both surreal and poetic. The opening single long shot of Elia Suleiman in a taxi from Ben Gurion Airport driven by the Israeli actor Menasche Roy who gets lost in a storm and poses the crucial question - 'What is this place?' The mayor of Nazareth posing for a group photograph with his new masters, the Israeli Army in 1948, Elia's father Fuad Suleiman (Saleh Bakri) arrested and tortured in an olive grove reminiscent of Gethsemene to emerge a broken man, Elia at school, an arab choir singing patriotic Israeli songs, Elia arrested for suspected gun running after saving an injured Israeli soldier under a bridge with a truck load of explosives, the tender and warm relationship between Elia and his widowed mother (Samur Qudha Tanus) and the surreal A & E unit, a metaphore for suffering, pain and neglect.
Filmed in still frames by Marc-Andre Batign each being a set piece is hypnotic, forceful,stunningly effective and gives much of the film an almost painterly quality.
This is sophisticated cinema - beautiful, poetic, very funny and with great wit and charm. And it's got a surreal Jacque Tati touch - Elia never speaks a word as a child (Zuhair Abu Hanna) or as a young adult (Ayman Espanioli).
it's the story of Elia's family who remained in their land and were labelled 'Israeli-Arabs' living as a minority in their homeland.
Dignity and humanity can survive defeat and dispossession.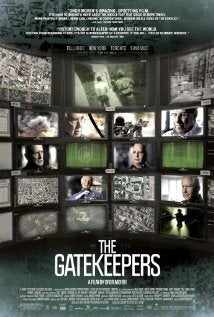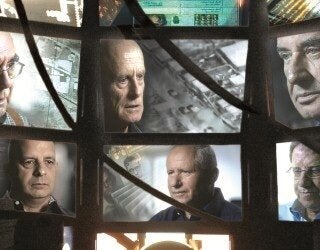 Director: Dror Moreh Cast: Ami Ayalon, Ari Dichter, Yaakov Peri, Yuval Diskin, Carmi Gillon, Avraham Shalom as themselves Genre: Documentary Oscar nominated 2012 Country of origin: Israel, France, Belgium, Germany 2012 Language: Hebrew with English subtitles 101 mins. Rating:*****
A solemn and remarkably relevant Oscar nominated documentary that's received universal critical acclaim.The Palestinian question is never far from the headlines and recent events in Egypt and the horrific images from Syria bring the Middle East and that vexing question of a Palestinian State to the breakfast table.The 'Gatekeepers' is riveting viewing.
The Israeli director Dror Moreh was inspired to making the film after watching 'The Fog of War', Errol Morris's documentary about Robert McNamara, American Secretary of State 1961 - 68. Having completed a documentary on the Israeli Prime Minister, Ariel Sharon, Moreh realised the impact that Shin Bet has on Israeli policy. it's the key to eliminating security threats in Israel and has more influence than Mossad as it controls the West Bank and Gaza.
It was a remarkable coup to persuade six former heads (Gatekeepers) of Shin Bet to talk, let alone appear on camera. In fact Ami Ayalon was the acting head of Shin Bet at the time of filming. Interspersed with newsreel footage the six charismatic former Gatekeepers talk candidly face to camera with a mixture of pride and shame about successes and failures over the last 45 years - the controversy surrounding collateral damage, the efficacy of torture, the morality of targeted assassinations, Jewish right wing extremist groups, the settlements and the frustration of political constraints. Free from such constraints their detailed and critical analysis goes to the heart of the Israeli Palestinian question and is compelling viewing.
The heads of Shin Bet have worked closely with every Israeli Prime Minister and their insights into the Palestinian conflict has had a profound impact on Israeli policy and yet since the Six Day War in 1967 Israel has failed to transform victory into a lasting peace. So what have these talking heads seen in the last 45 years?
Pig headed politicians have no strategy, just tactics and short-term policies have led to a hopeless conflict with intransigence on both sides.
'We face a frustrating situation in which we can win every battle but lose the war'.
'We wanted more security. We got more terror'.
Forget morality. 'With terrorism there are no morals' when confronted with the murder of terrorists in 1984.
The consensus is that the occupation is immoral and ineffective and Israel should withdraw from the West Bank.
Ari Dicter spells it out - 'You can't make peace using military means'.
Israeli public opinion polls indicate that most Israeli Jews support the creation of a Palestinian State alongside Israel but tragically increasing numbers believe that they won't see it in their lifetime.
We can only remain eternally optimistic.
Related