It is a little after 9 PM on a calm summer Monday night and I am somewhere inside The Forum, London, where Japanese pop/death metal sensations Babymetal are playing their first headline UK show.
Let be me more precise, I am in the middle of a maelstrom of bodies moving with furious energy over, under and into one another. I am using all my strength just to stay on my feet, but others have not been so lucky; a girl is in tears beside me and is shielding her face, another has crashed head first onto the venue floor. I do not know if he is OK because someone else has just landed on my head.
Welcome to the Babymetal experience.
Back in late April I was yapping on about this very curious band on the back of the announcement they were to play at the Sonisphere festival. A host of other shows were then booked, including the aforementioned headline slot at The Forum and shows in Cologne and Paris. I thought to myself I should really make the trip down to London to see what all the fuss was about.
I have never been to a heavy metal concert.
Let me tell you a thing about Babymetal. They have a song called iine and this was the second of their set on Monday night. Iine has a hip-hop interlude which is nice and all that but then, and this is not hyperbole, the song destroys itself in a way I can't even describe. OK, try maybe a sonic supernova, maybe. Look I just don't know; the crowd is kicking off and my jaw has smashed onto the floor. This pattern repeats itself throughout the show, with standout tracks like Megitsune, Gimme Chocco and 4 No Uta sending the audience into near pandemonium.
Tonight, the driving forces behind this are the excellently heavy Kami band and the three girls: dancers Moa and Yui who bounce, scream, run and jump around the stage with all the carefree abandon of tazered pokemon and lead singer Suzuka who sings her little heart out during stand out tracks Headbangya and Akatsuki.
And I think it was during the encore break I figured I may as well get more involved. Y'know, experience the Babymetal vibe, be one with the fans. So I moved from the front of the stage to somewhere near the middle.
With hindsight this was a mistake.
Babymetal finish their sets with an anti bullying song called IDZ which is preceded by a short animation extolling the virtues of friendship, loyalty, standing together and ...and what? Wait? Proving your loyalty by WALL OF DEATH. WHAT IS WALL OF DEATH?
And that's how my first heavy metal concert went down. I hate to say it but I had the best time and thankfully no-one got badly injured save for a few bumps and bruises.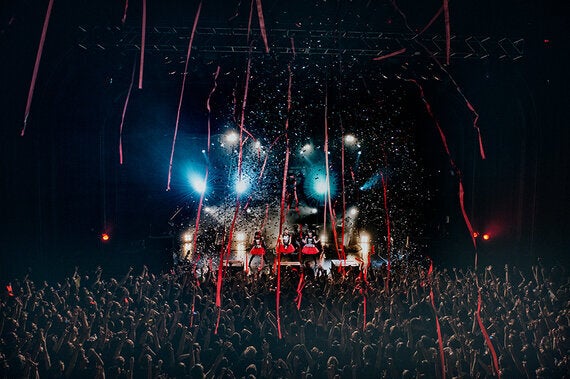 Fan James puts it best "I think that's what makes Babymetal so unique...they really put a smile on people's faces, and I hope they continue to do so for a long time to come".
Babymetal are supporting Lady Gaga on tour later this month and their album is available to buy on iTunes. Photographs copyright Toy's Factory and Dana Yevin.
Popular in the Community