A night at the opera always fills me with a sense of excitement. As one of the oldest arts, opera has an air of magic but gravity too. But that doesn't mean it is for a stuffy, serious audience.
Far from it and Phyllida Lloyd's production of La Bohème for Opera North is, if anything, wonderfully contemporary, punchy and oozing with youthful optimism, tragedy and of course, romance.
Infact, the audience at Salford's wonderful Lowry Theatre was made up of all ages - there were plenty of young, hip attendees who no doubt have come to appreciate Puccini's opera about love and death set in the bohemian Latin Quarter of Paris in the 1840s thanks to the opera being the inspiration behind the rock musical Rent.
This performance of La Bohème at the wonderful Lowry Theatre in Salford (with its great acoustics), was both moving but delightfully funny in all the right places. It was a seamless production and visually clever with its creative stage sets.
Ji-Min Park who played the joint-lead of Rodolfo, the aspiring writer who falls madly in love with Mimi (played beauitfully by the wonderful Anita Watson) was exceptional. What a voice!
In fact, it was uplifting (and encouraging) to see a young cast bring to life such a classic opera - all with amazing energy and verve.
If you want to ignite a love of opera into a young audience or the uninitiated, this brilliantly crafted production of La Bohème by Lloyd and the world renowned Opera North team is a must-see.
Applause not only to the amazing main cast and orchestra (under respected conductor Andreas Delfs) but also to the supporting cast and performers - many of them children - who were simply excellent.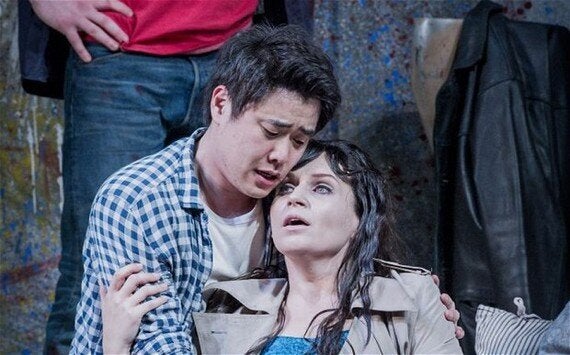 Related