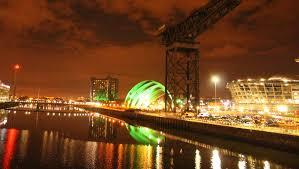 The Commonwealth Games being held in the city of Glasgow has not quite finished yet, but has been heralded as a "great success" due to the success of the organisation of the Games itself and the success of Scottish and other athletes. Being from Coatbridge, the success of Liam Davie in the gymnastics and the Rennick sisters, Kimberley and Louise, at the Judo winning the gold has been fantastic. Greg Rutherford's gold at the long jump proved he is ultimately the man to beat after his Olympic gold has now been added with a Commonwealth, whilst the Paralympian Libby Clegg had Hampden on its feet, the crowd displaying its famous roar.
Now we have controversy as Usain Bolt, the double Olympic 100m winner, has supposedly said the Commonwealth Games are a "bit shit". Although it now appears he was talking about the weather (The Times displayed an "amazing" transcript...) it does not appeal Bolt to the public, and makes us question he is only in Glasgow due to his sponsors. He is not even competing in his trademark 100m, but in the team relay.
Not exactly a great way to endorse yourself. Glasgow is a heart-warming city. Nathan Burdon of the Southland Times based in New Zealand commented the public as being "helpful" whilst using humour that is typically Glaswegian. Whilst I have not seen much of the Games due to only being recently back from holiday, I was in Glasgow visiting a relative on the opening day and I had never seen Central Station as busy as I witnessed it. Nonetheless, the organisation seemed almost perfect, and had been planned in advance, which I have duly noted from using the station whilst at uni.
It's a pity then that other cities do not share this experience. Customer service is pretty basic but important. If you cannot provide help to a problem, you can at least provide someone who is more knowledgeable on the topic. If you display an opening time, you open at the time stated, not whenever you feel like it, and not warning customers in advance. You do not tell customers you do not know how to fix their problem and leave them in the lurch, and you certainly do not start screaming and shouting at customers like a wee bairn, because they asked for help to a problem regarding their buses.
I am looking at you here London. Primarily I am discussing the problems of London Victoria Coach Station. The place is a nightmare, and has put me off on long coach journeys for life (you get what you pay for.) Megabus staff were not much helpful, and after finding a story of a driver who was suspended 4 years ago, it really does not surprise me that they too generally did not care about their customers. Whilst waiting on our coach, a woman was ignored for an hour as she waited for more information on her form of travel, before staff finally appeared and delivered a smug last call to the woman who was left fuming, as she may not reach her stopover in time.
Then again I don't know why I am surprised with London. A woman instead of saying "excuse me" cackled past me on a side street, and probably would have swung for my suitcase if I had not heard her. For that, it was a bit pleasing to see the same women being refused help in the Coach station. In a café, a female staff member was trying to reduce her queue, but when a customer apologised saying he was tired, I heard her mutter "at least I'm doing my f****** job." I do not envy workers working at ill-suited times for minimum pay, especially from experience, but for staff that is bang out of order. Even the underground proved to be an issue. My girlfriend was struggling with her case when someone rushed by her, snapping at her to keep to the right. We all use the underground, and not that different from one another. So why do we treat others like this?
Paris, on the other hand was slightly better. The Parisians seemed more likely to help us around the city, especially if you made an attempt at French. And they offered advice when using their Metro stations, and we were not screamed at. It may be the most romantic city in the world with its fantastic architecture and historical buildings combined with a new modern heritage, but it just is not Glasgow. The La Louvre is one of the most beautiful buildings I have ever seen, but it just isn't in comparison with the Merchant City or Buchanan Street for an atmosphere. However, Glasgow could add entertainers on their Subways, which caught us off guard.
I am biased about this. Glasgow has its problems with alcohol and unemployment. Yet, it has so much going for it. The Sir Chris Hoy Velodrome has allowed Scotland to gain an outstanding facility to train younger cyclists. The youth are making advancements in education, work and training and some will have made improvements to their job prospects thanks to their volunteering at the Games. I applied for volunteering and could be bitter about not getting a place. But for a city that has been part for most of my life, and has educated me in the last four years, I simply cannot.
Go for a venture in Argyll Street. Visit the Kelvingrove Art Gallery and Museum. Take a drink in one of the many pubs in the city centre, and attend a football match in the city. It has its problems, but so do we all. There's much more to do, and these were the first four that came to hand. Trust me with this though. Once you have visited Glasgow, you will want to come back.