Next month the design community descends on the Clerkenwell area in London for Clerkenwell Design Week. The three day festival showcases the best in established and emerging talent from home and abroad. The area, already known as a creative hub, is home to showrooms, agencies and more architects per square mile than anywhere else on the planet. This May showrooms will open their doors and three main locations - The House of Detention, The Farmiloe Building and St. John's Crypt - will act as exhibition spaces. In the run up to the festival we look at what's on offer at this year's event, and shine a spotlight on some of the most interesting projects on offer.
An overriding theme of this year's festival is 'light'. Various designers are incorporating this element into their projects and installations. Arguably the most notable of these is Ross Lovegrove's Solar Tree. Lovegrove, a renowned industrial designer, is known for a 'fat-free' design ethos and the marriage of high technology and nature, incorporating innovative technologies whilst taking inspiration from organic matter. The Solar Tree, as the name suggests, is no exception. Manufactured by the Italian lighting brand, Artemide, the tree-shaped installation is powered by solar technology, with photovoltaic cells in the 'heads' and 'blades of grass'. Measuring six metres tall, the tree will be installed in St. John's Square from May to September, to help mark London's cultural celebrations this year.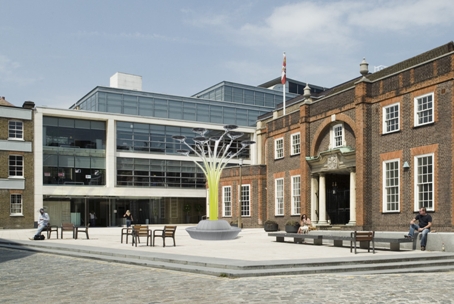 Artemide Solar Tree designed by Ross Lovegrove
From established to emerging, a notable addition to this year's roster is Hubba Welcome design collective. Founded by commercial creatives Chris Mundy, John Fazio and Greg Lockhart in 2009. Hubba Welcome is comprised of illustrators, designers and animators. Their work is inspired by online culture and the psychology of growing up in the information age. Through their analogue representations of digital concepts they endeavour to create physical artefacts in a time when much of our social commentary is essentially ephemeral. Seek them out at Clerkenwell and look forward to design that is not only intelligent but that has a sense of humour.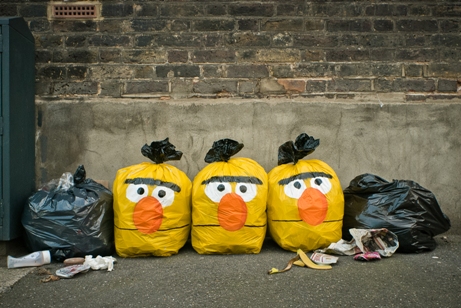 Berts In The World by Hubba Welcome
Taking design to the streets of Clerkenwell is Aberrant Architecture - a multi-disciplinary studio and think-tank that operates internationally in the fields of architecture, art and design. The directors of Aberrant, David Chambers and Kevin Haley, foster an ethos of research and historical knowledge. Through this The Tiny Travelling Theatre was born. Based on the story of Clerkenwell resident, Thomas Britton, who erected a theatre on top of his coal-shed in 1678 and controversially attracted prominent members of high society to attend (even classical composer, Handel, performed there), Aberrant's modern reimagining will travel around Clerkenwell providing a feast for the senses. Not to be missed.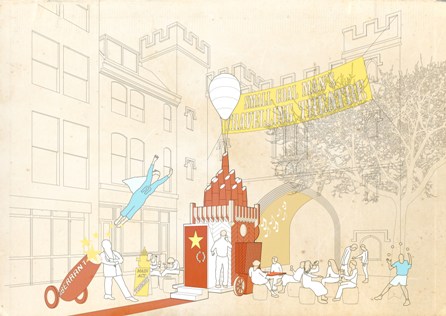 As you can see from this small selection Clerkenwell Design Week aims to draw those in and around the design community into a space of discovery. Design is all around us, vital to our lives but often overlooked. The festival is a chance to celebrate and explore this world. We highly recommend you open your eyes and ears and enjoy the finest examples of what modern design has to offer.
Text by Angelica Pursley for Crane.tv
Crane.tv App now available for Nokia devices from the OVI Store